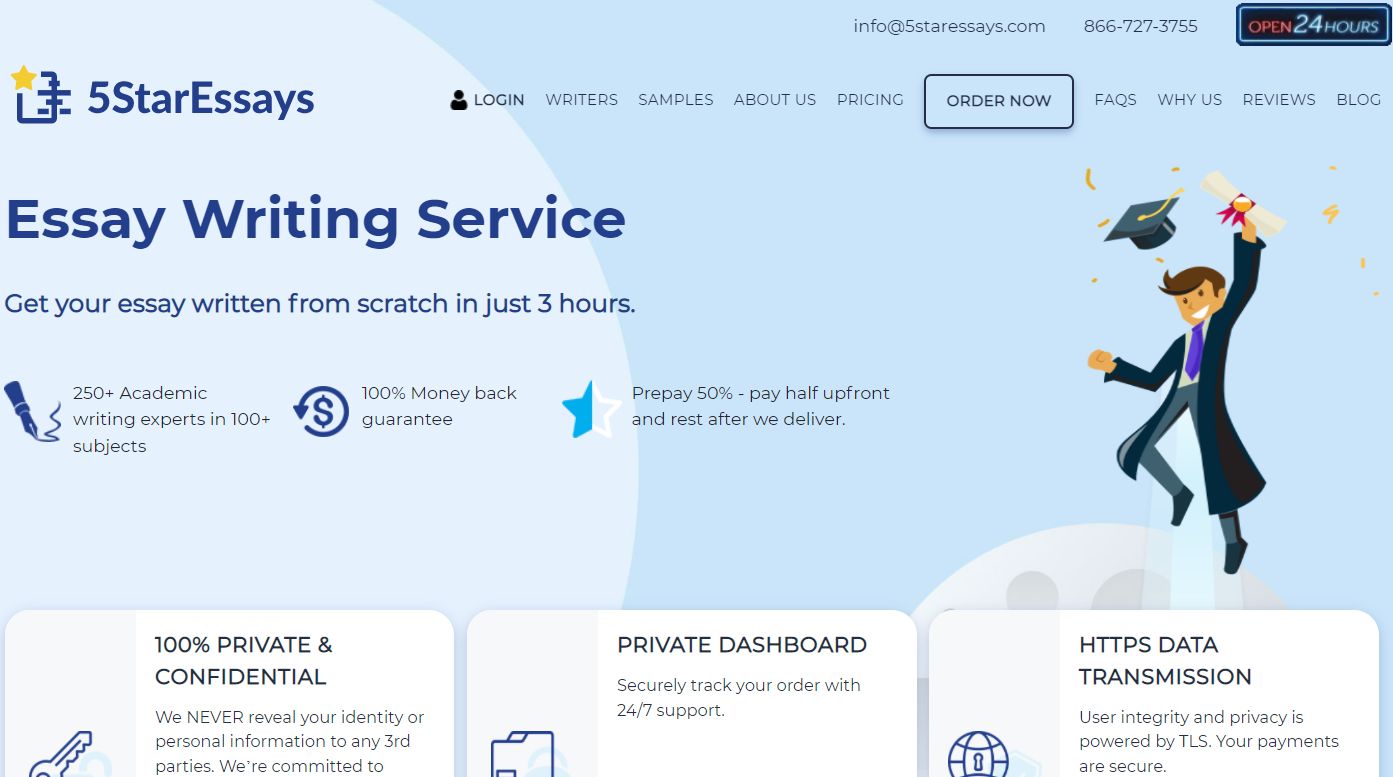 Paper Quality
A quick answer is – the paper quality at 5StarEssays is in fact about 3 stars at best. Unfortunately, as with many other ambitious names of similar writing services, this agency fails to deliver on its promises. The paper they wrote for us was poorly structured, lacked several key elements (even though we requested them specifically as an additional input), and contained two paragraphs with questionable originality.
Prices and Fees
Despite the average quality of papers, this service has established rather high price tags for its products. The lowest price for a simple college essay starts at 18.99 USD. The first-order discount is a joke – 5%, while numerous additional extras can really cost someone a leg. We think that for a company with mediocre writing quality, the prices and fees at 5StarEssays are definitely not cheap or even affordable.

Guarantees
As part of our review, upon receiving a paper of mediocre quality with questionable originality, we requested a free-of-charge revision. To be honest, the company did react adequately and satisfied our request by delivering a revised paper within extra 3 business days. The quality of the revision was slightly better than the original. At least, it is a positive sign that the company fulfills its obligations toward customers and the guarantee policy is not fake.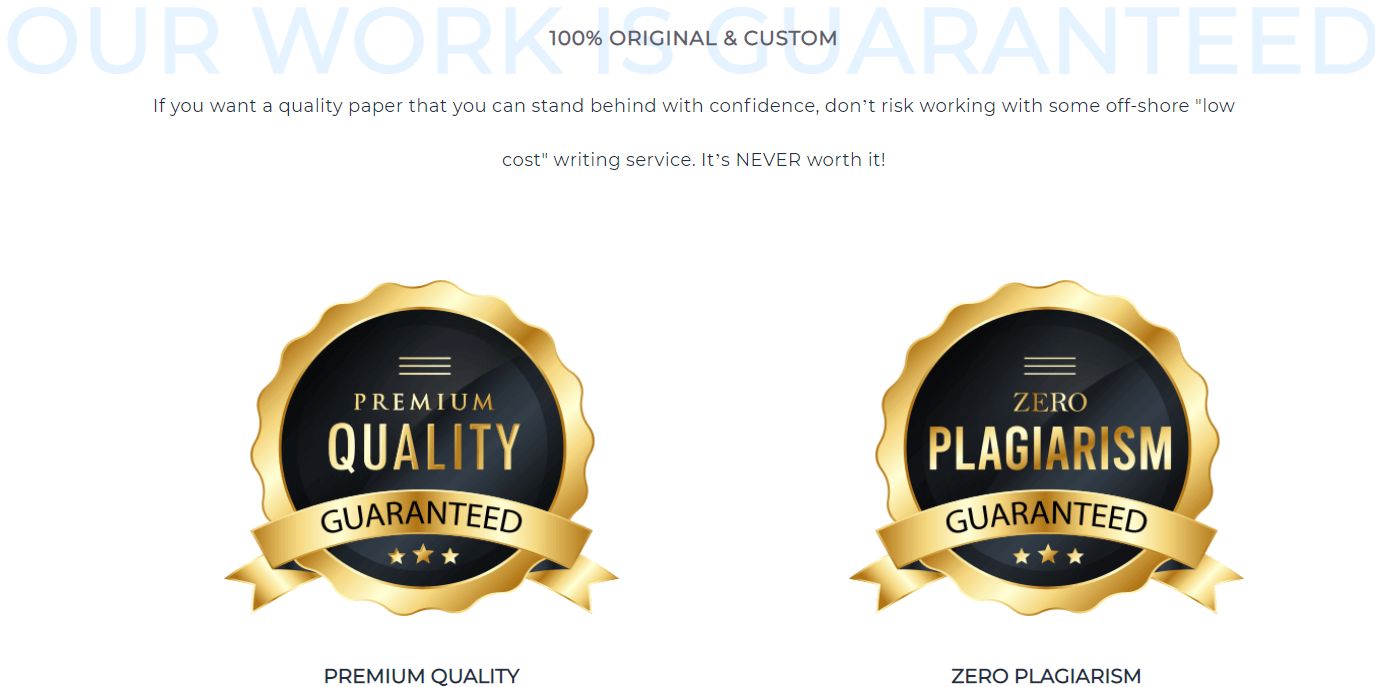 Service Review and Online reputation
On average, 5StarEssays gets a 5-7 score out of 10 on all major customer review platforms. Its online reputation has remained pretty much stable for the 9 years of its operation (since 2013). However, on the expert review side, their scores are much lower. Other professional reviewers frequently mention paper quality, high prices, and poor customer support service as the most apparent downsides of the company's operations.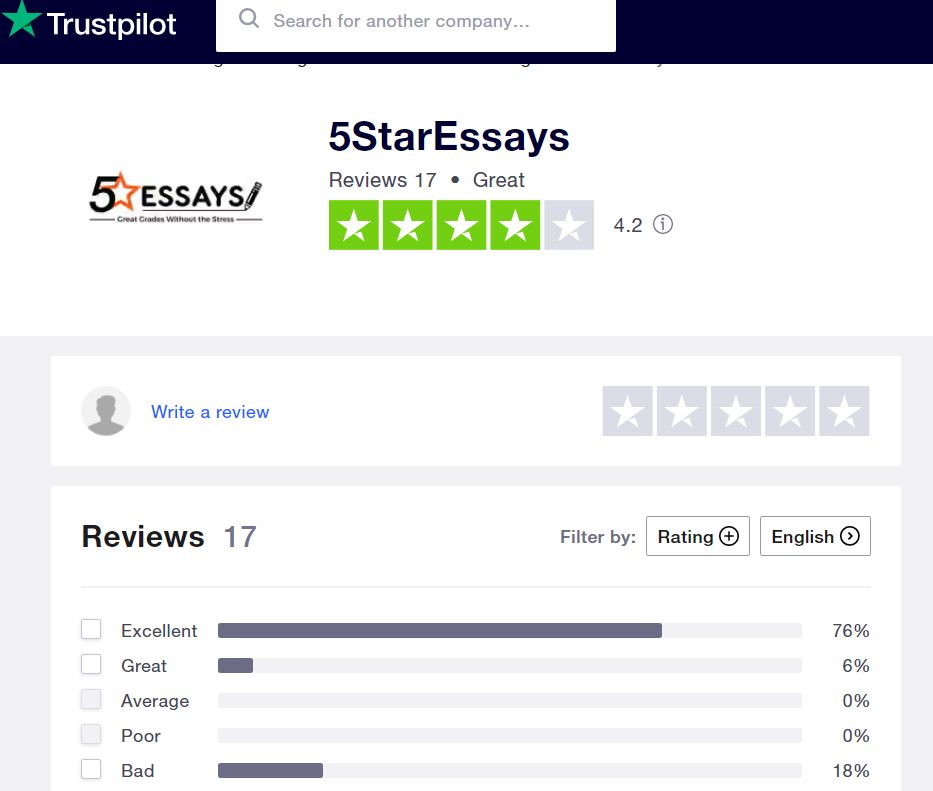 Customer Support
The customer support service at 5StarEssays leaves no room for positive feedback. We had the "pleasure" of talking to their support agents twice – each time facing low professionalism and long waiting lines. Alternatively, customers can engage in an online conversation with support personnel using the online chat option, though, to our knowledge, such options rarely work as expected.
Types of Services
5StarEssays offers a huge variety of services to high school, college, and university students. They write papers from scratch, pick up unfinished works, and provide various support services. On the website, it says that the company can write the following papers:
Essays
Coursework
Reviews
Reports
Term papers
Literature reviews
Presentations
CVs
Article reviews
Dissertations
Ordering Process
Modern online businesses make ordering as simple as 1-2-3. 5StarEssays is no exception to that rule. They clearly understand the importance of a simple ordering process in attracting new customers and retaining the current ones. We have placed our order using the online form available on the agency's website. The whole process took us about 10 minutes overall.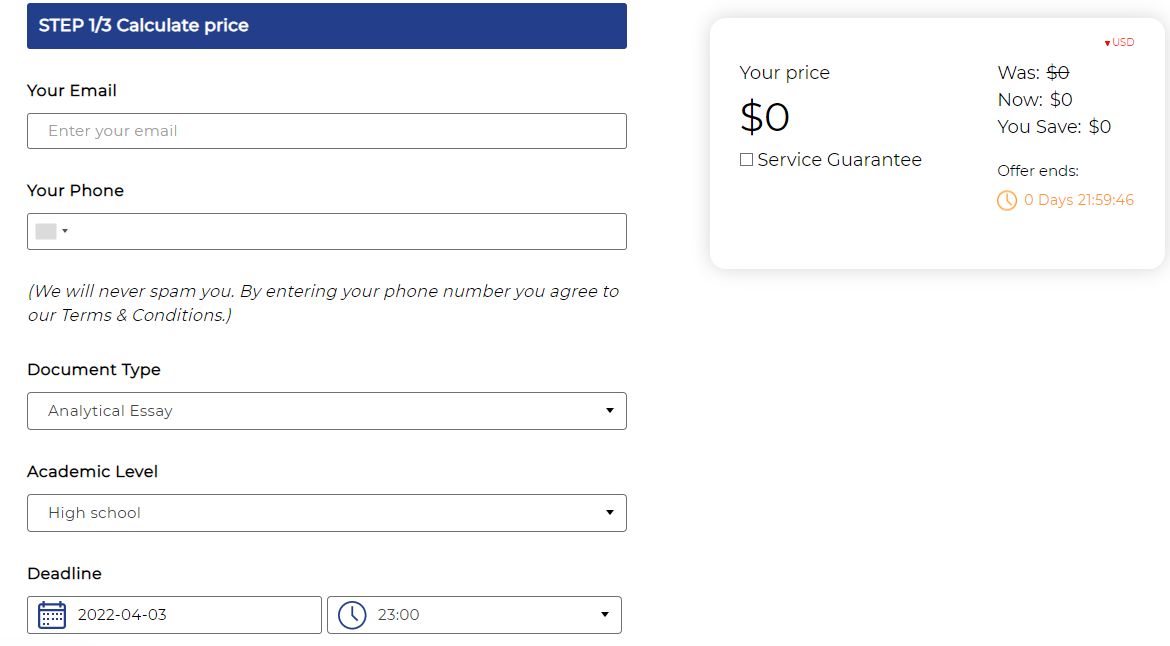 Offers and Extra Services
Extra services at 5StarEssays are pricey. We recommend beginning your acquaintance with the service with their online price calculator. It will provide you with a pretty accurate estimate of the total cost of your order, including extra options. Watch out for the priciest options: extra delivery speed, top writer option, plagiarism, and grammar checks.
The company is not famous for special offers or discounts. Only on the biggest national holidays, customers can expect modest discounts and promo codes.
Pros/Cons
Pros:
Good guarantee policy
Huge variety of services and paper types
Simple ordering process
Cons:
Mediocre paper quality
Pricey papers
Expensive extra services
Horrible customer support
Conclusion
5StarEssays is a mediocre service with respect to paper quality, prices, customer support, and extra services. Nevertheless, their business model is quite competitive when it comes to customer guarantees and the ordering process.
FAQ
Is 5StarEssays legit?
One doesn't need to worry about the legitimacy of 5StarEssays. This is a perfectly legit service with a long track record of customer-centered operations.
Is 5StarEssays reliable?
Paper quality at 5StarEssays is not a strong side. Nevertheless, they work hard towards providing a transparent guarantee policy and solving customer-writer disputes.
Is 5StarEssays affordable?
It is a rather expensive service. The lowest price is 18.99 USD, while the final cost may triple that threshold if one adds several extra services.
Does 5StarEssays meet the deadlines?
They deliver papers on time and protect customers with up to a full refund in case of any delivery issues on behalf of the company.