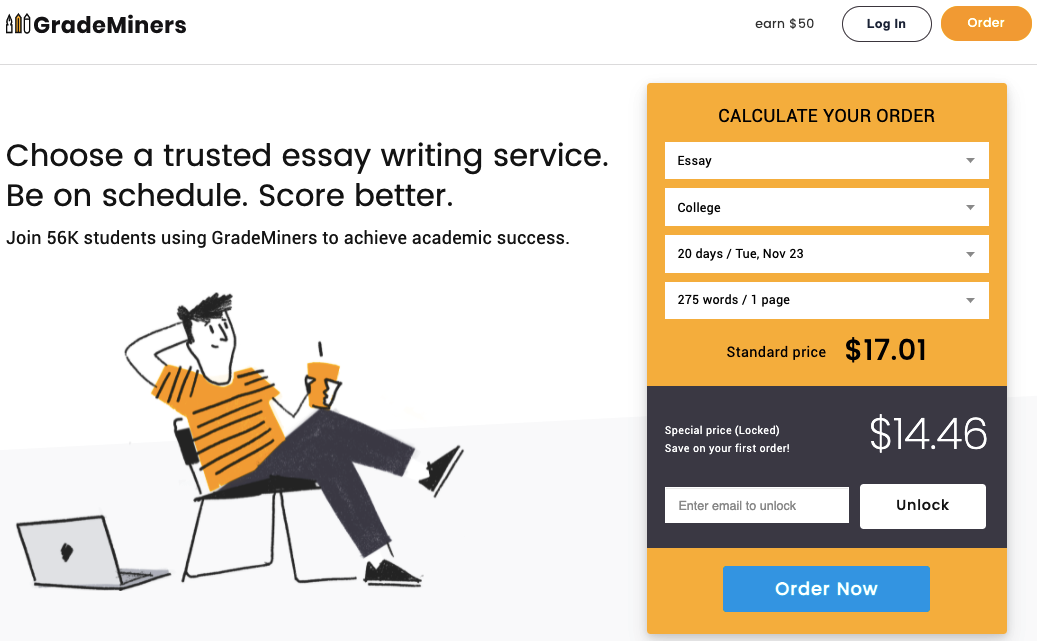 Paper Quality
Expecting a good paper quality from GradeMiners is like throwing a die – it's a game of chance. Our agency has previously ordered four papers from this company, i.e. four of my peer reviewers have tested the GradeMiner's paper quality. Two of them have reported a low paper quality, while the other two said the quality was OK. Similar ambivalent information about this company can be found in user reviews online. So, if you are willing to play a random game with your essay assignment – you may consider using this service at your own risk.
Prices and Fees
For a business located in India, New Delhi, Grademiners.com prices don't seem to be adequate. They cannot be characterized as a cheap or even affordable service. The best bargain you can get here is 14 USD per standard page. But you won't get a discount on your first order or a progressive discount if you order multiple papers. The agency has a strong brand and a well-recognized name, but its pricing policy is too rigid.

Guarantees
Just like many other custom essay agencies, GradeMiners guarantee an unlimited number of revisions and full customer anonymity. Nevertheless, on the two papers we have ordered from them before, which were delivered to us with poor quality, we were unable to claim at least a single revision and partial compensation. The administrative personnel simply did not respond to our complaints.

Service Review and Online reputation
This is where things can get very confusing with GradeMiners. Since these guys have built a well-recognized brand with a long history of service, there is no lack of user reviews on their work online. However, the problem is not the quantity, but the quality of those reviews – people have left way too many negative comments, while the positive ones have an artificial flavor to them, as if you are reading an apparent commercial text.

Customer Support
There is no phone number to call if you have questions or want to place a difficult order. One can only send an email or use the live chat option. The latter, though, is working as expected – fast and easy to use. They have agents available online on a 24/7 basis.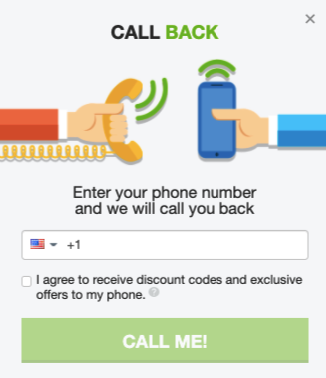 Types of Services
GradeMiners position themselves as a versatile academic support agency capable of delivering all the major paper types. They claim to possess the capacity to work on post-graduate college assignments, for example, dissertations and theses, however, the majority of orders they get on a daily basis are standard essay assignments. Besides, they offer professional editing and proofreading services.
Ordering Process
To place an online order with GradeMiners do the following:
Select your paper type (essay, review, report, thesis, and other options available)
Select academic institution level (high school, college, or university)
Set a deadline (this is a highly cost-sensitive option)
Provide the required details, such as a topic (prompt), formatting requirements, length, etc.
Provide any additional information (your preference on language style and tone, facts, sources and statements to be used, etc.). Beware, that this option may significantly slow down your ordering process, as the company may get back to you for further details.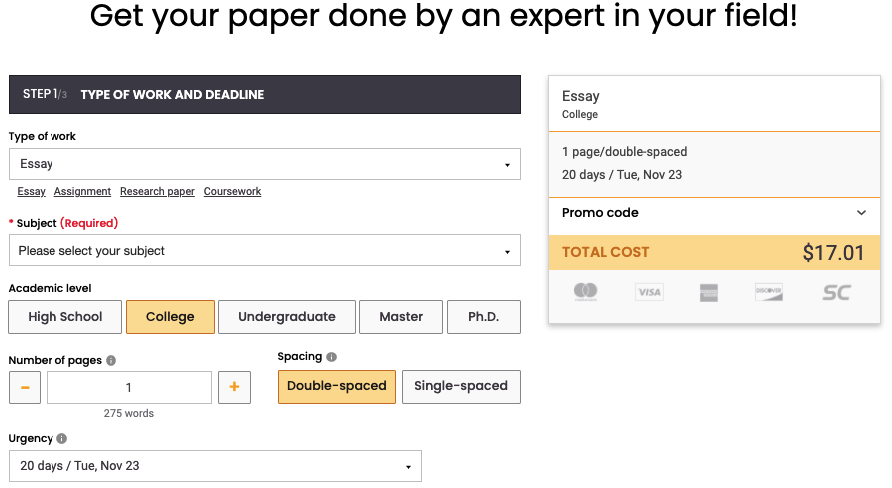 Offers and Extra Services
As mentioned, there are no special offers available. Besides, you won't get a discount for placing several orders in a row. The extra services include a collection of essay samples (free of charge), an optional plagiarism report, and an extra editing and proofreading service.
Pros/Cons
Pros:
Simple and intuitive online order form
All major types of academic works covered
Cons:
Unstable paper quality
High costs for standard and extra services
Guarantees are as good as empty promises
No phone-line support is available
Conclusion
GradeMiners may have a long service record and a well-recognized name, though, the quality of their papers and customer attitude have left many unanswered questions. Price concerned, and demanding customers, should avoid this service at all costs.
FAQ
Is GradeMiners safe?
The service guarantees customer anonymity and secure financial transactions, though, there were several instances when the support service left clients' complaints on personal information handling without answers.
Is GradeMiners legit?
We are not aware of any legal prohibitions to using custom writing agencies like GradeMiners. Nonetheless, to avoid complications, customers should apply caution when creating accounts and providing sensitive details about their identities.
Is GradeMiners cheap?
They are far from being cheap and affordable. Look for other options if you are on a tight budget.
Is GradeMiners reliable?
The reputation of this service is very ambivalent. Many customers have reported poor paper quality and issues with delivery speed