MyHomeworkDone.com Review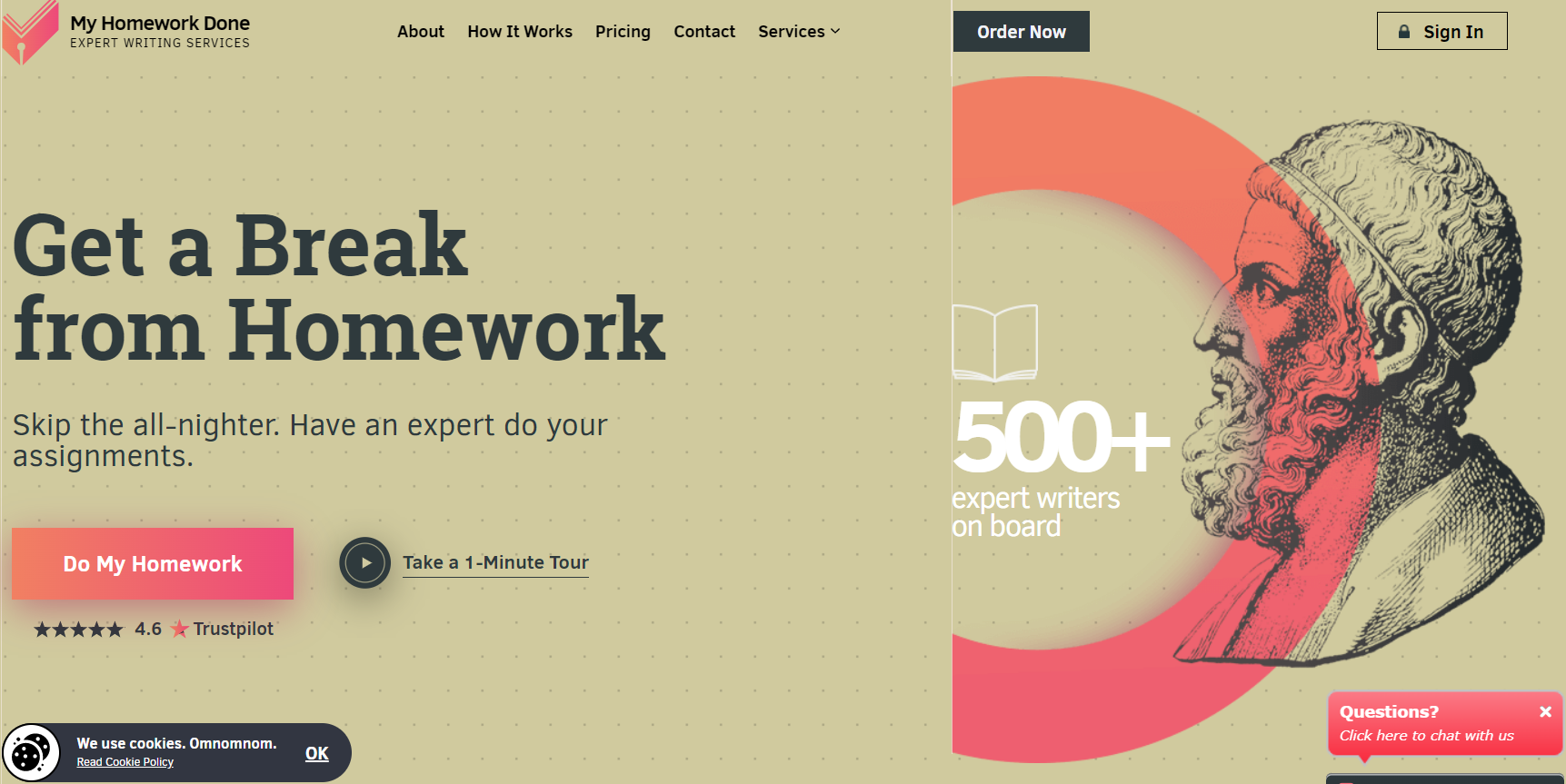 Paper Quality
To put it straight from the very beginning – paper quality at MyHomeworkDone is just about average at best. I have seen lots of other services delivering much better quality papers, and only a few underperformers, which are even worse than MyHomeworkDone. My major complaints about their paper quality refer to the way their writers know their entrusted subject areas, as well some minor issues, such as careless formatting, grammar, and styling.
Prices and Fees
Buying a homework paper here won't cost you a leg, but you are most likely to end up disappointed about the price-quality balance. In other words, for the quality of papers they deliver, the pricing is not adequate. Also, a lot of optional features, such as direct customer-writer communication, top-notch writers, or a useless grammar check cost a lot, but at the end of the day are not going to add real customer value.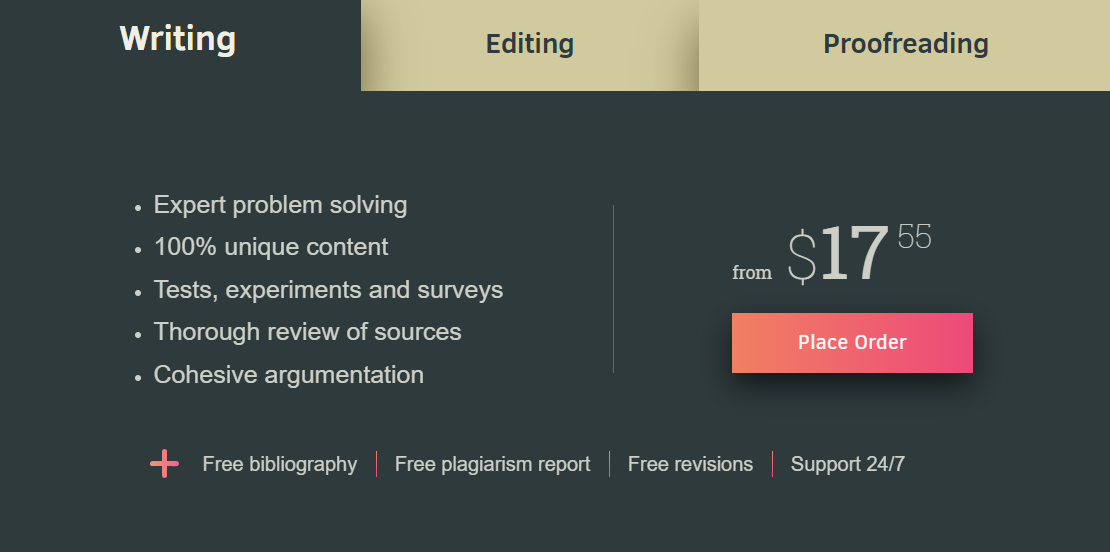 Guarantees
It seems like at MyHomeworkDone nobody has heard of customer guarantees. They ignore this important factor altogether – neither on their website nor inside the online order form is there any formal documentation to sign digitally, which outlines the service's legal obligations to the customer. Given that many other online writing services keep guarantee policies only as a formality, which has no real-life binding, MyHomeworkDone's take on guarantees doesn't seem too catastrophic (though not all customers are familiar with how guarantees work in real life).

Service Review and Online reputation
There is a fair mix of negative and positive user comments about MyHomeworkDone's services on the major review sites, such as TrustPilot. An attentive customer, who knows what he needs from a paid online service, should have no problem seeing through the large volume of user feedback. For instance, if you want to order a graduate-level college paper, you should avoid MyHomeworkDone based on what other customers have said about placing similar orders. At the same time, high school students and college juniors could be satisfied with what MyHomeworkDone can do in their particular cases.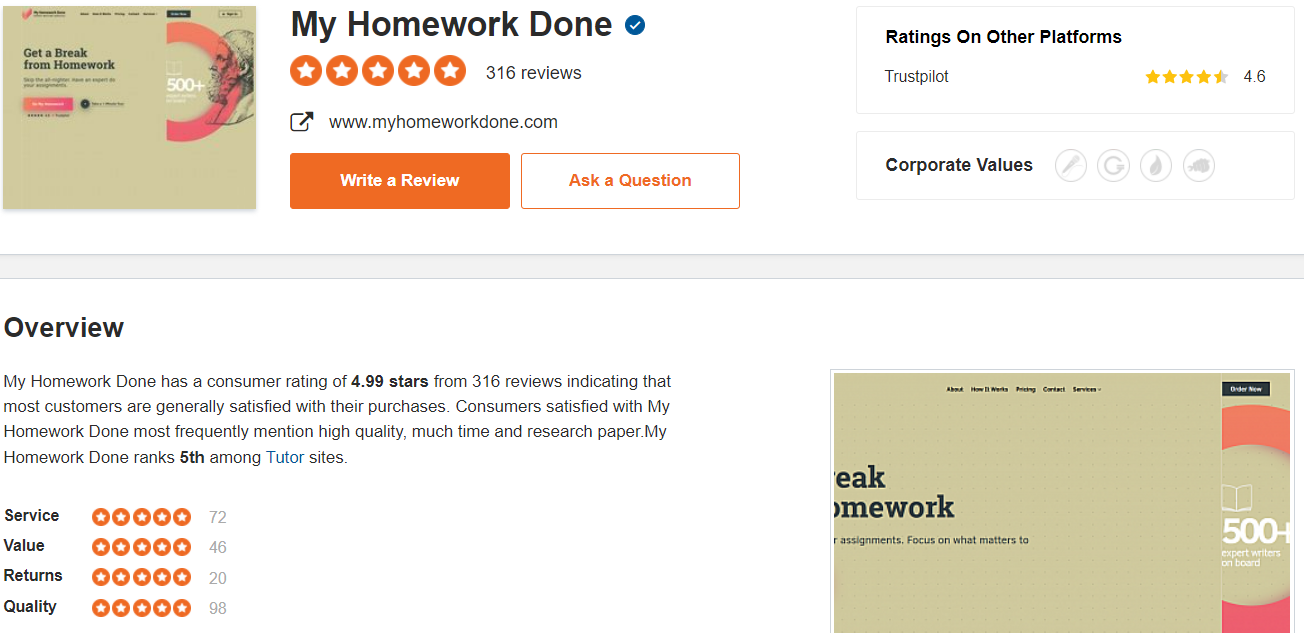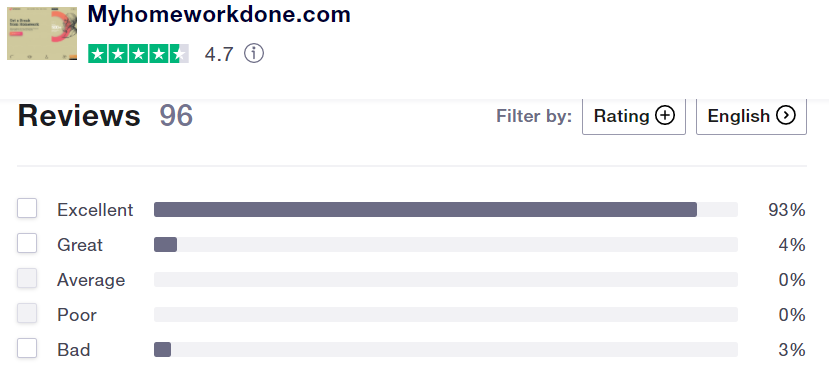 Customer Support
The customer support service at MyHomeworkDone works on a 24-hour basis, but only 6 days a week, excluding Sundays. Their agents speak a good English language and seem to be attentive and polite with customers, at least that was the case with my orders. To be honest, though, I was not too picky with any special demands to my orders and didn't throw too many questions. All in all, the customer support service is a bright spot on the otherwise tarnished company's image.
Types of Services
Despite the apparent issues with paper quality and an absolute catastrophe with customer guarantees, MyHomeworkDone positions itself as a versatile academic writing service. They claim to handle all sorts of college papers with ease, as well as provide superb editing and proofreading services. However, in reality, this service is only good for entry-level high school and junior college academic assignments without high expectations.

Ordering Process
To order a paper at MyHomeworkDone, go to their website and fill in the required fields on the online order form. Alternatively, one can call their 24/6 customer support service and place their orders via live conversation. I didn't notice any major issues with either option and can recommend using either approach.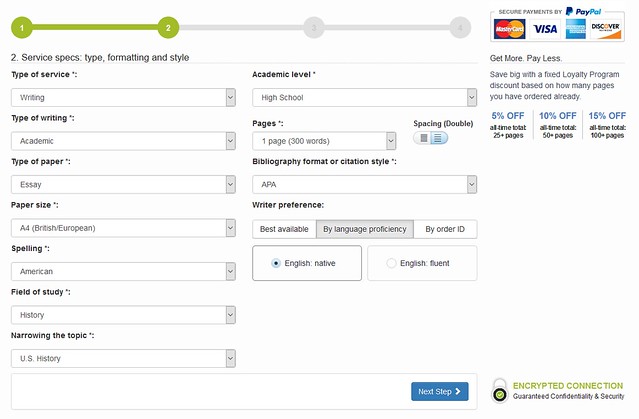 Offers and Extra Services
The company claims to offer lots of various options and extra features, which should greatly enhance the value of the output work. Customers can pick a top writer option hoping to get a better quality paper, order optional grammar and plagiarism checks, but I strongly recommend staying away from this useless and expensive functionality – the output is not going to meet your expectations or justify the price you pay. The 15% entry discount, though, is a good option, which everyone should claim on their first orders.
Pros/Cons
Pros:
Good customer support service
Hustle-free ordering process
Cons:
Average paper quality
Poor price-performance balance
Non-existent guarantees
Pricey and useless extra services
Conclusion
MyHomeworkDone is an entry-level academic support service capable of delivering satisfactory high-school and undemanding college homework assignments. It has many significant weaknesses and is just too risky to be considered as a possible helper for a serious college homework assignment.
FAQ
Is MyHomeworkDone reliable?
As long as you don't demand an above-average quality or don't trust this service with your graduate-level college assignments – this service can be considered as a possible solution for your homework assignments.
Is MyHomeworkDone a fraud?
They are not a fraud service by any means. Thousands of customers trust MyHomeworkDone with their basic-level homework assignments.
Is MyHomeworkDone legit?
The company has a registered legal address and a fully operational customer support service. Their services do not constitute a violation of the existing laws or regulations.
Is MyHomeworkDone cheap?
Their prices and fees are just about average on the modern homework support market. Though, the price-performance balance seems to be a little off.