Writing an Essay: 7 Steps to Your Best Essay Ever
Publication Date: 30 August 2021
Essay writing is a huge thing in every student's life. Teachers at high schools and professors at colleges love this task. No one can avoid essay writing; hence, every student should learn the art of essay writing, and do that the sooner, the better. Below are 7 essential steps worth memorizing if you want to learn how to write a perfect essay.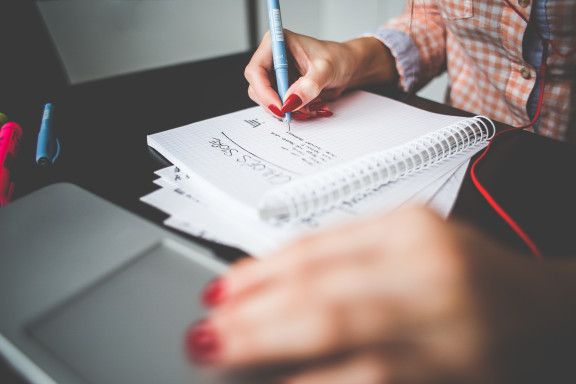 1. Topic
First things first. The topic defines the overall direction of an essay. If a topic is given to you by the teacher, make sure you fully understand it: the key question, dilemma, research focus, what is expected from you, etc. In case the topic is an open one (your choice), make sure you come up with something, which truly interests and motivates you.
2. Outline
Before you write something on paper, make sure you can imagine it in your head. Outlining is a very helpful technique. An outline is a short plan or a sketch of your thoughts and ideas. Write down as many details as you imagine, especially emphasizing the structure and key elements, such as arguments, statements, facts, citations, etc. It's Ok to take your time for this exercise!
3. Thesis Statement
This is a key point that you are going to make and explore in your essay. Do not rush with a thesis statement – placing it in the very first sentence is not a good idea. Instead, put it at the end of the first introductory paragraph and think about the best way to resent it (sort of lead your reader towards your thesis statement).
There is nothing bad in going online and checking some of the best essay samples to see how others have organized their intros, including thesis statements.
4. Introduction
An introduction shouldn't exceed 10% of your overall essay volume and as with most college essays consists of one or two paragraphs. An introduction is a "home" for your thesis statement and should interest your readers well enough to continue reading your creation. Often, this technique is referred to as "hooking" a reader.
5. The Main Body
As the name suggests, this is the key part of your essay. It should take up at least 70% of the entire essay volume. Splitting the main body into paragraphs is essential. The best practice suggests using as many paragraphs as there are arguments in your essay.
6. Conclusion
Never try to retell every single point from your essay in the conclusion. On the contrary, focus only on the thesis statement and reiterate it using concise and convincing language. An ideal conclusion should leave your readers with something to think about.
7. Check and edit
Take a break from writing and come back with a fresh mind. This will enable you to see mistakes, typos, and logical inconsistencies. Do not be gentle to yourself! Instead, take on a critic's hat and question every single thing in your essay.
Once you have learned all the 7 steps in this guideline and have explored them further by reading additional resources online, you are pretty much ready to compose your perfect essay! And not just one, but many great essays!