How to Quote a Video in an Essay
Publication Date: 13 September 2022
Videos uploaded to YouTube are not only for fun and entertainment. They represent a rich source of knowledge and information. If you ask an average student how much time they spend on YouTube – you would be amazed! Virtually half of the time spent on online entertainment is devoted to videos.
There are good documentaries, millions of how-to videos, and tutorials. Nothing is better than a visual lesson, indeed. Though, it appears that YouTube as a source of information is not only good for fixing a broken home appliance, getting rid of a bug in your smartphone, or learning how to cook a dessert. It is also a great source of more substantial scientific knowledge and a fantastic helper for students when they write academic papers.
In fact, more and more students choose YouTube videos as reference materials for their essays. However, only some do it the right way, while most make horrible mistakes by not citing video sources correctly. This results in all sorts of troubles, with the worst one being when you end up caught in plagiarism by a picky professor.
To get video citing right, one only has to learn a few simple rules on how to quote a YouTube video (in particular, in the popular MLA format), and spend at least 5 minutes reading the below guide.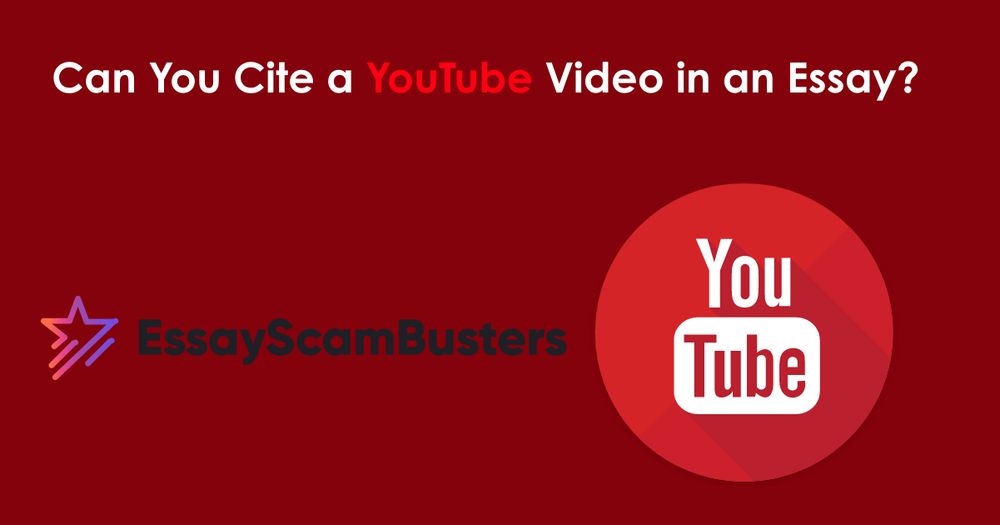 What Videos to Quote in an Essay
This might seem simple at first – you will only quote those videos that you like and find appropriate. However, just as with quoting any other referencing material, video material should also be carefully selected.
If you want a quick answer on how to quote YouTube video content correctly, the first rule of thumb here is to quote only credible videos and the ones that you've checked yourself. Also, ideal selection criteria should also include the date the video was uploaded, as old videos often tend to be irrelevant and sometimes unavailable (removed either by a user or blocked by an updated YouTube policy).
So, quote only those videos that meet the following criteria:
Are credible (from a trusted publisher, channel, etc.);
Checked by you personally;
Are up-to-date, or at least not older than several years.
Additionally, we would also include a bonus criterion – the quoted videos should have the necessary attributes so that citing them in one of the popular styles (MLA format, or APA format) will not be an issue, i.e. they should contain a clear title, author/publisher and have a short description.
How Many Videos to Quote in an Essay
Unless your essay is based solely on a YouTube platform as a video source on a particular topic, you should not include too many videos as references in your paper. An essay is a short academic paper per se, so stocking it with too many identical referencing materials, such as videos from YouTube, is not the way to go. We would modestly suggest having one or two quotes leading to a video source in your undergraduate paper unless you are working on an extended essay or a scholarship essay, where at least twice as many video quotations would be appropriate.
How to Quote a YouTube Video in MLA Format
MLA format of referencing external sources is one of the most popular styles used in academia. It is so for a good reason – the MLA format is widely used in humanities and social sciences and it is loved by faculty and students all over US and Canada.
On a very high level, to quote a video in MLA format, you need to answer the following questions:
Who is the author? Who uploaded the video?
Where can your readers find it?
When did you access (check) the video?
What is the video about?
Let's see what the MLA format requires of you in particular:
Author of the video (publisher, producer, organization, etc.)
Title of the quoted video in italics (if this is a film) or in quotation marks (if this is an episode of a film/series)
The hosting platform – Vimeo, YouTube, or any other video hosting resource
Who uploaded the video (if available and if different from the author)
The date in the following format: day, month, year
Technical address or URL
It is worth noting that such detailed referencing information is only necessary for the bibliography list located on the final page of your essay. If you want to know how to quote a YouTube video using in-text citations, proceed to the next chapter.
For now, here is an example of a quote in MLA format in a bibliographic list.
MLA format video quotation with an author (when an author is known):
James Baratt, director. "Uncertainty – the plague of modern life." YouTube, uploaded by Fun Creator, 5 March 2021. www.youtube.com/funcreator/videos for students/52992
MLA format quotation without an author:
Uncertainty – the plague of modern life." YouTube, uploaded by Fun Creator, 5 March 2021. www.youtube.com/funcreator/videos for students/52992
How to Quote a YouTube Video Using an In-Text MLA Format
Often students pay proper attention to the end document list of references, but they forget to properly format their quotations inside the text. This is a big mistake as the main text is the first place where the reader sees the quote, hence forming an opinion of the entire work!
To properly quote a video source inside an essay's text, forget almost everything you saw in the previous chapter. Here, things are as simple as that.
For the in-text quote with a known author using MLA format, do the following:
(James Baratt)
(James Baratt 12:55 – 15:10)
For an in-text quote without an author in MLA format, do the following:
("Uncertainty – the plague of the modern life.")
("Uncertainty – the plague of modern life." 12:55 – 15:10)
Notice how the title of the video source comes to replace the missing author information in the second example. Also, the timestamps are only necessary when you are making a direct quote.
How to Quote a YouTube Video using APA Format
Unlike the MLA format, the APA style (which stands for American Psychological Association) is most widely used for scholarly articles and scientific publications. In high schools, colleges, and universities it is also a preferred style for social sciences and humanities and many graduate students prefer to stick to this style to ensure consistency across all their academic papers.
To quote a video source in APA style on the reference page (bibliography list), include the following information:
The last name of the uploader, First Initial, Middle Name Initial. [Screen Name]. (Year. Month, Day). Title of the video. Name of the website (e.g. YouTube). Full URL.
To quote a video source in APA style inside an essay's text, include the following information:
(Uploader Second Name OR Screen Name, Year)
Notice how both formats, MLA format, and APA format; use a much simpler referencing formatting for the in-text citations of video sources.
The Bottom Line
To quote video sources properly, you'll have to master both styles: MLA format and APA format. The final choice between these two styles is yours, of course; however, at times your essay assignment will come with a defined quotation style in the requirements section.
This short guide has shown you a few basic rules on how to quote a YouTube video using MLA format, followed by a quick comparison with the APA style. If you need extra knowledge and guidance, make sure you find credible referencing material or a professional instructor with solid academic experience.