How to Write a Synthesis Essay
Publication Date: 20 July 2022
You have been tasked with a synthesis essay in your class and suddenly realize that this is something new for you. You hectically go online searching for a synthesis essay example, but find nothing helpful and worthy of your attention. Several urgent questions keep buzzing in your mind:
What is a synthesis essay?
How do I write a good synthesis essay?
How does a synthesis essay format differ from an ordinary essay format?
In the current article, we provide ample answers to these and many other relevant questions. By following the recommendations of our experts, you will learn how to write a good synthesis essay in a quick and efficient manner.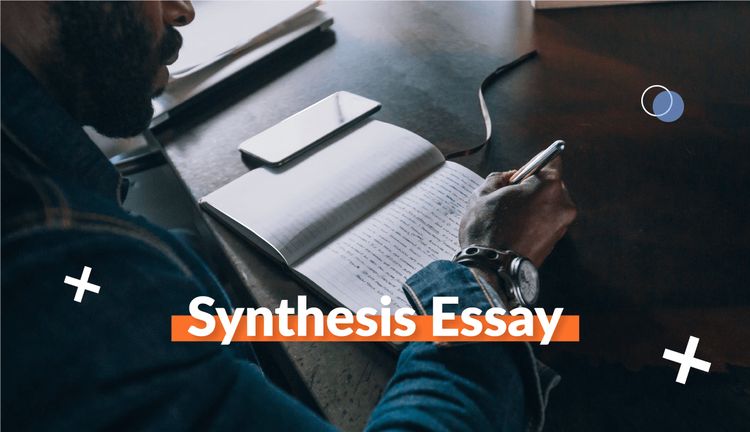 A Synthesis Essay – The Definition
The word "synthesis" causes many students to panic. The reason is simple – the term "synthesis" stipulates doing certain analyses and reviews of multiple elements. A synthesis essay requires students to have good analytical skills to be able to compare and contrast the existing works to form a unique opinion and to come to an original finding.
A synthesis essay is more common for natural sciences, such as biology, physics, and computer sciences; however, it is also rather popular in social studies. To write a good essay of this type, following the necessary synthesis essay format, one has to do extensive reading and research to be able to effectively synthesize things and extract something new and interesting.
Types of Synthesis Essays
There are several subtypes of a synthesis essay: persuasive, explanatory, and compare and contrast.
Persuasive synthesis essay. This one has much in common with a regular argumentative essay in the way that the author has to convince the audience of something by forming a single point (thesis);
Explanatory synthesis essay. A classic synthesis essay example consists of reviewing multiple points and presenting an original analysis of those;
Compare and contrast synthesis essay. As the name suggests, this type stipulates a deep comparison of various parts with the aim of arriving at a unique outcome.
All types exist simultaneously in academic programs, and undergraduate students may not even be aware of their differences. Nevertheless, graduate students and those pursuing advanced academic degrees may sometimes be asked to write a synthesis essay following a particular subtype.
How to Start a Synthesis Essay
Not everyone knows how to start writing a synthesis essay. Often, a person knows how to speak, how to clearly and confidently express different points of view, thoughts, and feelings, but doesn't know how to put them on paper, write a synthesis essay example, or do other academic analysis.
How to start writing a synthesis essay? The beginning is sometimes the hardest thing to do, and protracted thinking about "where to start" can spoil the whole process of creative work. We will help and tell you how you can start writing a synthesis essay.
Before starting work, think about the topic, and what exactly you will write about. Then find various sources for your synthesis work.
Try to begin with a free writing technique, that is, writing at will. The peculiarity of this technique is to write down all the chaotic thoughts that come to mind without observing any rules. Do not try to write correctly, and put all the commas. This way, you can easily find inspiration and decide on the choice of topic.
Try to pay more attention to the main body of the text. When the essence of the essay is revealed, then it is easier to write the introduction and the conclusion, as well as to make a correct synthesis essay format.
One of the most common ways to write a synthesis essay is to ask a question. Then include a reason, reflect and find the answer.
There can be many examples of how to start a synthesis essay. You may want to try a catchy phrase, or a bright idea, to immediately attract the reader's attention and curiosity. In any case, the process of writing a good synthesis essay includes researching your topic, and finding inspiration, even when some initial thoughts have already been put on paper.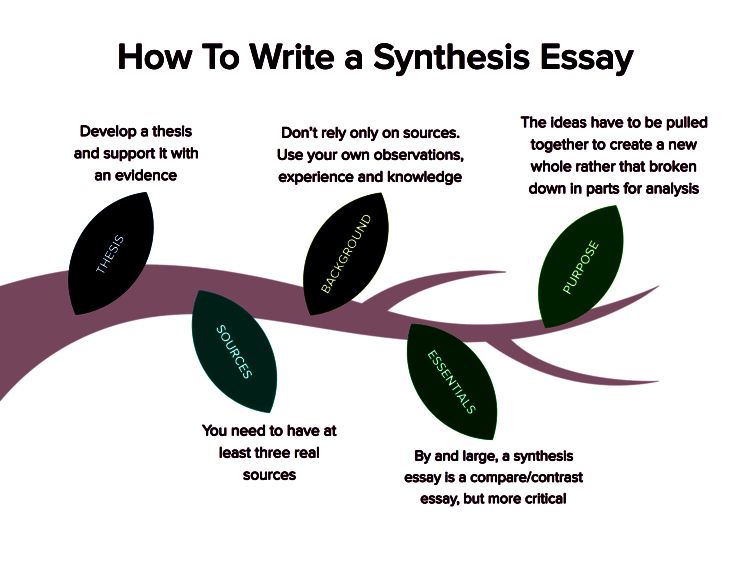 The Structure of a Synthesis Essay
Introduction
An introductory part is a must-have in a synthesis essay. It is the introduction that captivates the readers and convinces them to read the essay till the end. The author decides what words to use in the introduction, but they should always be interesting and captivating. In the introduction, one can use a quote or a fact that will interest the reader to consider the problem the author has formulated.
The Main Body
In a good synthesis essay example, this part describes the author's own vision or the opinions of others on a given problem. One can also elaborate on the magnitude of a problem. As a rule, the main body is divided into subparagraphs, consisting of three sections:
A thesis – a question or opinion that requires discussion;
A justification – the arguments given to argue the thesis;
A preliminary conclusion – partially answers the question posed.
The arguments or justifications that the author gives in the main body are intended to convince the reader of why the author has such an opinion and views on the problem under consideration. According to a synthesis essay format, here you can describe life situations, research by other scientists, facts, your own experience, etc.
Tools to prove your point (thesis statement) in a synthesis essay:
Educated guess
Personal statement
Clarification
Fact
Example
Personal opinion
Conclusion
In the end, the results and outcomes are summed up on all the theses set out in the main part (main body) of the work. There must be a bottom line, a logical end because the reader needs to see the result of the synthesis, arguments, and comparisons.
If the task of the introductory part is to captivate, to puzzle, then in the end you need to complete your thought so that the overall picture becomes whole. The desired outcome is when the reader starts to think further, to reflect on your work.
Helpful Tips on Writing a Perfect Synthesis Essay
Openly compare and contrast various elements to impress your reader with educated thinking.
With a synthesis essay, perhaps more than with any other essay type; you are free to conduct your own analysis. Your ultimate goal is to inspire and engage the readers, and to set them up for a sincere conversation.
You can start over once you've reached the conclusion! It is not necessary to follow the correct order as per the synthesis essay format.
Write simply, in short sentences, so that the text is dynamic and easy to understand.
Use a free synthesis essay format, provided that you do the analysis part well.
Do not use complex and incomprehensible words, unless they don't make much sense.
Use fewer common phrases. A synthesis essay ends with an author's statement. Therefore, everything should be concise and to the point, without water.
Don't overdo it with humor. It might not be understood, or even completely missed.
To confirm your point of view and convince the reader, refer to personal impressions, memories, and experiences. In a good synthesis essay example, this is the correct way to go.
It's cool to refer in a synthesis essay to some undisputed facts and research by prominent scientists. This way, your statements will be more weighty and convincing.
The Bottom Line
Knowing how to write a perfect synthesis essay is a very useful skill. In the short run, it will prepare you for more advanced and substantial research work, which will inevitably await you around the academic corner. In the long run, knowing how to synthesize things in a scholarly manner will help you to build your professional career and to be successful in life in general.
A good synthesis essay example is hard to find, therefore we hope that the current article will inspire you to write your own perfect synthesis essay. Don't hesitate to dig into this topic further and improve your research skills using the available help at hand and support from others.