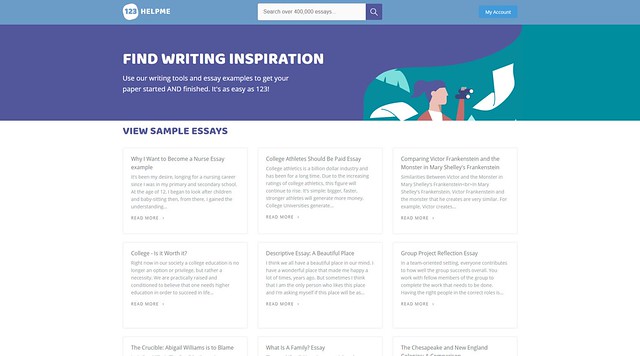 Quality
123helpme offers an acceptable paper quality, though many demanding customers may not agree, as seen by the online reviews. This is understandable, as those who have high expectations will most likely get disappointed with 123helpme – the collection of text samples they have is mediocre and requires monthly, quarterly or yearly subscription.
I have run a thorough check on some graduate-level paper samples (I bought the minimum possible monthly subscription) and found some minor writing issues as well as serious plagiarism problems.
Prices & Discounts
The basic monthly subscription costs $12.99, followed by $29.99 for a quarter and $99.99 for an annual subscription plan. On special occasions such as big national holidays, customers can enjoy pleasant discounts of up to 50%, so watch out for those!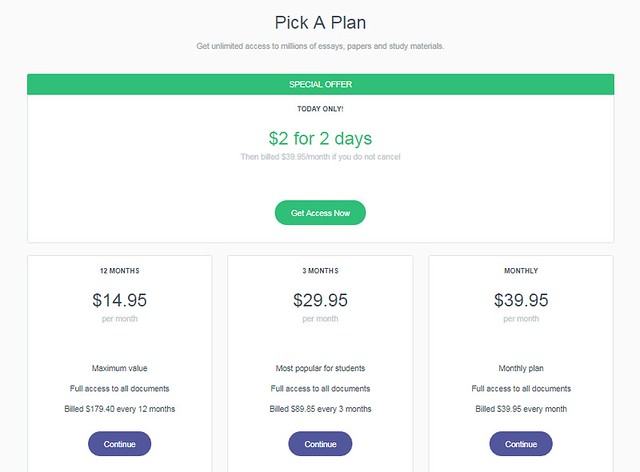 Beware though, that there is no possibility to get your money back for canceling your subscription. I would advise anyone to order a monthly subscription first before making any further payments.
Guarantees
This is a major downside of 123helpme, as there are no guarantees whatsoever, neither on the quality of papers nor on the work of the online checker tool. The Terms of Use available on their website are rather complicated (who reads this stuff anyway) and contains zero information on the guarantees.

Reviews and online reputation
123helpme is definitely not a star of its kind in major expert and user reviews online. In fact, there are more negative reviews than positive ones, and the major complaint that people have is about guarantees and poor customer support.
Do not get me wrong, all I am trying to do is to be objective here, as I have seen a much worse online reputation in other services out there. However, 123helpme needs to work on its image and at least react to the piles of negative user reviews online.
Customer Support
Customer Support at 123helpme works only on paper. They do provide a support email address and claim to answer every query or complaint, but I have never heard back on my two consecutive information requests sent already a week ago.
I think customers have the right to be aware of this situation and not to expect too much from their Customer Support office.
Types of Services
123helpme offers two basic types of services:
Online paper checker. This tool is free of charge (no subscription required) and works pretty much similar to Grammarly, Copyleaks, or Duplichecker. Basically, all you need to do is to paste your text into the online window or download the entire document for verification. The sophisticated algorithm then runs a multilevel check of your text including grammar, language and style consistency, word choice and displays a number of recommendations on the right-hand side of the screen. This tool is perhaps the best that 123helpme has to offer, and I recommend it to anyone.
A database of paper samples. 123helpme claims to hold 500,000 samples of various papers in their database, including essays, course and term papers, research works, as well as graduate-level theses and dissertations. All papers are for reference only, you cannot just take a paper and use it as your own, especially when it comes to graduate-level works.

Ordering Process
The ordering process is indeed as simple as 123. All you need to do is to paste your paper into the online checker tool or open and search the database of paper samples. The first tool is free, while the database is paid only.
Signing up for a subscription takes a few minutes – you have to read and accept or reject their Terms of Use, select a subscription plan and pay using one of the popular payment methods (PayPal or Credit Card).

Offers and Extra Services
As mentioned, occasionally 123helpme offers a tasty discount on national holidays of up to 50% (more usually in the range of 10-25%).
There are no other extra services or features available. The service model is simple and in this sense, the company lives up to its name.
Pros/Cons
Pros:
A huge database of online paper samples;
Simple and intuitive ordering process;
Functional online checking tool (free of charge).
Cons:
Poor Customer Support;
The quality of papers in the online database is not the best in its class;
Absence of guarantees and money-back policy.
Conclusion
123helpme is a typical representative of fast online academic paper tools. It is fast and easy to use, though the quality of papers as well as services desires much to be better.
FAQ
Is 123helpme reliable?
The online checking tool works as expected, though the paid features may cause troubles when it comes to paper quality and guarantees.
Is 123helpme plagiarism-free?
Unfortunately not. In my case, the popular online plagiarism checking tools (Copyleaks, Grammarly, Duplichecker) have all signaled significant plagiarism detected in 123helpme's online database.
Can I use 123helpme for free?
Yes and no. The online text checking tool is free, while the database of paper samples requires a monthly, quarterly, or yearly subscription.
Is 123helpme legit?
According to their official website, they are a perfectly legit service. However, I advise applying some caution when using their paid services.