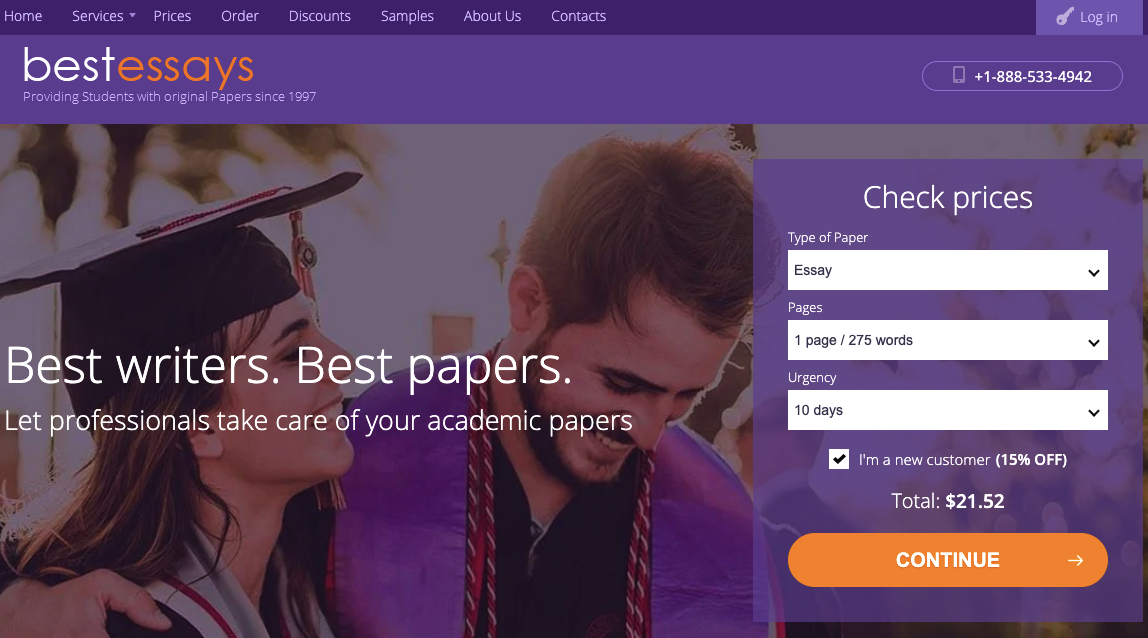 Paper Quality
Bestessays.com has been providing academic writing services for more than 20 years. As with any long-living service, two things can happen to their business – they either grow to take one of the leading roles in the marketplace, or they stagnate and lose quality with clients. Unfortunately for BestEssays, the second scenario has become their reality. By chasing more clients and increasing revenues, they seem to have lost focus on quality. Their writing quality doesn't satisfy average college paper requirements, which was noticed by me and by many other clients who left their feedback online.
Prices and Fees
BestEssays's thirst for revenues has made them much more expensive than their competitors. An average difficulty level college essay will cost you from 18.99 to 44 USD per page, depending on the delivery speed. I found it also very frustrating that there are no first-order discounts or any progressive discounts available. More serious college work, such as a dissertation, will cost you 220 USD and above.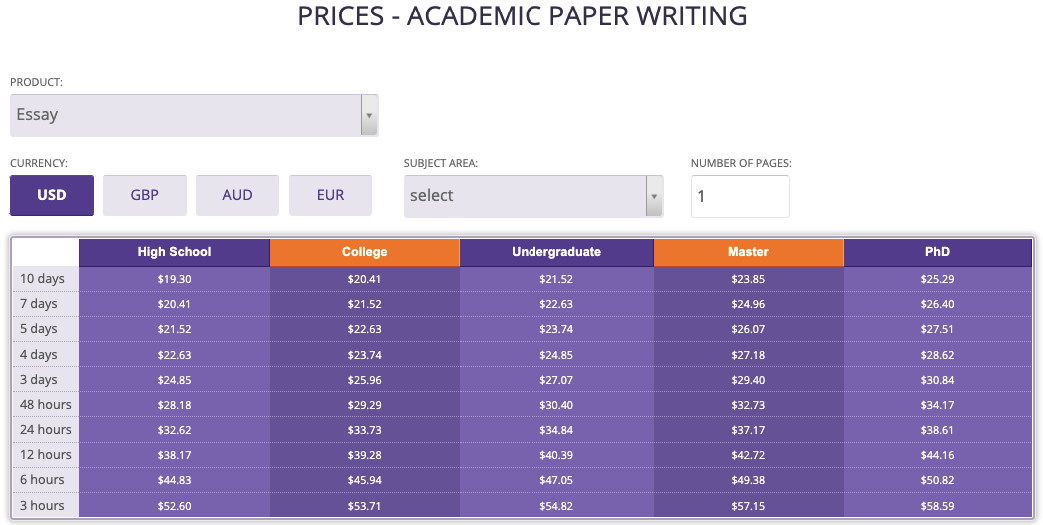 Guarantees
Anyone can easily access their Terms & Conditions policy as well as the Money-Back policy available on their website. Just as many other writing agencies, BestEssays guarantees their customers an unlimited number of revisions and a full money-back. The truth, however, comes to the surface with practice. As many clients have stated, it was very hard to claim at least a partial refund for poor quality or plagiarized paper, whereas free revisions had significant time restrictions (a client has to send a revision request no later than 72 hours after the order has been completed).

Service Review and Online reputation
All the major customer-review resources, such as TrustPilot and SiteJabber, had very contradicting information about BestEssays. Roughly, 60-70% of all reviews had a rating of 3 stars and below and revealed numerous issues concerning paper quality, customer support, and the tendency of the company to increase prices. The company doesn't seem to care much about its degrading reputation, as they stopped replying to negative customer feedback a few years ago.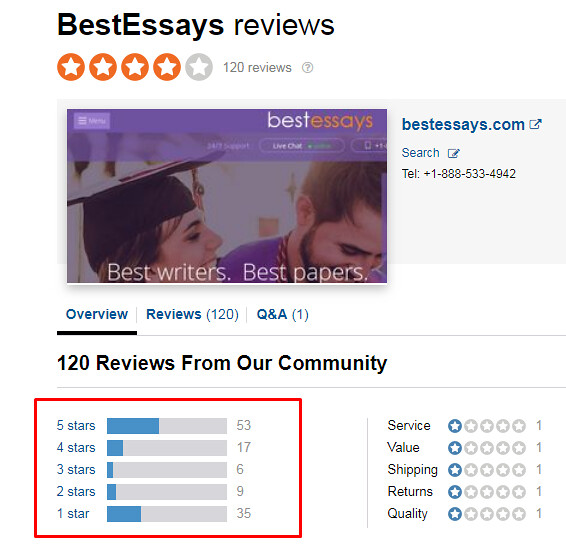 Customer Support
Their customer support service is definitely not the best I have seen. Besides a complex interactive voice response system, which makes it very hard to talk with a real person, they don't have any live chat option available. Also, they don't work on weekends and on weekdays are open until 7 am only.
Types of Services
This was one of the few things which I liked about BestEssays. Unlike many other writing services, they don't focus on essays only. Instead, they offer assistance with all the major academic paper types, especially those popular at college: term papers, literature reviews, research reports, book comparisons and reviews, and even dissertations and theses. BestEssays also claims to have over a hundred experienced editors available at our service.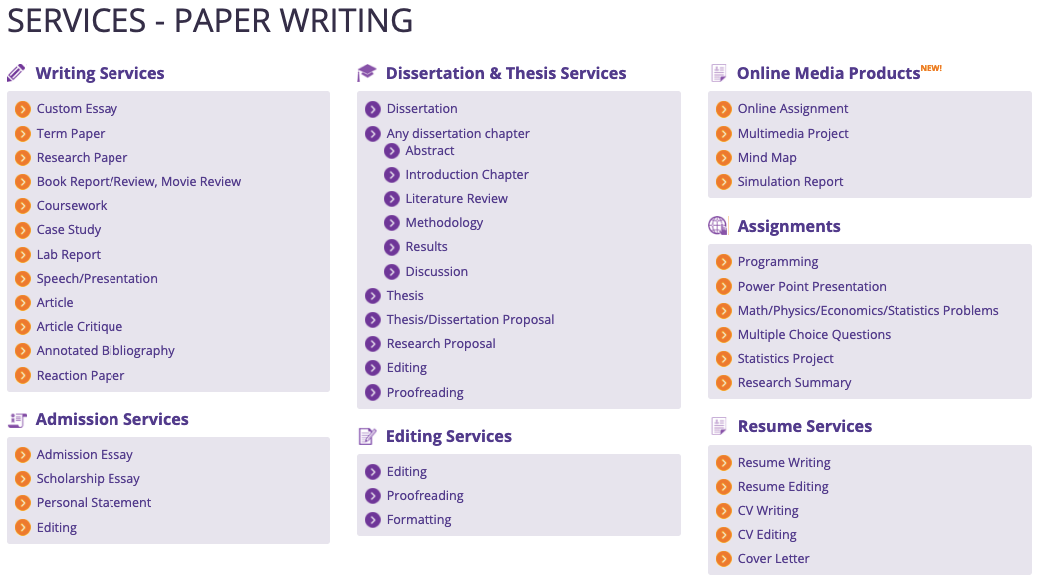 Ordering Process
To order at BestEssays you can call their customer support service (as mentioned, their complex IVR system makes it a very difficult option) or go via their online order form. The latter option worked just fine for my test order – all-in-all, it took me just over 10 minutes to complete this form and place my order. Shortly after that, they emailed me confirming that my order was taken into operation. At the final stage, they send a draft paper for review only and after the client's feedback or confirmation and payment, they release the final paper in the requested format.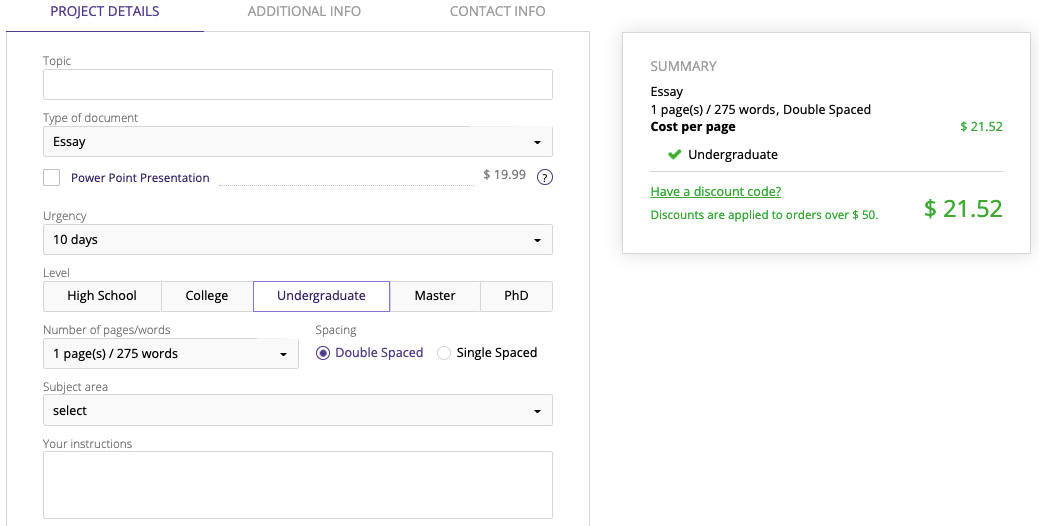 Offers and Extra Services
As mentioned, BestEssays is lacking first-order discounts or any customer-retention program, which would encourage returning customers and reward them for their loyalty. The company, though, provides an optional, but free-of-charge plagiarism report. Given some clients' negative comments regarding paper originality, I don't believe a plagiarism report is a viable option.
Pros/Cons
Pros:
A variety of academic services to choose from
Over 20 years of operation on the custom essay market
Cons:
Below average paper quality
Horrible customer support service
No customer-retention program
High prices
Conclusion
BestEssays may have a long history of providing custom academic services; however, they seem to have lost their customer focus along with their online reputation on the way. Avoid this service at all costs.
FAQ
Is BestEssays a scam?
They are not a scam service as far as thousands of user reviews go. It is a real company with a long history of serving clients.
Is BestEssays trustworthy?
You can trust them to deliver an academic paper for you within the formatting and deadline requirements. The tricky part, though, is the quality of their work. I wouldn't personally trust them with my important college paper and will always check the papers I buy with several plagiarism checking tools online.
Is BestEssays cheap?
They are not a cheap writing service. Their prices are well above the market average. If you want to get cheap custom writing help, you should be looking elsewhere.
Is BestEssays secure?
Multiple users reported issues with handling their personal information and financial transactions. Therefore, the use of extra caution when buying services from this company is advised (just as with any other online service).