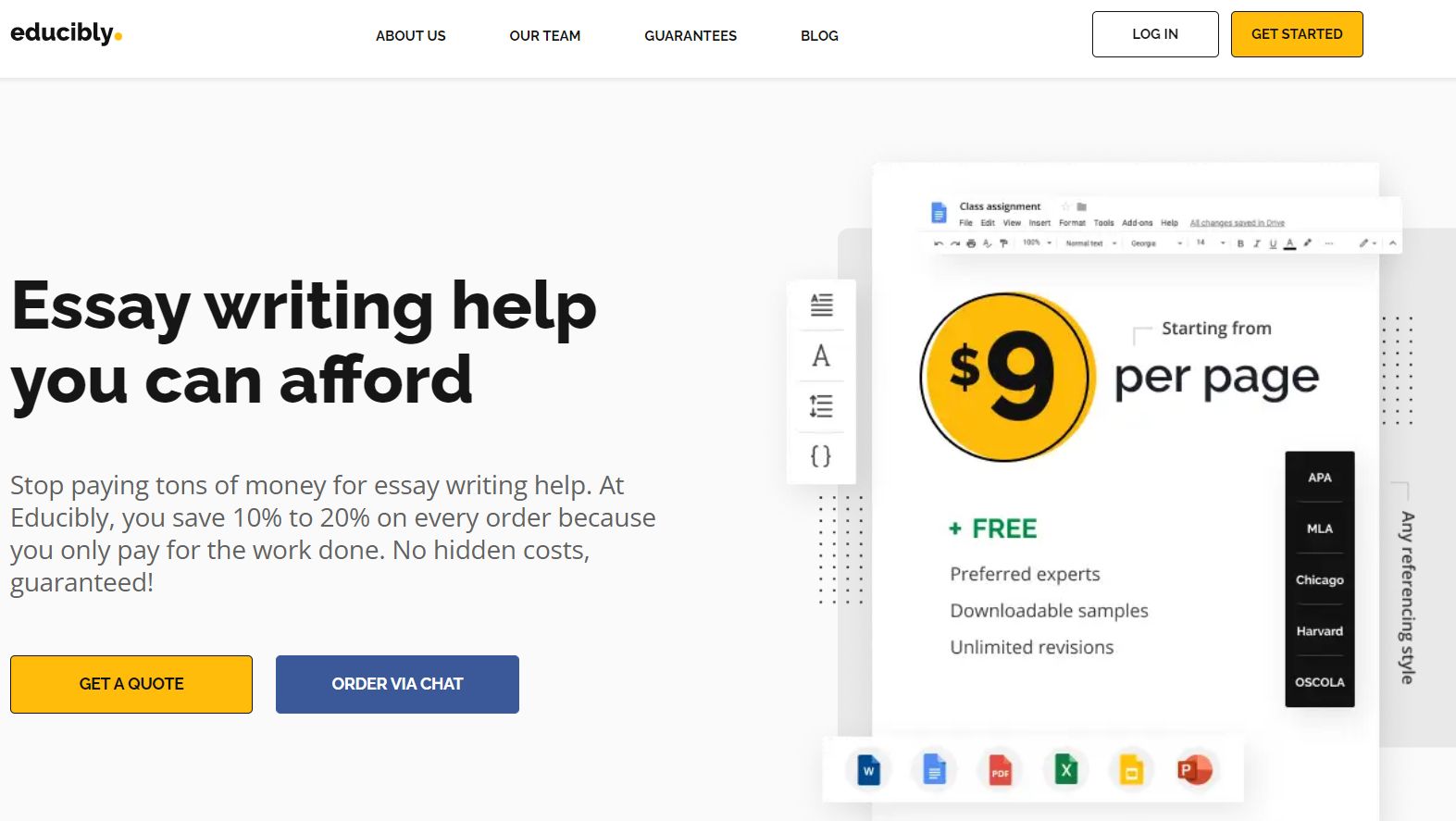 At first sight, this writing service looks like a reliable one. They have low prices and all bait for trusting customers. But since you are on the hook, get ready to face their unfair refund policies and weak support. Is Educibly a scam? It seems so, but let's find out.
Paper Quality
Time management of this writing company obviously is not their strong suit. They slightly do not meet the deadlines and deliver papers later than they promise.
The final papers are poorly written because there are lots of spelling mistakes. Frequently they miss articles, ruin the structure of sentences and whole text, and mix up tenses. Furthermore, they provide low-original content. They copy-paste quotes from widely well-known sources without rewriting. It just can say that Educibly likely hires non-native English speakers with doubtful skills and qualifications. Who knows if they even graduated?
Guarantees
The company offers free revisions, but will the quality rise after? We mentioned that Educibly has a muddy money-back policy. That is because even if you don't like your papers and are allowed to ask for a refund, they will consider your request up to half of the year after you get your writings.
So if you rely on useless revisions, you need to understand that their money-back procedure can proceed for a while. No one wants to buy an awful essay in June and receive their money back at the end of December. Happy New Goddamn Year.
Service Review and Online Reputation
You can download the samples on the website, and they are fine. But could the examples be stolen if we compare the samples and the actual results from those writers?
Online reviews are too positive to be true. Standart scheme – buy or generate positive comments and delete or hide real negative ones.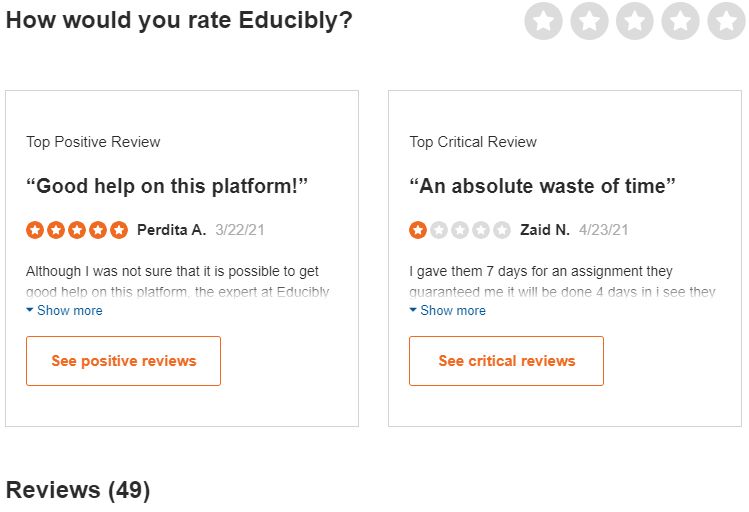 Customer Support
Educibly's customer support team is permanently busy. You need to wait for a bunch of your valuable minutes till they ask how they can help you. Finally, when they answer, you can hear the workers' polite voices, which they try to turn into music to your ears. But being friendly, unfortunately, doesn't cover all the cons of this company, such as poor grammar use even in online conversations.
Types of Services
They offer different help with the following fields:
Assignment help
Essay help
Term paper help
Lab report help
Book review help
Editing
Presentations and others.
Ordering Process
We wonder, but the ordering process is not as challenging as we imagined earlier. You just need to click the right button, choose your paper type, your discipline or subject, and add essential requirements. A couple of hours after you request an order, managers will contact you to organize your future work. You will agree with all the details and complete the payment.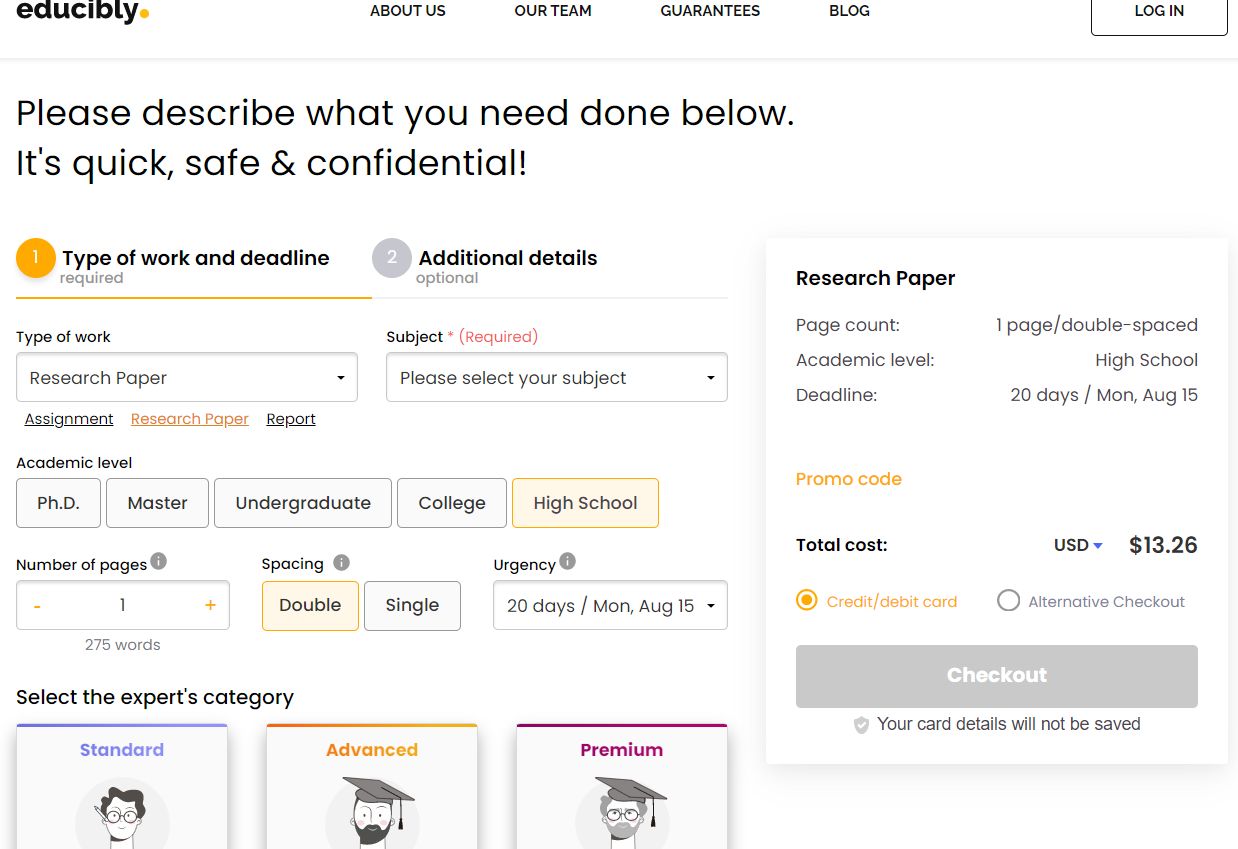 Offers and extra services
Educibly provides discounts on your orders on public holidays and birthdays. You can also download examples from the "Samples" page and ask for revisions or any other plagiarism checkings. Generally, they do not orient on bonuses for their clients. Maybe that is because nobody stays with them after the first order, and the reason is – the absence of necessity.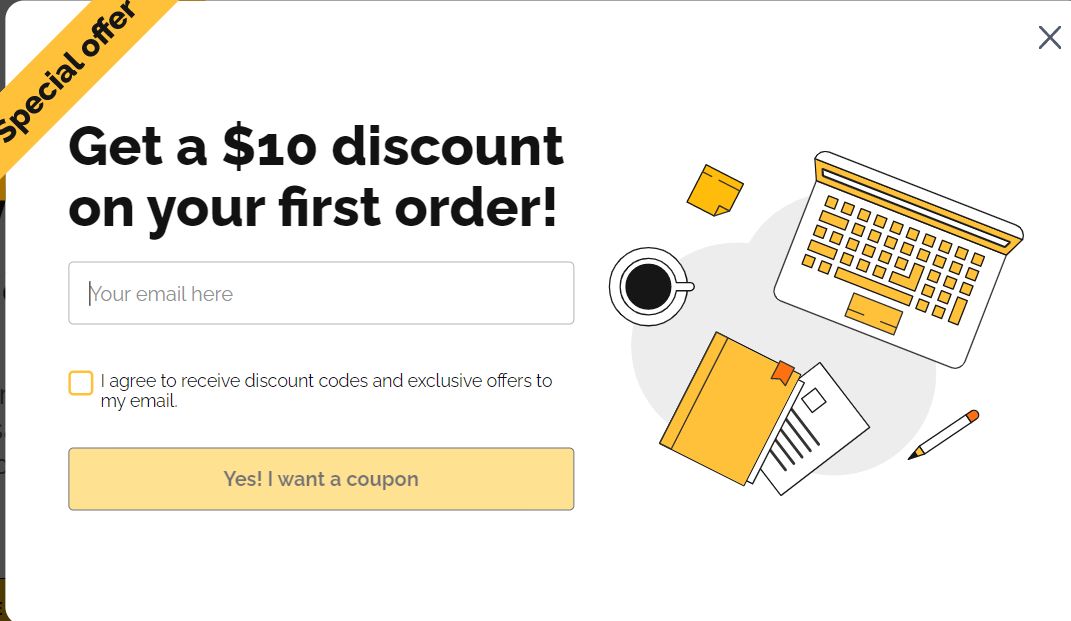 Pros and Cons
Pros:
Exemplary samples
Nice design of the website
Friendly support
Free revisions
Cons:
Quirky money-back policy
Badly low-quality texts
Lack of immersion in significant subjects
Plagiarism
Conclusion
Educibly.com is an unsafe service to use for the reason that they miss deadlines and permit themselves to deliver papers, fulfilled of mistakes. It also has a tricky Policy, so you have to be ready to wait if you want to receive your money back.
FAQ
Is educibly.com legit?
This service is officially registered, but even if so, they have a terrible organization of their work.
Is educibly.com reliable?
Absolutely it is not. This writing service gives you second-rate papers written by non-native English speakers who commonly miss deadlines and leave non-unique pieces in your final draft.
Can I get my money back from educibly.com?
If you want to request a refund, you will probably wait for it for up to half of the year. They also may give you just a partial refund if they decide that your request for a full money return doesn't match their requirements.
Can I trust educibly.com?
We would not recommend trusting this source for a bunch of reasons. Firstly, you need to be confident that you will get high-quality papers. Secondly, you need to be sure that you will get them on time. Unfortunately, Educibly doesn't meet any of these two requirements. We suggest you look better for a trustworthy website.