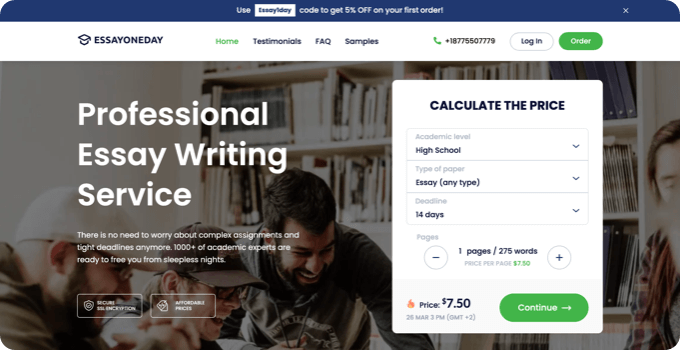 Overview
Essay One Day. What is it? Yet another custom essay writing service. Finding a legitimate one is no easy task, especially when there are some many choices around. The growing popularity of these services has led to a significant increase in the amount of operating essay writing websites. To differentiate between the bunch and understand which ones are worth spending money on and which one's aren't, we decided to review one of the lesser known services and give it our honest review. To do this, we ordered a high level term paper with a 7-day deadline.
Quality

While Essayoneday is a relatively decent custom essay writing service, it certainly lacks some of the quality and features present in the more expensive services. To test out the level of quality and attention to detail of the writers, we ordered a term paper to test out the service. While the price was certainly more appreciable than in other places, the quality was a bit underwhelming and not entirely up to standard. Furthermore, we believe that the quality and level of the content didn't even match the academic level it was ordered for. The name of the site speaks for itself, truly a one day essay.
Prices & Discounts
One of the first things you see on the site is that the starting rate for a single page is only $7.50, which is a highly attractive offer. Further research, however, shows that it is impossible to know the exact price of your academic paper without filling in the order form. Apparently the only discount you can count on is the initial 5% promo code offer you get when you first arrive on the homepage. This probably explains the relatively cheap prices in comparison to other essay writing companies, where discounts are a lot more common, but the prices are higher.
Guaranties
As with most other sites, Essay One Day advertises itself as one of the best service providers out there. Apparently it has a 9.5/10 average rating and very experienced writers, both of which turn out to be untrue. While the paper was delivered on time, the quality isn't even worth talking about, seeing how even the relatively cheap prices on the site don't compensate for the high school level paper that you get. Overall, the service doesn't support the claims it makes, meaning no more order will be submitted from our side, nor do we recommend anyone to do so as well.
Reviews and online reputation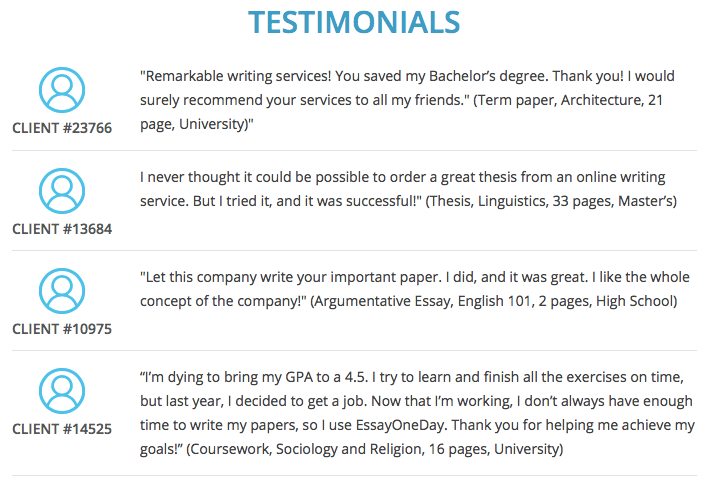 Everywhere we look, the general consensus seems to be the same – Essay One Day is not to be recommended under any circumstances, as almost all areas that can be reviewed don't seem to get any more than a ⅗ rating. Some independent reviews even claim, and we quote – "Essayoneday costed me my career". While were not entirely sure how to interpret that quote, it definitely isn't said in praise.
Deadlines
There doesn't seem to be any problem when it comes to deadlines, and this is the one area where we can compliment the site on. However, this doesn't make up for the fact that you sacrifice everything else just to have your paper completed in time. For the quality level that we received with our term paper, you could think that it was completed in half of the time that was actually spent on it.
Support
After receiving the average quality term paper by email and reviewing it, we decided to contact the customer support department and ask for a revision in hopes that the writer would improve on the paper on all criteria. Essay One Day replied to our request almost instantaneously, after which the paper was handed back to the writer to be rewritten and improved on. Once the first revision was complete we were sent the paper one more time, and to our dismay, it was still below par. After asking for a second revision, we were politely declined by the support team. Therefore, both the writer and customer support team failed us in their respective fields, since they failed to stay true to their guarantees, the very same ones they mention all over their site.
Usability
The site is a bit messy, sometimes making it hard to find what you are looking for. Even though everything does look like it is operated by professionals and experts in their field, the results aren't as pleasant as you want them to be.
Pros/Cons
Pros:
Cheap Prices
Fast customer support
Cons:
Average quality
Support team doesn't do what is promised
Website isn't eye-appealing, may be hard to navigate
Conclusion
The reviews and testimonials on the site say one thing, but the truth is entirely different. Nearly all reviews done by third parties seem to point towards major dissatisfaction with the site and its services. You are free to experiment as you wish with this custom essay writing site, but we suggest you opt for the many legit alternatives that exist this day and age.
Best essay writing services based on reviews