Myperfectwords.com Review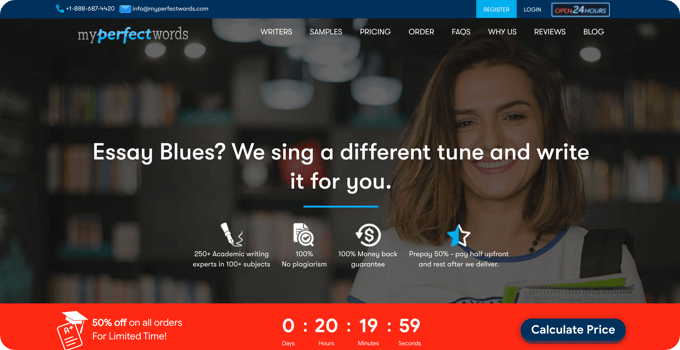 Overview
In order to save your time and money we recommend you to look through our myperfectwords review of yet another online academic writing service.
The choice of the best online service ready to handle your writing task is not simple, given the great number of such websites. However, www.myperfectwords.com attracts customers by offering them numerous writing services, including assignments, essays, dissertations and other sorts of academic papers.
Quality

When it comes to quality, which has to be a key factor of success, this service has nothing special to suggest to its customers. Having ordered a four-page analytical essay, we got the final paper which was not at all perfect. The structure we required wasn't taken into account, and there were grammatical mistakes.
When we asked the writer to correct the paper according to our instructions, he gently accepted to do it. But the next version of essay slightly changed, and all our modifications were ignored. Having thought it had been an exceptional situation, we tried out the service once more. This time, it was certainly better, but the content was still poorly written, although we consider a 12-hour deadline to be sufficient for creating four pages of decent content on a simple topic.
Prices & Discounts

As always, the price of a paper on this service depends on its academic level, number of pages and deadline. There are some approximate prices per page of a paper for a College level:
$36.00, if it's done in more than 8 days;
$38.00, if it's done in 3 days;
$43.00, if it's done in 24 hours;
$45.00, if it's done in 12 hours.
Although the final paper cost can vary, it is evident the prices here are certainly  higher than it is in the market. However, when we used the site, there were great discounts up to 50% off on all orders. So we paid $90 instead of $180. But it seems to be a trick intended to attract customers by so-called 'hot discounts', whereas the prices suggested with discounts can be the real ones in fact. If it is not a trick, then the service is just too pricey in comparison to others.
Guaranties
The service points out its major advantages, such as:
qualified writers;
no plagiarism;
deadline driven.
It seems to be legit, as the information given on its website tells us it carries on its business, abiding all the laws. The service also promises its customers to provide them with 100% private and confidential use of their personal information. When it comes to payment, the service has the system of upfront payments, allowing the customer to pay the second half of the price after the order is done.
Reviews and online reputation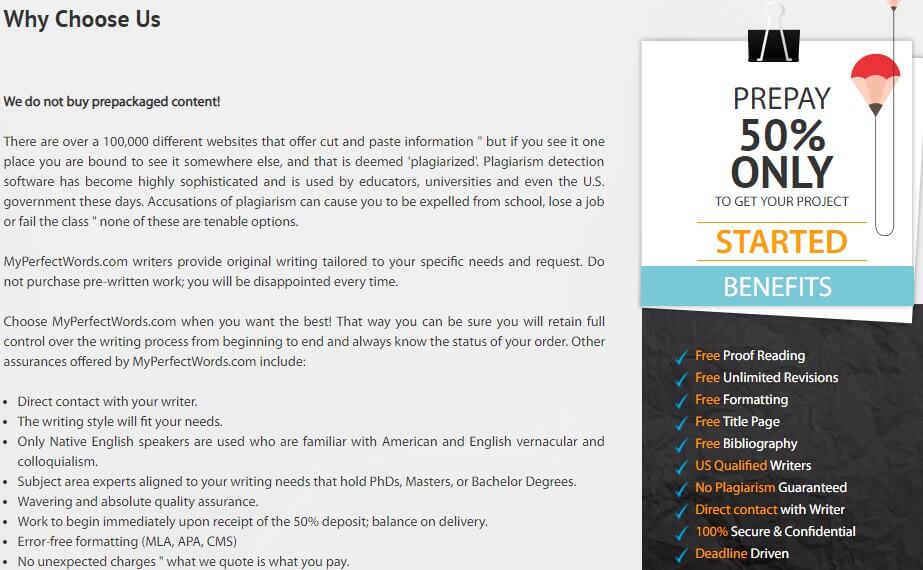 The reputation of the service is quite questionable. The numerous myperfectwords reviews are divided into halves: some customers place this online academic writing service on the top of their personal rating, whereas lots of disappointed people say it is just a scam. The latter ones tend to mention almost the same drawbacks:
there was no real moneyback as it was stated on the website;
the papers were plagiarized;
the clients had to rewrite the essays after their teachers checked their work.
But the most crying thing is that having posted a negative review, one of the customers was threatened by people from the support department. They demanded him to 'kindly remove' the review, as otherwise they would provide his academic institute with all the information, proving he had cheated, including calls records and chats. We believe that kind of behavior to be inadmissible. It only means that all the promises of confidentiality given by the service can be broken in case a customer writes a negative review.
Deadlines
The deadlines are the key factor that determines the final price of each paper. It starts with 12 hours and has no maximum. Our order was delivered within this time period. However, another services suggest their customers to choose tighter deadlines, such as 6 or even 3 hours.
Support
There is almost nothing to be said about the support team, as the service has no information on it. No live chat on the website, so you don't even know who to communicate with in case you've got extra questions. Several customers, who tried to reach the support team, consider it too slow and sometimes impolite. They mention that people from the support department tried to make up new excuses every time they were asked about the low quality of papers done.
Usability
The home page of the site has quite a pleasant design, though when it comes to the general impression of it there are some improvements to be made. The font in some places is too small, so reading of some information can require extra effort. Moreover, we had no possibility of knowing the price of our order until we filled up the form with some personal information.
Pros/Cons
Pros:
deadlines are respected;
upfront payment.
Cons:
average or sometimes low quality;
no moneyback, although it's guaranteed;
high prices;
some customers were blackmailed;
seems to have no support team.
Conclusion
The whole impression of this service in comparison to others doesn't allow us to recommend it to anyone. If you want to get a perfect essay for an affordable price, you'd better search for another service.