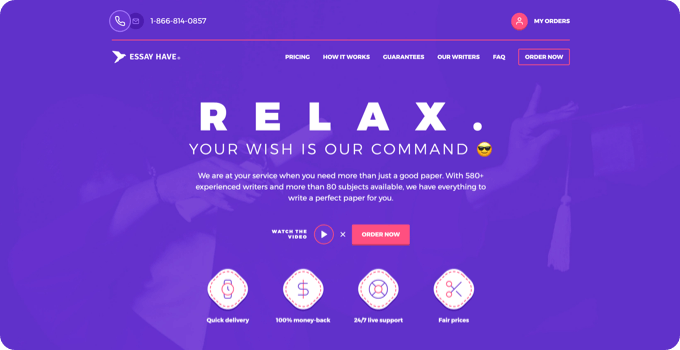 Overview
The team of Essayhave.com seems to have been in the business for over 8 years, serving clients from the UK, the USA, Canada and Australia. They have over 500 experienced writers working. They offer papers for students of the following academic background:
High school
Undergraduate (junior and senior)
Master's
We did a thorough Essayhave review for you guys, so keep reading to find out more.
Quality
For an average high-school or college paper, this service is fine. If you are getting a Master's degree and expecting an outstanding thesis, essayhave.com may not be that helpful.
The paper we received from these guys was not that bad, although we did notice several issues. In a nutshell, here's the summary:
Formatting is mostly fine but still has minor issues
Grammar evident of a non-native speaker writer
Layout & structure are overall acceptable
Research was of average quality
References were adequate but mostly websites
Typos were not found
Academic level was lower than expected
This was, by far, not the worst experience. However, even in the free samples they put on their home page, you may see unnatural word pairings, instances of awkward grammar use, and even issues with formatting in some high-school samples.
Prices & Discounts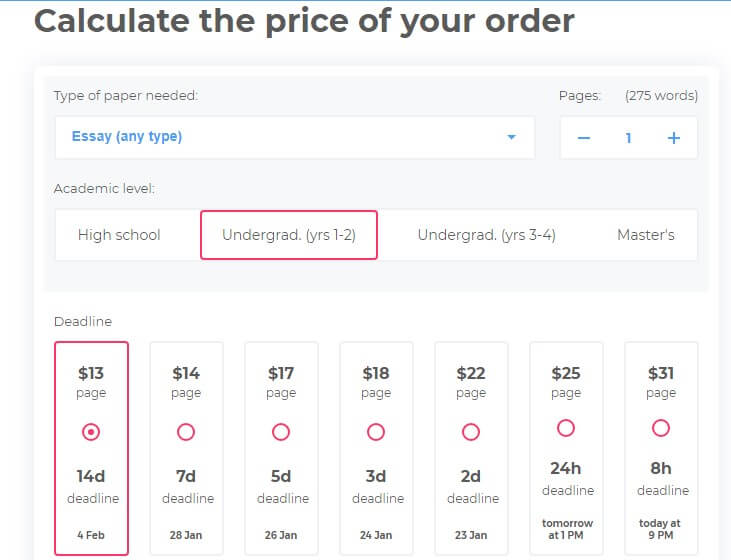 Essayhave.com says the prices on the website are high, and this is true. Although the minimum price for a page is $10, you will have to be a high-school student and need the paper in at least two weeks to pay an average price-per-page on the market. If you are getting your Master's and need a paper by the end of the day or early tomorrow, you will end up paying $45 per page.
Unlike a lot of similar services, you will not be getting your first-timer discount. However, if you decide to stick to these guys, you will get the following offers:
For $500 spent, you'll have a 5% lifetime discount
If you spend $1000, you'll get 10% off your following orders
If you spend over $2000, you'll get a 15% lifetime discount
Also, be ready to pay extra for:
Dissertations, theses, capstones, and other large assignments. You will have to pay 10% more for the paper to be delivered part-by-part. That means, if you need 20 pages for Master's level in over two weeks, you will have to pay $484 instead of $440.
Technical orders. You will pay extra 20% for your Accounting, Biology or Nursing paper, that is around $5 extra per page.
Guaranties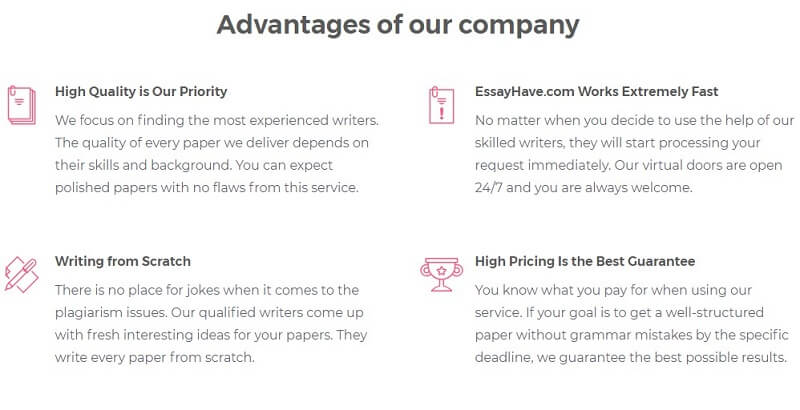 Essayhave.com offers standard guarantees:
free revisions
no plagiarism
proofreading and editing
What we noticed about their money-back guarantee is that they will not refund your money if the paper is not written on time. Instead, they will recalculate the price as if your order had a different deadline and will return the difference.
Reviews and online reputation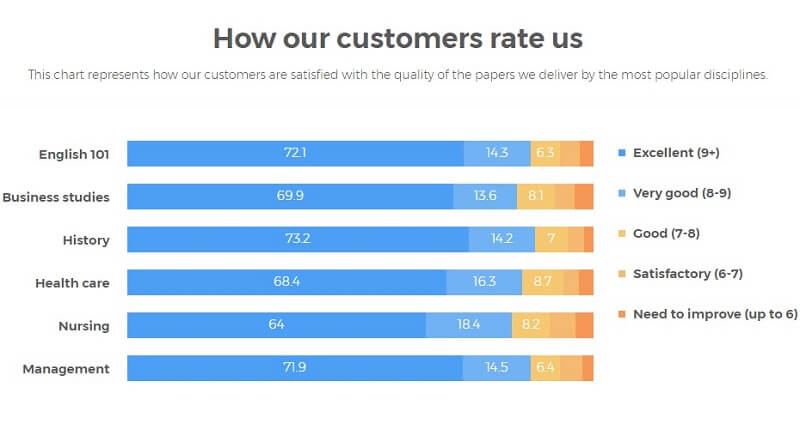 We found several essayhave reviews on Sitejabber, and they are quite controversial. On the one hand, some clients say they received plagiarized papers, on the other hand, there still are satisfied customers. In general, there are too few reviews to consider their 4/5-star rating accurate. On other less known review websites, essayhave.com had an average rating of 2/5. We also checked if someone mentioned their website on Reddit and found no result.
Deadlines
Here's the range of deadlines they offer:
8 hours
24 hours
48 hours
3 days
5 days
7 days
14 days
30 days
The order we placed was delivered to us on time.
Support
On their website, they say their support operates from Ukraine and Latvia to reduce costs. Their reviews and testimonials say the support is super helpful. However, we did not find an option of instant messaging on their website, which is rather inconvenient. You may call their toll-free number or send your request to their email, but you cannot chat with them online. At least we did not have that option.
Usability
Their website seems clear and easy to navigate. However, some pages are overloaded with text; we were not able to read it all because there is too much. A better solution would have been some diagrams and infographics. To attract potential customers, they also published some of their works on the website for you all to review. We hope those are not someone's papers they previously wrote because we wouldn't want our professors find out we used their services.
Pros/Cons

Pros:
easy-to-navigate website
free samples
free revisions
moderate quality
Cons:
no first-timer discount
extra fees for large and complex orders
no instant chat
no Ph.D. level writing
do not work on online assignments and quizzes
Conclusion
Essayhave.com is a website that may certainly be useful for some students. However, we would not recommend it for large assignments, technical subjects, urgent orders, or anything above sophomore college level.