SmartWritingService.com Review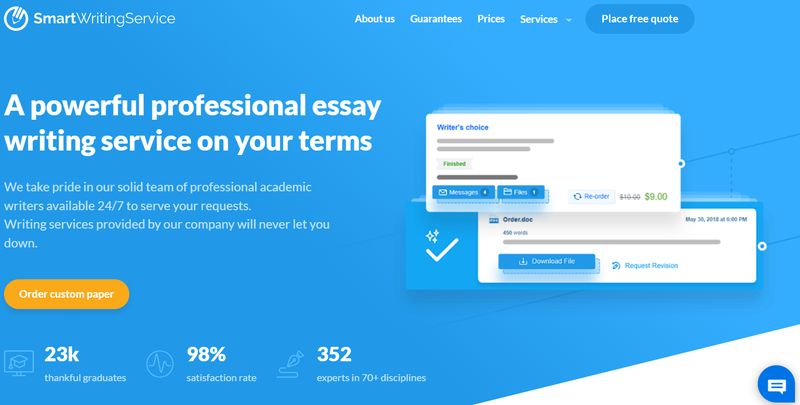 Paper Quality
SmartWritingService is a new name in the saturated homework help market. I found this agency by chance when I was searching for help with my Ecology class assignment. Their site attracted me with good design and positive customer testimonials. Since I was short of time, I decided to act immediately, anticipating good results and attitude. Unfortunately, the essay quality did not meet my expectations – the writer failed to address the essay prompt properly and made several grammar mistakes. I had to edit it myself fast, as I didn't have the time to ask for a free revision.
Prices and Fees
The pricing policy at SmartWritingService is rather flexible, though most clients will find their paper prices as expensive. I ended up paying 47 USD for my 3-page essay – the default price of 11 USD per page was further increased because of the 2-day deadline. Normally, they deliver completed orders within 7 business days. So, if you have an urgent assignment, this information and my experience with self-editing should help you to make the right decision. The good news is that high school assignments at SmartWritingService cost less than college-level ones and starting from the 10th order within a 6-month period customers enjoy a 15% discount.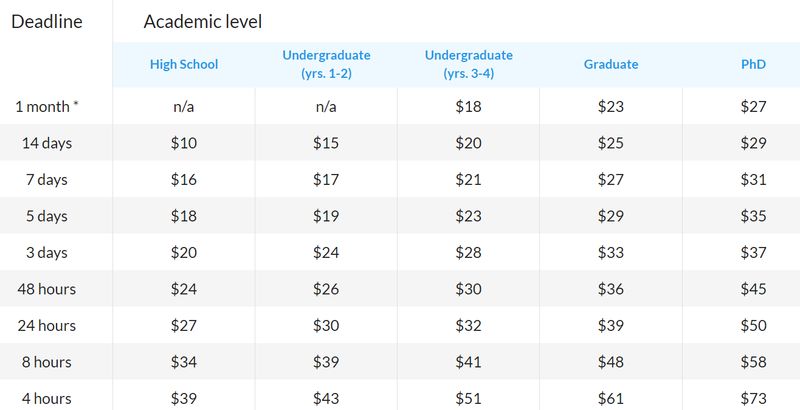 Guarantees
SmartWritingService guarantees its customers complete anonymity and security of personal information. They guarantee that all content is 100% original and that clients are entitled to up to 3 free-of-charge revisions should the quality of writing or originality suffer. In any case, one needs to submit claims with documented proof of any wrongdoing on behalf of the company or its writers within 5 business days after receipt of an order. For full information about the company's guarantee policy, please proceed to their website and read the Terms of Use document.
Service Review and Online reputation
It is hard to find exhaustive information about SmartWritingService's reputation online, since the company is relatively young (began serving customers in 2019). Nevertheless, their website is full of customer feedback (100% positive) presumably taken from TrustPilot. I didn't have the time to check this myself, but the absence of any discussions about this service on Reddit tells me that not everything is plain and clear.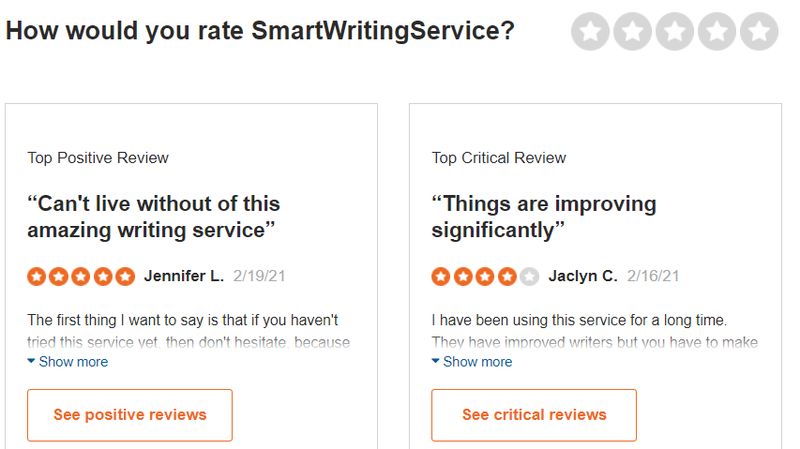 Customer Support
SmartWritingService has both a live chat option and a phone line support service. The live chat is available 24/7, while the phone lines are only open during workdays from 9 am to 5 pm. I had the "pleasure" of talking to a support agent and, frankly speaking, was somewhat disappointed by the tone of conversation and unwillingness to immediately accept my complaint.
Types of Services
SmartWritingService offers a rather narrow range of services, so if you are looking for a reliable academic partner to contract for a long time, you should look elsewhere. Here, writers are trained in writing essays and other basic academic papers, including literature reviews, experiment reports, term papers, presentations, etc. They can also help with editing and proofreading, though don't expect miracles from this service. My essay paper was delivered to me with several grammar issues, which tells a lot about the proficiency of the local writers (on average).

Ordering Process
To place an order at SmartWritingService, call their customer support office or fill in the relevant "Order Placement" form online. I tested the first option and it has made a very ambivalent impression. In particular, I was not happy with the way the agent was willing to show patience listening to my wishes and additional inputs, such as formatting and styling requirements. Also, they made a mistake in my email address, which didn't allow me to receive an interim status update on the progress of my order.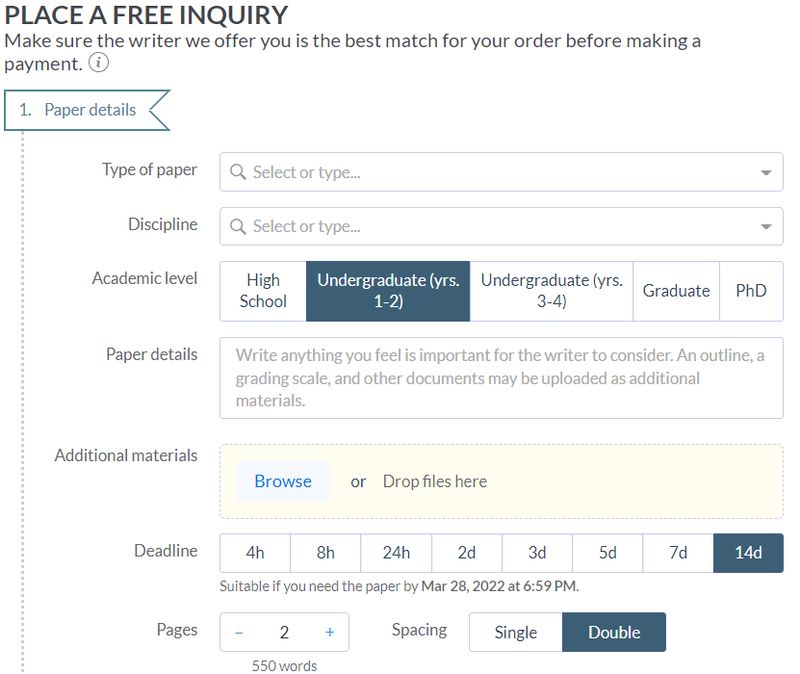 Offers and Extra Services
As mentioned, customers here can enjoy attractive first-order discounts as well as progressive discounts starting from the 10th order. The editing and proofreading service is not worth the money, in my opinion. They also told me they were working on embedding grammar and plagiarism checks into customer page accounts (so that customers can conveniently run those checks on their own).
Pros/Cons
Pros:
Flexible pricing model
First-order discounts and loyalty program
Cons:
Poor paper quality
Absence of credible and reliable online reviews
Not a customer-friendly support service
A narrow range of services
Lack of additional services
Conclusion
SmartWritingService is a company with a questionable online reputation and poor paper quality. Nevertheless, they are a young agency with articulated growth plans and might potentially become a good choice for college students seeking help with homework assignments.
FAQ
Is SmartWritingService trustworthy?
The agency cannot guarantee a decent quality of writing and fails to maintain a good dialogue with their clients – it is not a trustworthy service.
Is SmartWritingService legit?
They are not violating any laws and can be considered as a perfectly legit company.
Is SmartWritingService cheap?
This service is not a cheap one, though the pricing model is rather flexible, allowing for reduction of prices as the volume of orders increases.
Does SmartWritingService plagiarize?
There are no publicly available records of plagiarism in SmartWritingService's works. In the near future, they have plans to integrate powerful plagiarism checking functionality into their website.