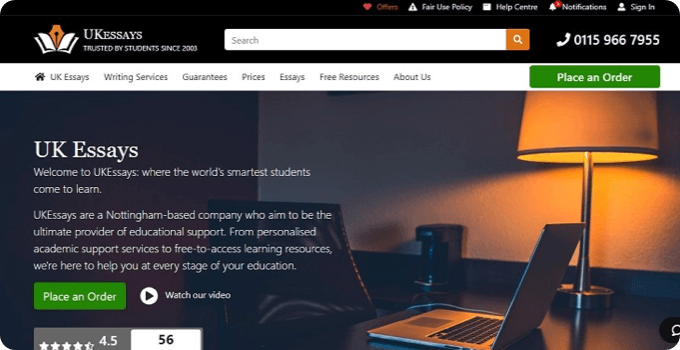 Overview
UKessays.com has been known as one of the largest businesses in the field of academic writing help. It has been operating since 2003 with over 2,000 writers in various fields. These guys offer help with papers for the following education levels:
Undergraduate
Master's
Ph.D.
They also offer specific grades. For example, you can pay for an Undergraduate 2:2 level paper, which will get you 50%-60% on an assignment, or an Undergraduate Upper First level, which is 75% or more. This is a convenient option for people who can pay more for quality. In our UKessays review, we tried to cover all major points pertinent to the service for you to make an informed decision.
Quality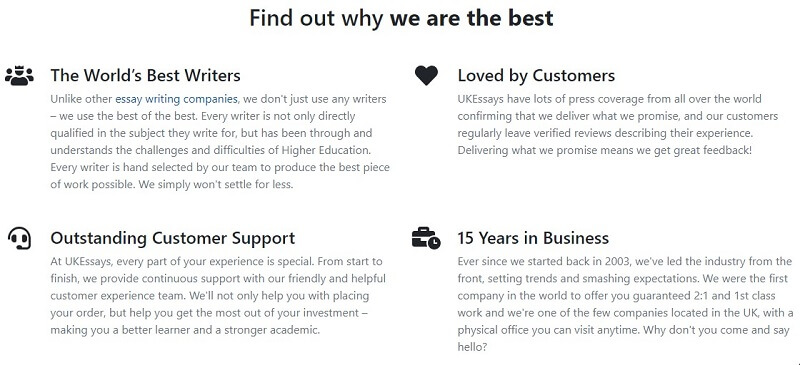 Overall, the quality they provide differs; there are good writers and not-so-good writers who work for them. In general, you have a chance to get a great paper, but you also have a chance to fail. Here's a brief summary:
Formatting requirements were followed precisely
Grammar was mostly good with minor inconsistencies
Layout & structure good
Research adequate
References mostly adequate; some sources were not peer-reviewed and some were older than 10 years
Typos absent
Academic level was met
We would qualify the quality they provide as acceptable with minor flaws. In general, this looks like academic writing, but generic and impersonal to an extent.
Prices & Discounts
The cheapest price you can pay is 124 GBP, which is around $156, for a minimum of 1000 words, a 7-day deadline, written at the lowest level available. Even if you want a paper that is less than 1000 words, you will still have to pay 124 GBP.
If, however, you want a 1-4-page Ph.D. paper within 4 office hours, get ready to pay 3,214 GBP, that is over $4000. This is $1,250 per page and $40 per word.  If you need just a page, you'll pay more than $160 per word. But well, you will most likely go elsewhere.
We did not find any discount applicable for a first-timer. The only promo code available on the website was a 10% discount for dissertation writing.
Guaranties

The guarantees they offer are as follows:
On-time delivery
Plagiarism-free
Written to standard (we find this statement vague because if you are providing a service, you are supposed to ensure it meets the company's standards anyway)
They do not offer free revisions unless it's a special package that you pay additionally for. However, they do state that they will ask the writer to revise your paper if they think your revision request is justified. Also, they do not have a money-back policy and say that you cannot cancel your order "because English law allows this exception to the Consumer Protection Regulations 2000".
Reviews and online reputation
UKessays.com reviews we have seen are 60% good. Their Sitejabber rating is 4.6/5; however, most of the reviews were written by their employees stating that they are professional and have a degree in a particular field.
The company also has some Youtube reviews, which are all published on Daniel Dennehy's channel, who is the COO of UKessays.com.
Deadlines
These guys really like to take their time:
4 office hours is the shortest you'll be able to get your paper
28 days is the time to wait on your paper if you want the cheapest price
Our order was delivered to us as scheduled; however, we did pay a lot to get it within a week. A lot more than we have ever paid for any other service we have reviewed.
Support
This is something UKessays are really good at. They have friendly and polite support team members that will call you because of the smallest possible issue to warn you. However, a friendly chat with a support team representative has a chance to turn into a fight if you say there is something you did not particularly like.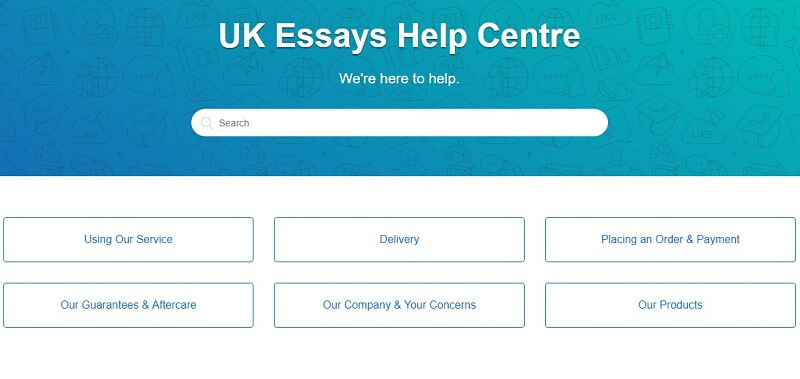 Usability
The overall layout of the website makes an impression of an established business. They have plenty of videos on the website that explain how their clients should utilize their services. However, you may find it hard to navigate the website because the structure is not particularly clear. You may also have trouble figuring out how to get an estimate because the price calculator requires you to complete several steps.
Pros/Cons
Pros:
Long time in business
Grade stratification
Friendly and polite support
Cons:
Obscenely high prices
Practically no buyer protection
Few discounts
Complex website navigation
Conclusion
There is a chance UKessays.com will provide you a well-written paper you will be satisfied with. However, there is a risk of not getting what you want and being left with no free revision. Given no money-back guarantee and insane pricing, you may want to look for cheaper alternatives with similar quality.