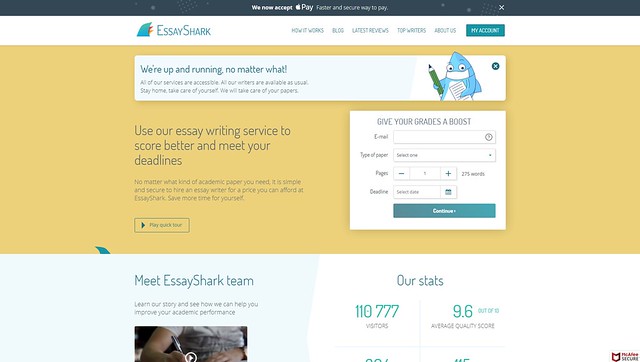 Paper Quality
EssayShark is famous for many things; however, quality of written material is not one of those. I have bought three papers of various complexity levels from this service and cannot say I was impressed with the result. Though I must admit, the short and relatively easier assignments they can do with decent quality, and at a very quick time.
Prices and Fees
This service is well-known for its affordable prices. The lowest price for a simple essay (up to 3 pages, no rush with delivery) is just 14.99 USD. As with any similar service, the faster delivery you want or the higher complexity of your task – costs will go up significantly, sometimes going beyond the 40 USD threshold for an urgent 4 hours assignment. Expect first-order discounts and occasional promotions on holidays and seasonal sales.
Guarantees
On paper, EssayShark offers a quality guarantee and even a partial refund. However, in practice, these guarantees do not seem to work well. Customers do not have direct communication, such as a phone or a live chat, with the support office. So in case, you have a dispute with a writer or have encountered any problems with the payment system – the only way to appeal to support is via email address. Needless to say, that this is not the best option when you feel nervous and worried.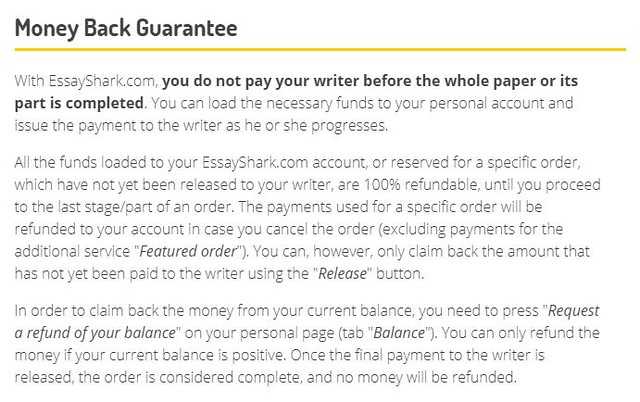 Service Review and Online reputation
EssayShark is a popular writing service, so it has no shortage of online reviews and customer feedback. Unfortunately, in this case, the quantity does not translate into quality. Negative user feedback is not rare, while experts often rate EssayShark as an average service at best. Their support team does a much better job with reacting to any negative feedback online than it works with the live clients on their website. Though this is far from perfect and customers continue to blame the poor quality of written material, vague money-back policy, and low qualification of some writers.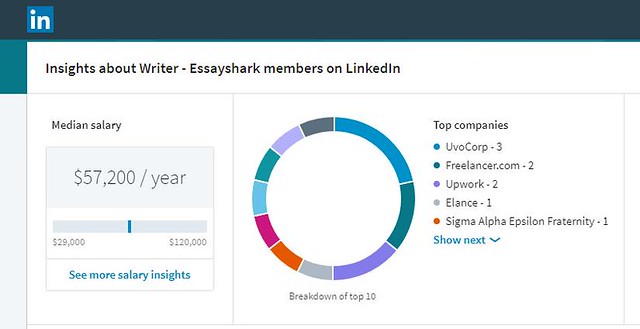 Customer Support
In case you may have encountered an issue with any aspect of their work, or simply have an urgent question – this is where you are likely to get disappointed. The reason – no possibility to talk with a customer support agent or get a quick reply via live chat. The only option available is email communication. That is very frustrating, and a simple question asked by email can turn into days of waiting and a lost customer.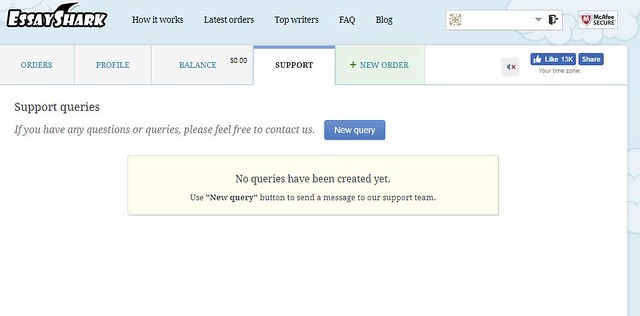 Types of Services
EssayShark is an old player on the academic paper market. Over the years, they have built a wide portfolio of writing services. They can assist customers with the following:
All kinds of essays;
Course papers;
Term papers;
Reports;
Literature reviews;
Thesis and doctoral dissertations;
Research proposals;
Book reports;
Presentations, including business presentations;
In addition, EssayShark can do editing and proofreading as well as pick up unfinished work of any complexity level. As mentioned, simple and short works are their bread and butter.
Ordering Process
To order from EssayShark all you need to do is to fill in their online order form. It took me 5 minutes for my college essay task, however, for other assignments, this time can vary. Usually, within the same day, you receive a confirmation message by email, where there is a name of your responsible writer, as well as a payment link (customers can pay upfront as well as upon order completion).

Offers and Extra Services
Offers and extra services at EssayShark do not stand out from other similar companies on the market. As a newcomer, you can expect a 15% discount. Demanding customers can choose the writer themselves, and order a free of charge first page. An extra fast delivery option of 4 hours is also available.
Pros/Cons
What I liked at EssayShark:
Good delivery speed and affordable prices;
First-order discounts;
The option to choose the writer for your task.
What I did not like:
Loose guarantees;
Poor customer support;
Many non-native English-speaking writers (if you let them chose the writer);
Unstable paper quality.
Conclusion
EssayShark is one of those services, which can offer a quick fix for your simple and urgent task. Nothing more. Demanding customers should avoid this service at all costs.
FAQ
Is EssayShark legit?
EssayShark has been long enough on the market to prove that it's a legit service and it's going to stay here for a long time. Thousands of customers have placed their orders with EssayShark and many have become loyal to this company.
Does EssayShark offer plagiarism-free papers?
In theory, they guarantee plagiarism-free content. However, in reality, hundreds of clients have complained about some parts or entire texts containing plagiarism. The issue is definitely there. I advise using one or better several plagiarism checking tools available online.
Is EssayShark safe?
EssayShark is considered to be a safe service. If you buy a service here, you are guaranteed to get it done and delivered to your email box. Your personal information is kept secure, and your custom paper becomes your property.
Does EssayShark have customer support?
Only support by email is available. You cannot call or chat with support personnel.