Geeklylab.com Essay Review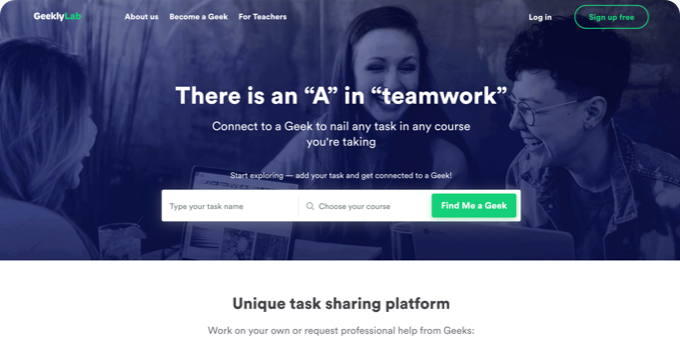 Overview
Geeklylab has been helping students for 2 years now. They have 140+ geeks online and can cover 350+ courses. They get 150 requests from students on various topics every day. They abide by their Honor Code and do not abuse or upset any user. They just want to give professional assistance to users above 18 years old who want to excel in their studies.
Quality
We asked for help with Math and provided details for our problem. They answered that they had quite a few geeks who could help us with mathematics. Just a heads up though, they usually ask for 2 days for math tasks, as the mentioned above geeks are constantly working on something. That was no problem as we requested a three-day deadline.
We did not want to wait and hired the most suitable geek for our assignment. Luckily for us, there were 25 bids to complete the task. You can either choose a geek or the support team will choose the most suitable expert that corresponds to your requirements.
Prices & Discounts
We want to provide you a trustworthy review with only verified information on a case-by-case basis. There is no pricing chart on the Geekly lab's website. They have an online calculator that evaluates your order total depending on the urgency and included add-ons. The company does not have discounts by default, However, we have asked for a discount from the support agent and he added $10 to our balance as a discount. It was automatically taken off when we placed the request and were ready to process the payment.
Also, since math can't really be measured in pages, which is the option you will have on the website when placing the request, we had to drop our instructions so that the support agent could estimate the price for us. By the way, the more time you give their 'geeks' for work, the lower your rates will be. We ordered a math calculation for one page that cost us $21.45.
Every assignment is estimated individually and there are no fixed prices. You can order additional services as VIP support and plagiarism reports for $9.99. This option is an alternative and is absolutely up to you. Beware that the site adds mark-up for their services. You can pay the whole sum in advance or pay by installments. 30% of the price is prepaid and the rest of the total is paid upon the final delivery of the lesson service.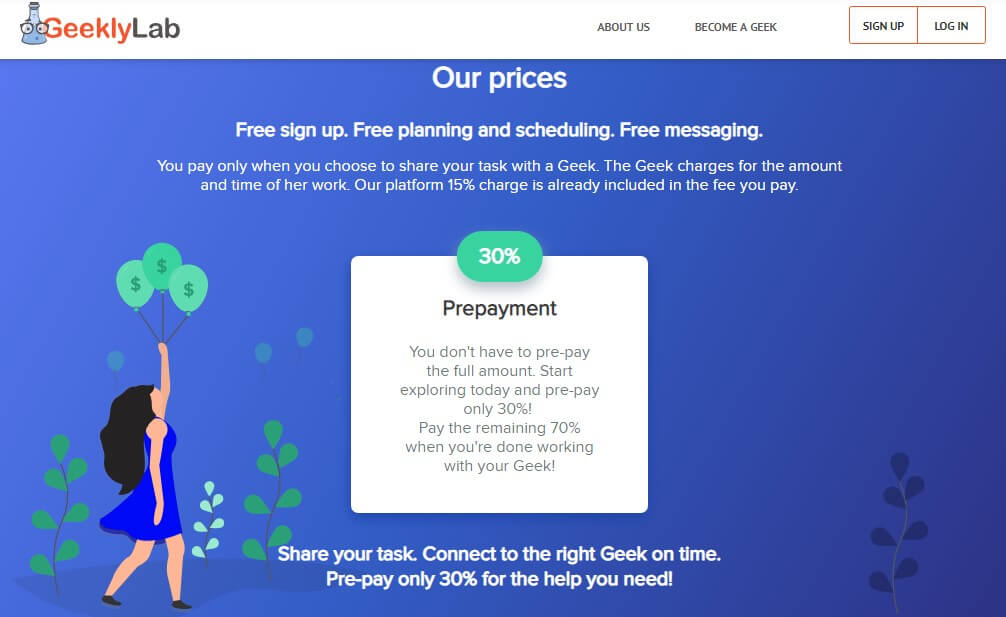 Guaranties
Geekly Lab support answered our question:"Is it legit?'' and confirmed that the company followed all applicable laws and regulations. They have a refund policy that is valid after 60 days of delivered service.
To get your money back you will have to fill in a refund request form and contact the support team via all possible ways (email, Twitter, Facebook or phone). In the case of approval of your request, the money will be transferred to your account balance and can be used to pay for other tutoring services you may need.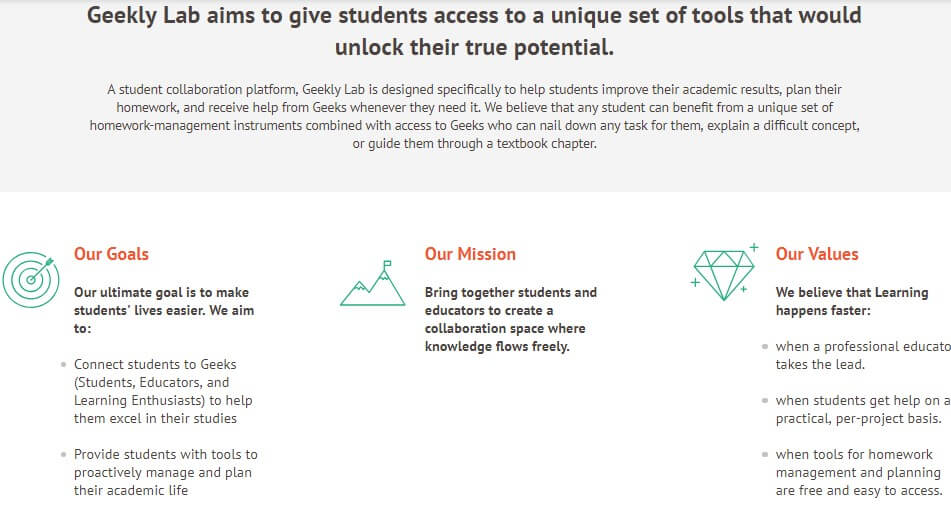 Reviews and online reputation
The company has a five-star online rating based on 234 Geekly lab reviews on Sitejabber. They are a relatively new market player and have an excellent reputation and positive feedback from satisfied customers. There are some claims on support service but, in overall, the company is highly evaluated. We believe that such praise is due to careful geek recruitment and a great support team.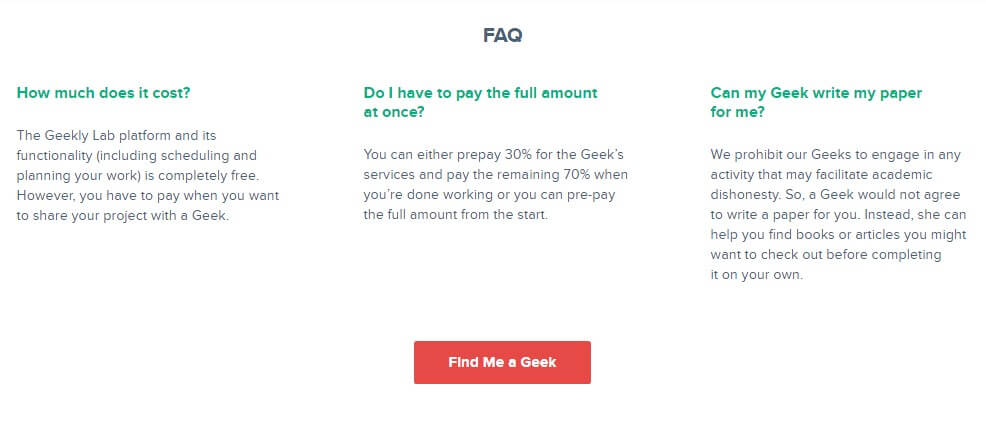 Deadlines
The website has its online calendar where you can set the time and date of your assignment completion. However, the geeks may be busy and require additional time which will be negotiated with you individually. The customer support will notify you that your order is finished via email or phone. No lateness was reported. From our experience, we had no problems with the deadlines. The order was completed in time.
Support
Geekly Lab's support team works 365 days a year, 24/7. You can reach them via live chat once you create your account or ask to call you back. Besides, you can get in touch with the company via Facebook, Twitter, and email. We ordered a callback and had a phone conversation within several minutes. The live chat also answers are fast. They will notify you of your order progress. Moreover, you can order a VIP support feature.
Usability
The company's website has a nice interface and is user-friendly. You can create an account in no time, just add your email and create a password. Then you can navigate the site and get Geekly help in a few simple clicks. All you have to do is:
Confirm your order details
provide your course name and project title
enter your request details
provide the deadline
add project description
add files or photos
In the right corner, you will see your estimated price. Then you can confirm the order by paying the total price or choose the 30% payment option.
The website navigation is very easy. You can read the terms and conditions as well as refund policy and honor code at the foot of the page. There is a lot of relevant content to inform you of disputes solutions and conditions.
Pros/Cons
Pros:
a friendly support
an easy-to-use interface
an online calculator and calendar
experts available 24/7
Cons:
no pricing table
no live chat on th homepage
high rates
Conclusion
Geeklylab has headquarters in the USA and the U.K. They have experts with various backgrounds who are eager to provide their services to students and can explain difficult terms and concepts in plain words. However, their prices are rather high for the market. You can find the same quality lesson services cheaper on the web.