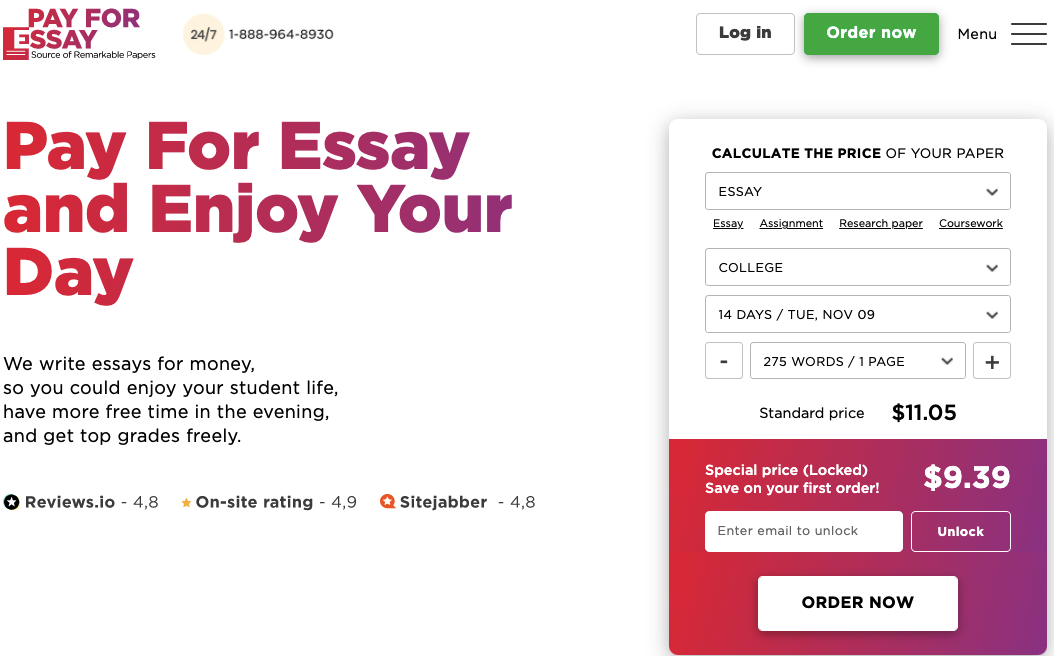 Paper Quality
The company claims to have been on the essay writing market for 12 years and to have extensive experience in delivering high-complexity academic papers, such as theses and dissertations. They also take pride in hiring only English native-speaking writers. This is in theory and on paper. In reality, the simple essay order I placed was completed and delivered to me with a quality, which does not live up to their promises. On top of some minor grammar issues and language coarseness, my own plagiarism check uncovered about 7% of plagiarized content (even though the company itself allows for up to 5% of "random" plagiarism in their papers).
Prices and Fees
The basic essay prices at PayForEssay are rather affordable. One can get as low a price as 8.99 USD per essay page. There is also an attractive first-order discount of 10% off the base price. However, the costs increase dramatically with the speed of delivery and task complexity. Be ready to pay a triple price for the fastest 2-days delivery option, as well as up to a 200 USD mark for a college-level thesis.
Guarantees
PayForEssay provides up to a full money-back guarantee and promises secure handling of customer personal information. However, unlike most other essay services on the market, they explicitly state that they allow for up to 5% of the content to have, as they say, "random" plagiarism. As I have read on their website, this is due to many advanced plagiarism checking tools' capacity to find accidental plagiarism in 100% original papers. Also, their online order and writer counter shows that only 89% of all previous orders were delivered on time.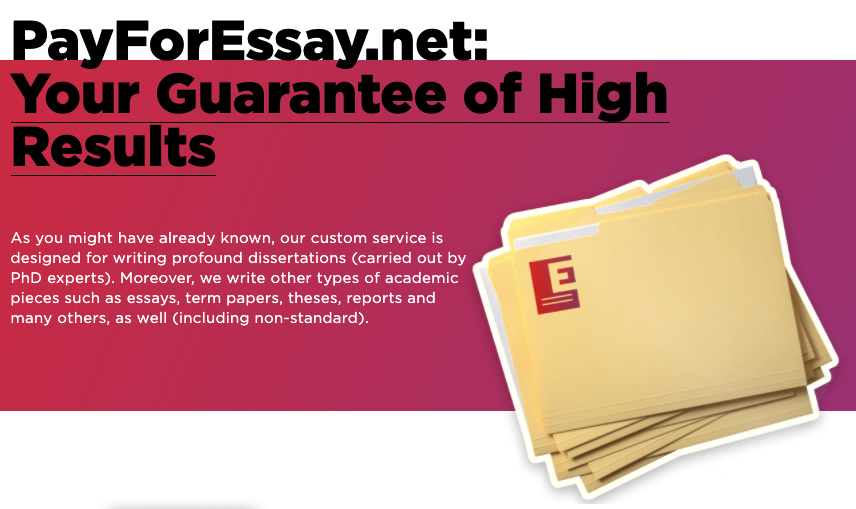 Service Review and Online reputation
PayForEssay has plenty of mentions online, although at a closer look those references are very contradicting. Some are highly positive, while others are negative. The company doesn't seem to care much about negative feedback, as nowhere on the online review sites was I able to see any reactions from the support team or the official representatives. Anyone trying to get a fair picture of this company before placing an order is sure to get very confused by the highly contrasting comments and, thus, the doubtful online reputation of PayForEssay.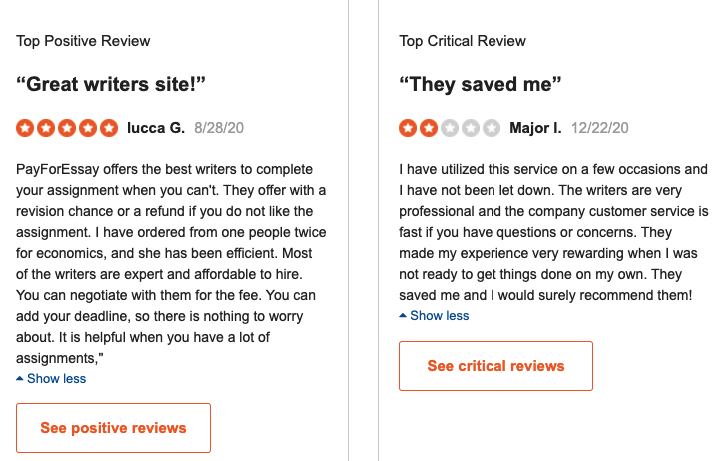 Customer Support
I can only speculate how their customer support office works, as I was not fortunate enough to talk with them. I made three attempts to call them and each time I was placed in a long waiting line, which always resulted in a message "unfortunately, there are no available agents at the moment, please call us later"…
Types of Services
PayForEssay, despite what its name suggests, claims to be good at all kinds of academic papers, especially college theses and dissertations. In fact, the dissertations were their main "bread and butter" since day one of their operations some 12 years ago.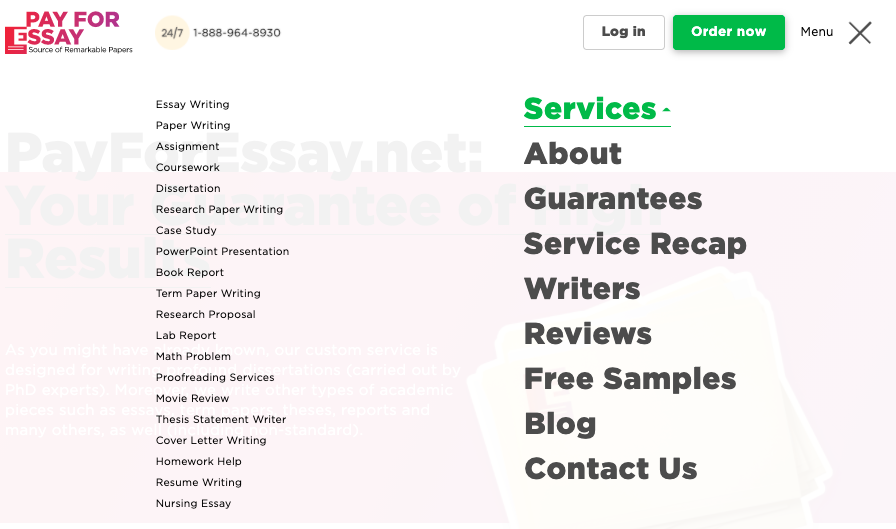 In addition, the agency provides editing and proofreading services. With all due respect, I seriously doubt their writers and editors are capable of any serious academic work and particularly professional editing and proofreading.
Ordering Process
I cannot fully assess their ordering process, as my experience with that has been rather bumpy. I found their online order form very confusing and missing some essential customizations options (like the inability to change the default TOP writer option, which normally leads to increased costs). You already know the results of my several attempts to call their customer support. The rest of my ordering experience was just "sitting and waiting" for my order to be completed by some "TOP" writer. In the end, I was not quite happy with the paper, but could not claim a revision or a refund due to their hard-to-reach customer support.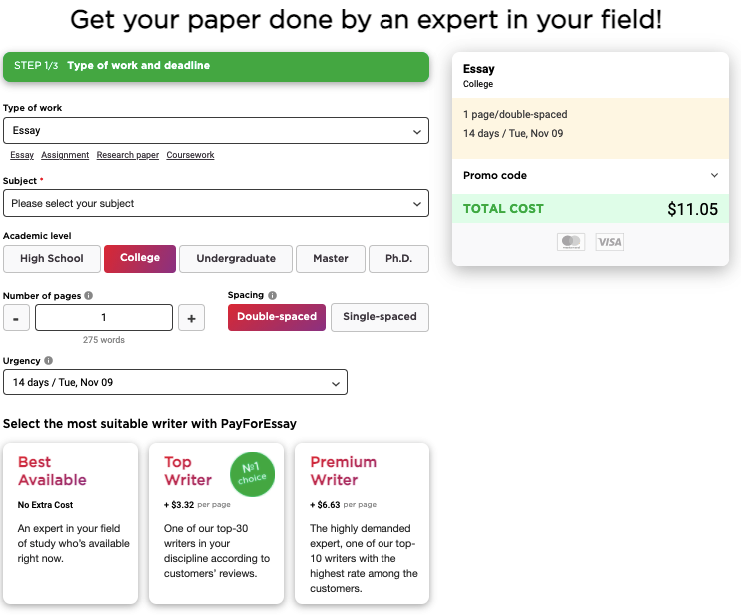 Offers and Extra Services
New customers are entitled to a 10% discount on the first order. On their website, the company also mentions the practice of occasional offers and promo-codes giveaways; however, I was not able to get hold of those (besides the initial 10% discount mentioned).
Pros/Cons
Pros:
Affordable essay prices
First-order discounts
Cons:
Poor paper quality
Problems with on-time delivery and plagiarism
Horrible support staff availability
Online order form lacking simplicity and transparency
Conclusion
With PayForEssay I had one of the worst experiences ever. Not only do they deliver papers of very poor quality and make the ordering process a headache, but are also hard to reach and to complain or claim your money back.
FAQ
Is PayForEssay reliable?
No, they are not. Of course, one can always assume that my particular experience was an exception from an otherwise decent service, but for most customers that would be a sufficient warning.
Is PayForEssay legit?
In theory and on their website – quite possible. However, in the real world with real customers and their multiple attempts to reach a support agent – this self-proclaimed legitimacy immediately starts to fade away.
Is PayForEssay a scam?
They will not rob you and will deliver at least some sort of paper. Another question is – How good will this paper be, and what will be your chances of claiming a refund?
Is PayForEssay trustworthy?
Not really. For 12 years of service, I think the question of trust must be pretty much settled. In the case of PayForEssay, the trust is definitely not there, as seen in plenty of negative customer comments.