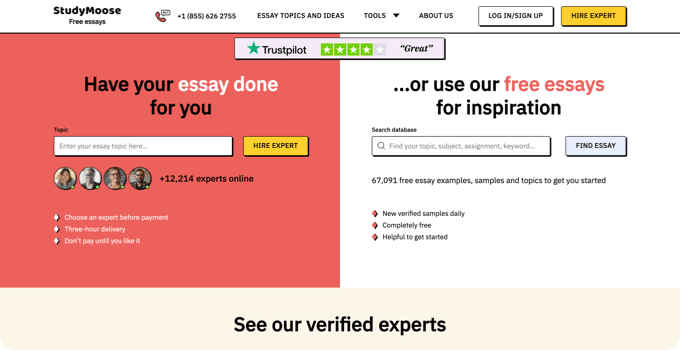 Overview
Studymoose was developed for students seeking aid with their academic writing. Whether you have no time, or simply lack the necessary skills, the site acknowledges that putting together a great essay is no simple task, and offers to do so in return for a certain price.
Quality
Of course, special attention should be paid to the level of quality both in the papers themselves, as well as to the writers. When conducting our multiple study moose reviews across multiple aspects of the site, we came to the conclusion that the paper quality is directly correlated with the skill set and knowledge base of the writer. On study moose you can read basic information pertaining to various writers such as their resume, and feedback from students who worked with them. You can see which subjects they are experienced in as well as how many orders have already been completed. It should be noted, that most writers don't have a 100% positive rating, seeing how some of the writers have multiple unfinished papers that were either below the requested standard or not finished in time.
Studymoose suggests to use it's plagiarism checker tool:
Prices & Discounts
Studymoose has a rather interesting policy regarding it's prices. Registering on the site and putting an order in place are both free of charge. If you are ready to move on to the next stage and find a writer, know that the orders start at the same price across all types of papers, which is $18 per page. Obviously, choosing a certain writer or deadline brings some fluctuation into the price. So basically the bulk of the price is tied to the deadline and the writer's experience level. You can get a glimpse of the final price once the order is actually in place, after which you will be provided with instructions for the next steps.
Guaranties
When it comes to guarantees, you can count on complete anonymity and privacy as a customer. The information you need to input is described in quite some detail, telling you why they need it and why you should not worry about sharing it. You can rest assured that no financial information whatsoever will be disclosed as well. The site claims that it does not save any data related to your credit cards.
Deadlines
Deadlines play a major role in determining the price. The general rule of thumb is that the faster you need the paper done and the closer the deadline is, the more you are going to pay. Same goes for the quality level and the writer's level of experience.
Support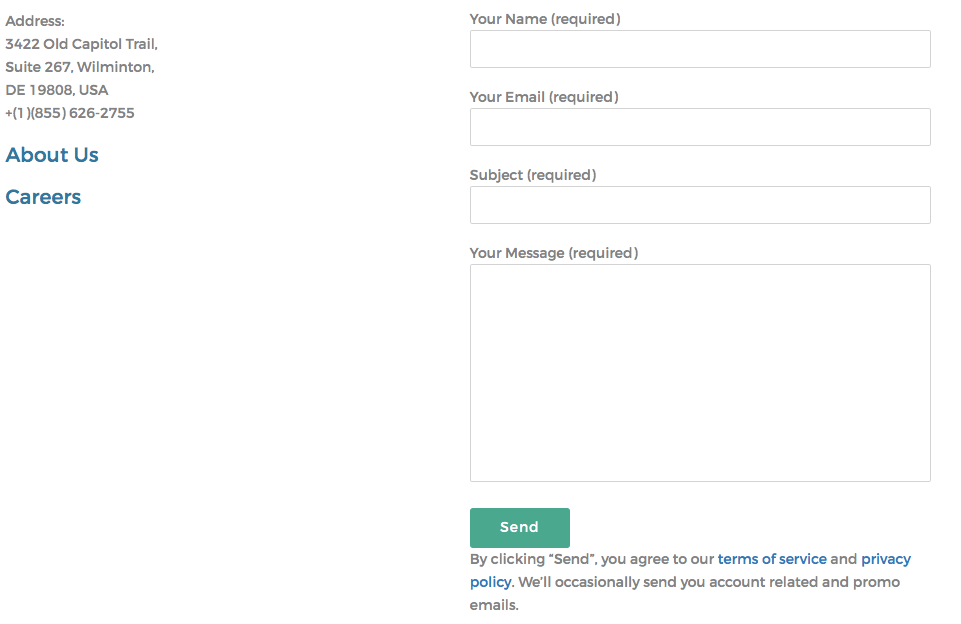 Being able to navigate your customer on your website is an important task to handle. It is vital to the company's success to meet certain needs and expectations of its customers. A trusted relationship between a service provider and a client is essential to successfully run a business. For the sake of this Study moose review we decided to see how fast and well the support team handled our call to aid. Surprisingly, the reaction time was almost instant. We were provided with all the information that was relevant to our question, as well as being asked whether we need any additional help.
The site has made it a fairly simple task to establish contact with the support team. You can either choose to fill out a form directly on the site, by sending your question or recommendations directly to them, or you can opt to give them a call via the phone number mentioned on the site. Also Studymoose can be contacted on Facebook or Twitter. Either way, you can rest assured that the company takes the matter of customer support seriously and you will have no issues here.
Usability
When it comes to Study moose and ease of use, you will find yourself facing no issues in this department. The site boasts a user-friendly interface, is quite easily accessible and simple to use. One of the first things you will notice when you visit the site is the clean and simple design, which is quite appealing. The site finds the perfect balance between too much content and too little on the landing page.
Pros/Cons
Pros:
Great design
Site layout
Customer support
Cons
Writers and papers are not of the highest quality
A few missed deadlines
Prices are relatively high per page.
Conclusion
So, is it legit? If you haven't found a better alternative that suits you more, then feel free to employ the services of study moose. As a writing company that is quite heavily customer-oriented, you will find no problem in communicating your needs and wishes across the table. The site is welcoming and eye-appealing, easy to use and navigate. Study moose knows what it is and what is expected of it, and it handles the task pretty well. There are, of course, plenty of alternatives that are just as good if not better, but it you feel like this is the way to go for you, then feel free to do so.