WritersPerHour.com Review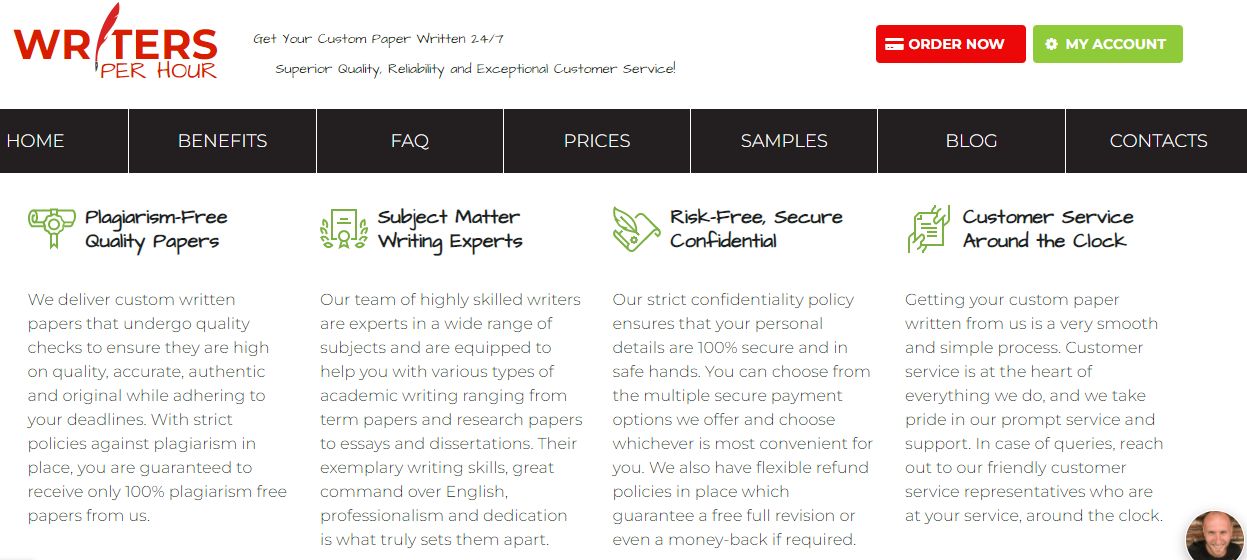 Paper Quality
WritersPerHour is a relatively new player in the saturated market of paid academic services. They don't impress with the paper quality and don't seem to be particularly good at any other customer service aspect. They take pride in a small, but professional team of experienced writers, who are capable of delivering anything from decent to mediocre writing quality for a relatively affordable price.
Prices and Fees
The pricing policy at WritersPerHour seems to account well for the lack of exceptional writing quality or any other particular merits. Their main target audience is made up of students tight on budgets, hence, the generous first-order discounts and affordable pricing (a standard 250-word essay page costs 11.99 USD). To take the most from this service, I would strongly recommend trying their customer loyalty program, which stipulates progressive discounts starting at 10 orders and above.

Guarantees
Don't expect something extraordinary from this company in terms of guarantees. Don't get me wrong, though, as they are not a scam service and will offer each new customer to read and accept their Terms of Use policy. However, who bothers reading long legal documents these days? The maximum one can get from WritersPerHour is a partial money-back and a free-of-charge revision.
Service Review and Online reputation
Being a relatively young company, WritersPerHour takes its online reputation rather seriously. Searching for their name online will bring several specialized articles-reviews, apparently written on demand by some "not so independent" reviewers. Nevertheless, such articles do present the company from a very favorable perspective and keep the flow of new customers going.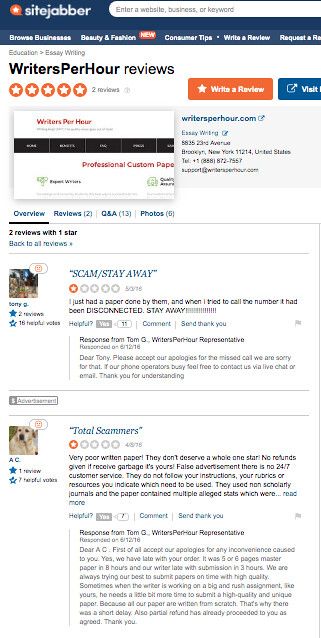 Customer Support
I had almost zero complaints about the service's customer support function. Unlike many other similar companies, which try to save money wherever possible, including customer care, WritersPerHour is different. Their customer support team is easy to reach over the phone and the agents speak perfect English language. They are also attentive and polite and will help you place your order with minimum effort at your end.
Types of Services
There is an apparent lack of variability when it comes to types of services at WritersPerHour. While most of their competitors offer a wide range of services, here the scope is limited to basic academic writing, excluding degree level papers and support services like formatting, editing, CVs, presentations, etc. Nevertheless, 95% of the company's revenues come from simple essay writing, mostly ordered by high school and college students.
Ordering Process
Order placement has been developed almost to perfection at WritersPerHour. One can either fill in an online order form, in which case the overall time investment won't exceed 4-5 minutes or call the customer support service. The latter route is something I would highly recommend – there is virtually no waiting time on the line and the support agents are friendly and work very fast.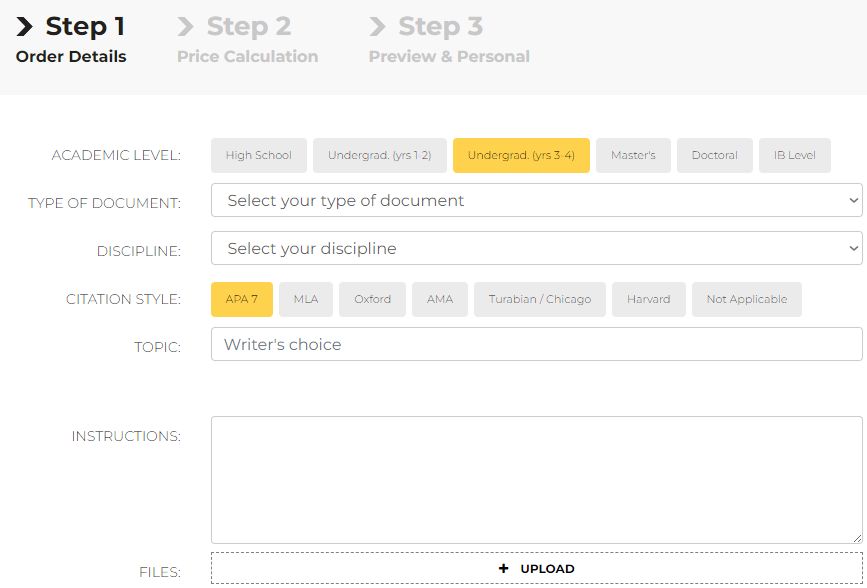 Offers and Extra Services
WritersPerHour is very stingy with extra offers and additional services. In general, there is not much to choose from besides a narrow range of academic papers: no editing and proofreading, no grammar, or even plagiarism checks are available. First-order discounts of 15% and a decent loyalty program are all the benefits a customer can get here.
Pros/Cons
Pros:
Affordable prices
The fast and hustle-free ordering process
Excellent customer support service
Cons:
Mediocre paper quality
Low services variability
Lack of offers and extra services
Conclusion
WritersPerHour is a brand-new name on the paid academic services landscape. They don't shine in terms of paper quality or extra services, but can positively impress with affordable prices, excellent customer support service, and a hustle-free ordering process.
FAQ
Is WritersPerHour legit?
This is a perfectly legit service capable of satisfying an average student's academic writing needs. Don't expect miracles in terms of paper quality, though.
Is WritersPerHour reliable?
As far as their online reputation goes, the service is a reliable one. They are capable of delivering on the promises and their customer support is always open to dialogue.
Is WritersPerHour cheap?
Yes, they can be considered as a cheap service. Among the competitors, they offer some of the lowest prices.
Is WritersPerHour trustworthy?
One can trust this service with basic high school or college writing tasks. Always read the information on their website as to what kind of papers and types of services their writers can deliver.
Does WritersPerHour plagiarize?
There are no reported cases of plagiarized content in WritersPerHour's works. At the same time, the company doesn't provide plagiarism reports and all customers should always run their own plagiarism checks using free online tools.