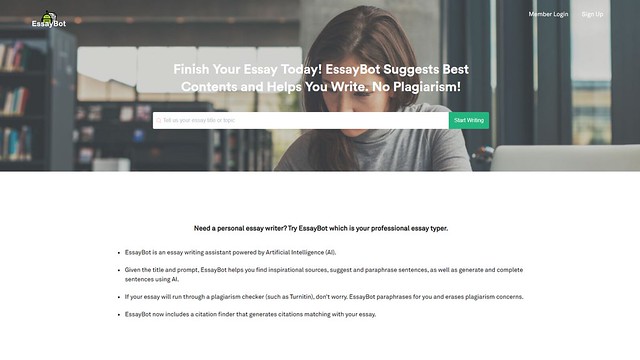 Paper Quality
EssayBot is a stand-alone service in terms of paper quality. Since its work is not based on a human but rather on artificial intelligence (AI) and its algorithms, the quality of their papers desires to be much better. Their AI can be classified as a narrow AI, which means it cannot match the quality of papers, which we would normally expect from a professional human writer. All that EssayBot does is generating random content and rephrasing the existing one.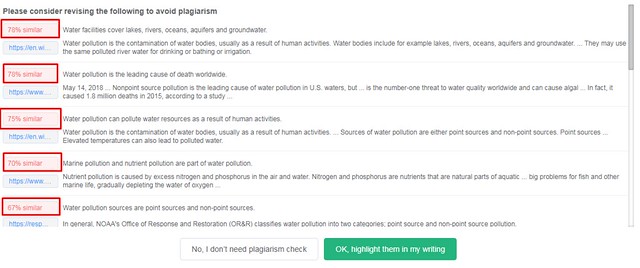 Prices and Fees
Based on the type of their services, and massive cost savings on personnel (only the Support Office has some humans employed), their prices and fees are much lower than those of the normal essay writing service. They charge as low as 1.59 USD per single essay order. Customers can also get a weekly or monthly subscription for 2.49 and 4.95 USD, respectively.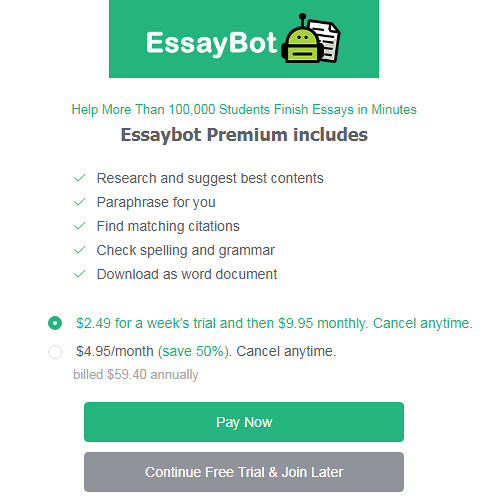 Guarantees
What kind of guarantees can an AI-based essay service provide? Certainly, not the guarantees of the quality of work, but rather the speed and volume of generated text. There is no money-back policy at EssayBot either.
Service Review and Online reputation
It does not take a scientist to envisage that a tool like this would have many negative user comments. However, there is very little information on this service available online, as if it never really existed. The most plausible explanation could be that it is simply not popular at all. People understand the flaws of AI-based writing services and avoid them at all costs.
Customer Support
There is email support available and a live chat. But don't get too excited about that – the live chat support seems to be based on an AI algorithm as well. I tried to ask a few very specific questions related to my college paper assignment, and all I heard back were standard phrases and recommendations to read the FAQ on their website – very disappointing.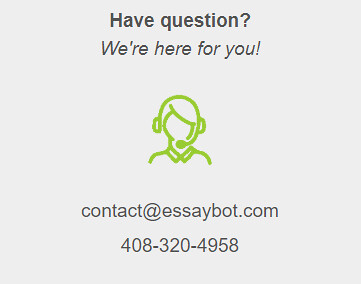 Types of Services
There are not many services to talk about at EssayBot. They offer AI-generated essay help and claim to provide 100% plagiarism-free content. To be frank, I didn't find any plagiarism in the two essay texts they made for my current review. It seems that their built-in plagiarism tool works as expected. Also, they claim to be helping students with other types of college papers, though I would not recommend this service for any serious writing assignments.
Ordering Process
If you are ready to put up with the quality of writing, then ordering is not going to be hard. You do not need to wait for ages until they assign a human writer to your order. Instead, you can start the ordering and execution process right away. The process resembles a help-yourself service approach – you indicate the topic of your essay and the system offers you to generate the entire text using its "machine" brains or to assemble your text from relevant pieces of text. Those pieces the system finds online and offers to rewrite them automatically. Of course, the quality of such rewriting is far from perfect; however, the price tag is also adequate.

Once the text is ready, before you can download it, the system will offer to pay for this particular single order or subscribe to a weekly or monthly plan.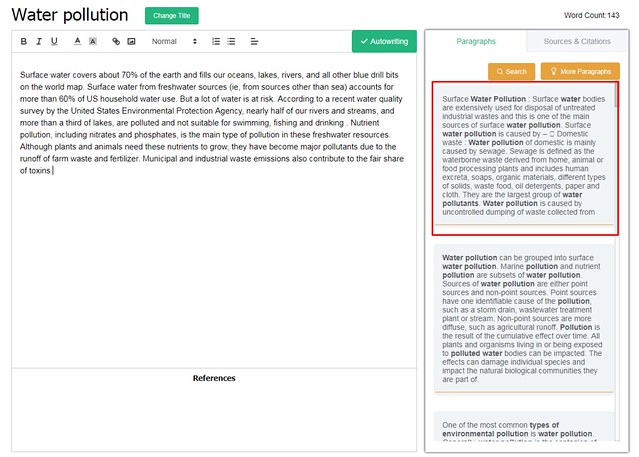 Offers and Extra Services
There are no discounts or promotions available. The extra services are also limited to standard text generation (rephrasing), plus the added plagiarism checking tool (included by default and works great as far as I can tell). The grammar checking tool comes as an option and costs 0.49 USD per single page of text.
Pros/Cons
What I liked:
The speed of work (silly to expect anything less from an AI-based service)
An effective plagiarism-checking tool, which comes standard
Prices are much lower than those of a typical essay writing service
What I didn't like:
Horrible quality of texts (would rate my two texts at 3 out of 10 points)
Poor customer support
No money-back policy or any other guarantees
Conclusion
I would not call EssayBot a serious essay writing service, but rather a demo of what a current AI-based tool can do to help with students' essay assignments. However, this demo costs real money.
FAQ
Is EssayBot legal?
There are no legal restrictions on using EssayBot or any other similar services. When it comes to quality or security – these will be the risks you will have to take if you intend on using this service.
Is EssayBot a scam?
They are a real service offering machine help with students' assignments. They don't cheat or steal your money. If you are ready to put up with AI-generated texts and their quality – you should consider at least trying EssayBot.
Is EssayBot reliable?
For anything more than a demo or a test, EssayBot is not a reliable service to use. You may want to try it just for fun to see what a current AI can do with your college paper assignment.
Does EssayBot plagiarize?
They have an effective built-in plagiarism tool. It must be utilizing one of the popular online plagiarism-checking engines, as none of my custom-generated texts had plagiarism in them.