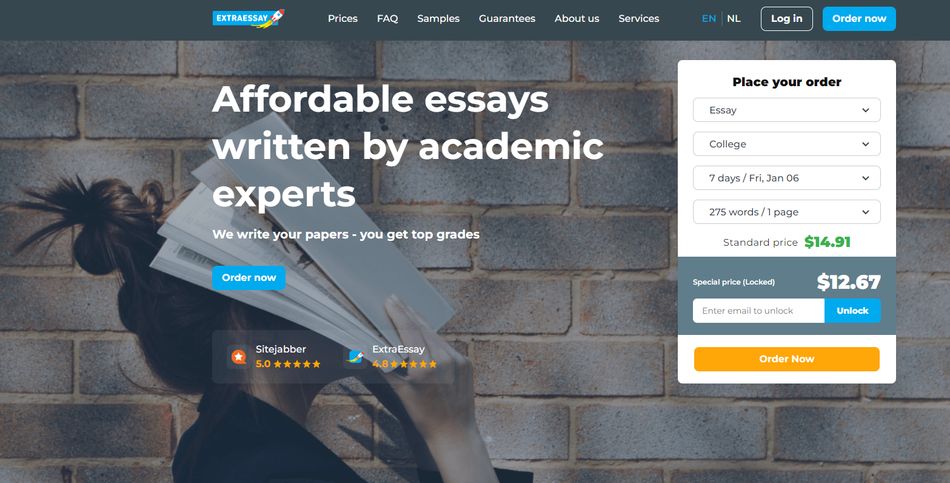 Hi users! Today we will find out how good the essay writing service ExtraEssay is. Is it legal? Can I trust my academic papers to this service? We made a test order on behalf of a regular student and went through their website in detail. We invite you to read the review of this service, and then decide whether to use ExtraEssay services or not.
Paper Quality
We did not like the quality of the work performed. We ordered a two-page marketing essay. The layout of the submitted document did not fully comply with the requirements of the style specified in the task. Also, at some points the text was unreadable. The sentence structure was poorly put together, and sentence length was sometimes so long that we were lost in a few ideas that could have been described differently. There were three or four typos, and some of the words were out of place and out of context. The originality of our essay was 90%, which is neither too much nor too little.
Prices and Fees
The service is quite cheap because it has affordable prices presented on the site. You can order academic papers starting at $9. We have not seen many services that last for a long time, offering such a cheap price. ExtraEssay also offers a 10 percent discount to new customers on their first order. Not a bad bait, because customers can pay even less for an already cheap product. It's like buying a car with no warranty around the corner on the street for half the price it would cost in a showroom. But how long will this car last you?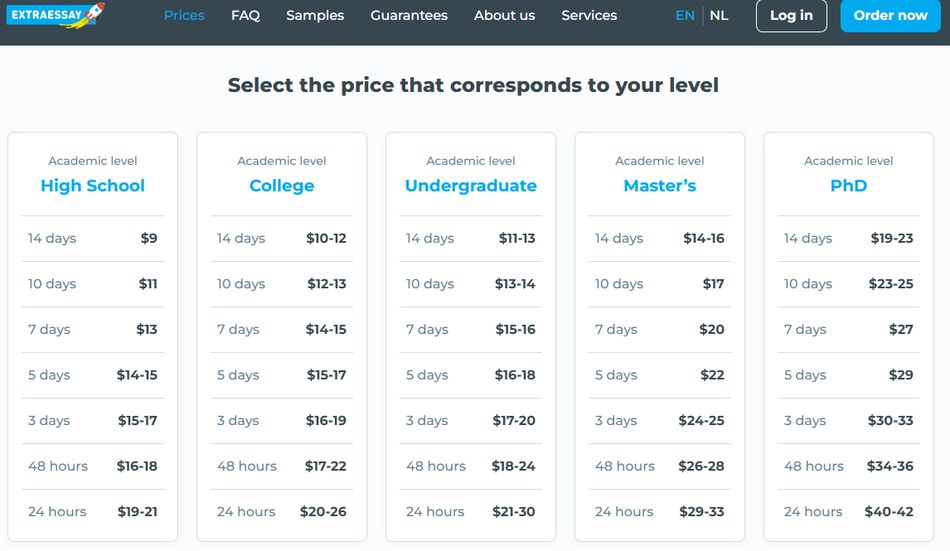 Guarantees
The guarantees of this service are no different from the standard guarantees of other companies that write essays for students. They have information on the page that you can request a refund if you find plagiarism in your essay. Also, you can request free revision editing of your essay within a week and a half after receiving your papers. All in all, nothing is out of the ordinary.
Service Review and Online Reputation
In general, reviews about this service are mixed. At least, we did not find a large number of positive reviews with words of gratitude. Of course, some sites have good reviews, but entire articles that say ExtraEssay is a scam service mislead us. Interestingly, these articles are regularly deleted. This suggests that positive reviews can be false and this company removes negative ones to whiten the reputation. This is usually done by companies that conduct dubious and dishonest business. So the legality of ExtraEssay cannot be said for sure. And their reputation is far from good.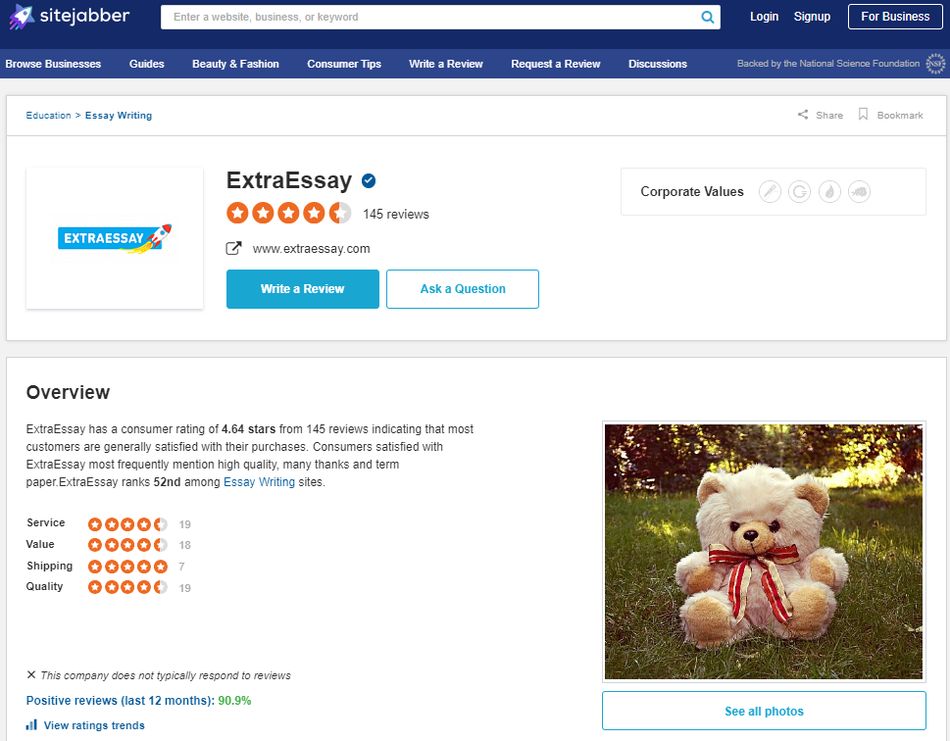 Customer Support
The support service here is just doing its job. Yes, we had to wait 5 minutes, but we were answered in a friendly tone of voice. They have several options for how to contact them. You can email them, call them, or use Live Chat from the main page of the site. The impression of communication by online consultants was neutral-positive. At least because of the fact that some aspects of the work of this service significantly disappointed us.
Types of Services
It provides services for writing various academic papers. The range of choices is quite wide, and you can choose any type of service by filling out the order form. Various essays, theses, scientific papers, business plans, term papers – all this is a list of types of academic papers. Nothing out of the ordinary, but still plenty to choose from.
Ordering Process
When ordering your academic paper, the first step is to enter your personal details. This is not very convenient for those users who are used to worrying about their anonymity while interacting with Internet platforms.
Then you enter the wishes for your future academic task: the number of pages, writing style, additional features, and everything that you can put in the comment field for the order.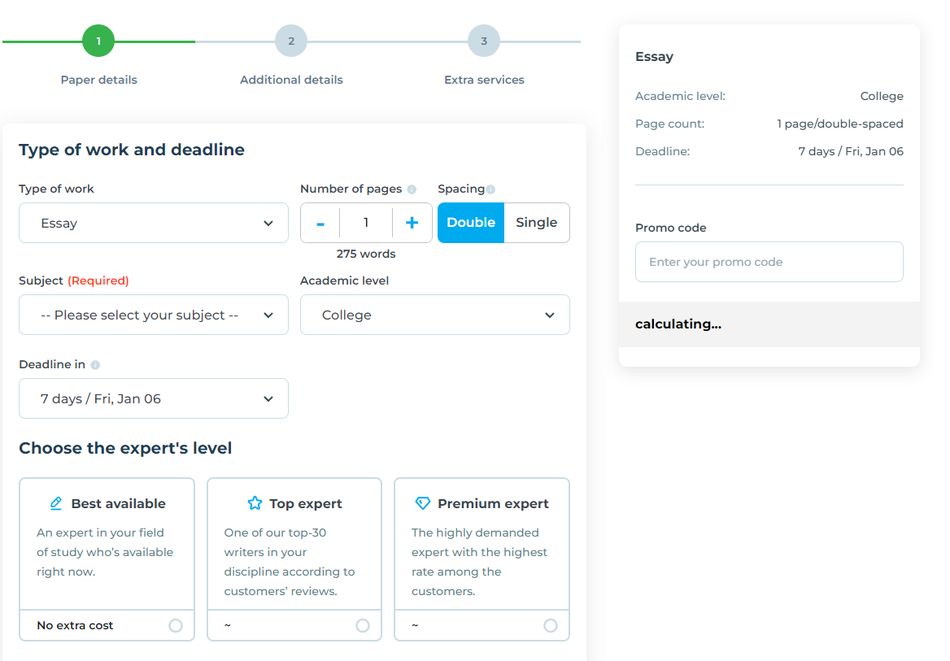 Offers and Extra Services
Pay an additional 15% or 25% of your order value to use the service of a professional editor or writer, respectively. There is no fixed cost, so until the moment of payment, the final price for your academic papers will remain a mystery to you – not all people will count the percentages when they urgently need an essay for tomorrow. What kind of mathematics can we talk about at this moment?
The plagiarism report here is also paid, it costs as much as 8 dollars. It is certainly good that it is here, but it is a pity that this company actually "sells air". Indeed, for most services that work legally, a plagiarism report is often included in the price.
Pros/Cons
Pros:
The user-friendly and intuitive website
Nice design
Cons:
Services that are free for most, are paid here
Reputation is maintained artificially by removing negative comments
Paper quality leaves much to be desired
Conclusion
ExtraEssay is a rather mediocre service that can only compete with its own kind. It's hard to call their office a scam service, because in fact – they send academic papers to their clients, as they sent us. However, the work was of completely poor quality. Many functions that, in theory, should be included in the price, here you just won't get it – you'll have to fork off a tangible amount. It seems that the company is still afloat thanks to these markups. There are also various rumors about the reputation of this company on the Internet, and naturally, many people do not like that the company removes negative reviews about itself. We do not recommend using this service.
FAQ
Is ExtraEssay scam?
Their work can hardly be called illegal, but after receiving low-quality academic papers, you may feel cheated.
Is ExtraEssay reliable?
We cannot call this service reliable because expectations were not met. When you order an essay on such a service, you expect at least original and competent proposals. ExtraEssay does not cope with such a simple task.
Is Extra Essay legit?
We did not notice anything illegal when checking this service. However, the embarrassing thing is that you need to share your personal information during registration and checkout. Many companies support a policy of anonymity in their workflow, but ExtraEssay apparently does not.