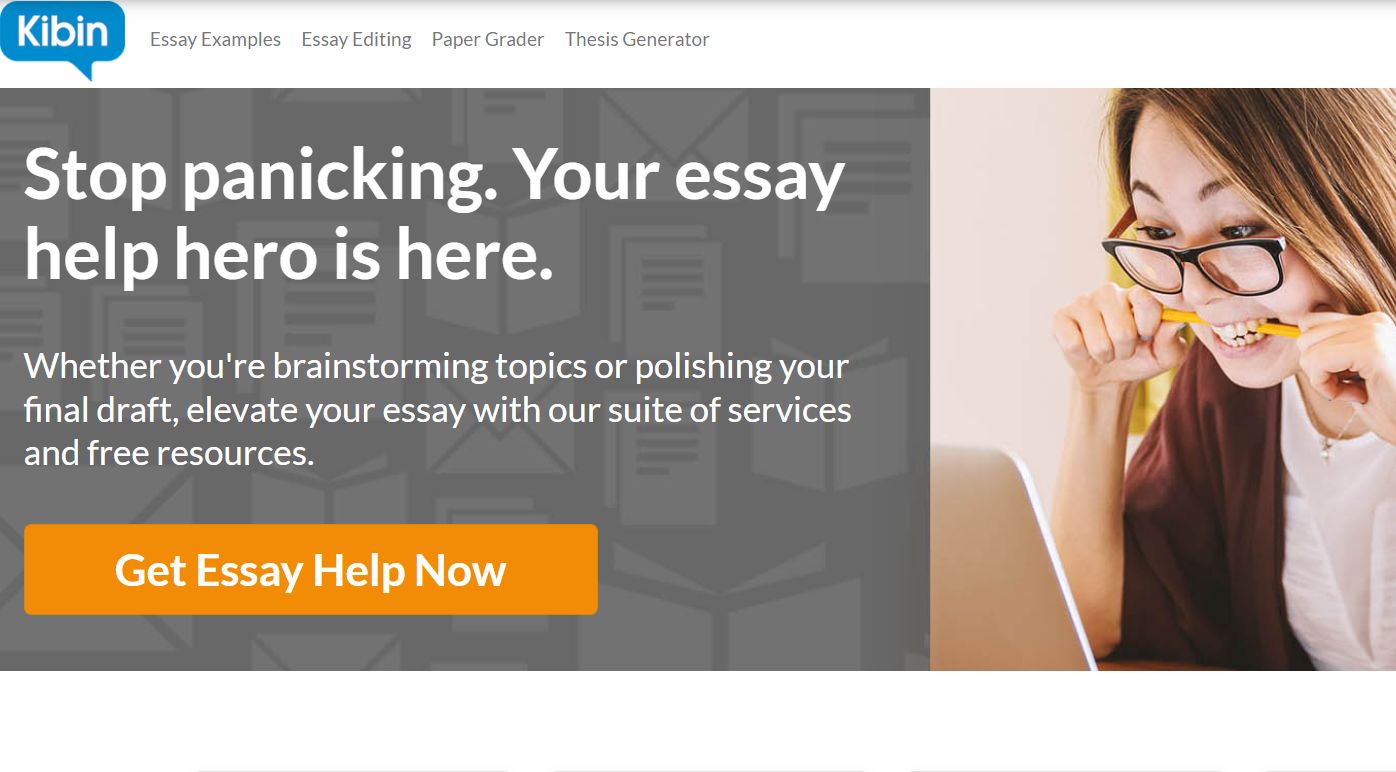 Paper Quality
It is hard to assess a paper quality for an agency, which is largely a huge sampling, editing, and formatting platform. They don't write papers from scratch, but most likely hire some other external providers to do that kind of job. The editing and proofreading services they provide seem to be of decent quality, though. Whether you need a narrow scope academic platform, which can only shine in terms of a large database of essay samples and can do some basic editing – is up to you to decide.
Prices and Fees
The prices for Kibin's editing and proofreading are rather high. One can get their academic text edited here for 19.99 USD per page. When it comes to the sample database – the default access level is free of charge, however, it comes with some significant limitations on functionality. If you want to have full access to their large database of paper samples, you need to register and create an account for 25 USD per month.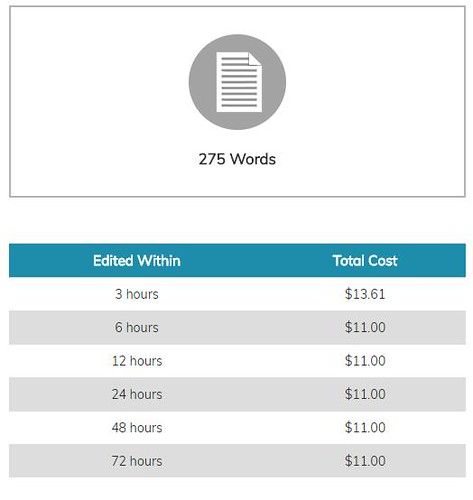 Guarantees
Don't expect much in terms of guarantees. At Kibin customers have to agree to the Terms of Use policy before placing any orders. This document is a sheer formality, placing more responsibilities and obligations on customers than on the company. By default, customers are guaranteed anonymity and security of personal information, though this doesn't take away the need to apply caution when creating an account and providing any sensitive personal and financial information.
Service Review and Online reputation
We have monitored some major online customer review websites and found mostly positive feedback about Kibin's services. The largest discussion platform, Reddit, didn't give us enough material to make a definite conclusion. At the same time, a rather popular platform where former employees can voice their opinion, Glassdoor, was more useful – we found that many people complained about bad working conditions and poor quality insurance standards.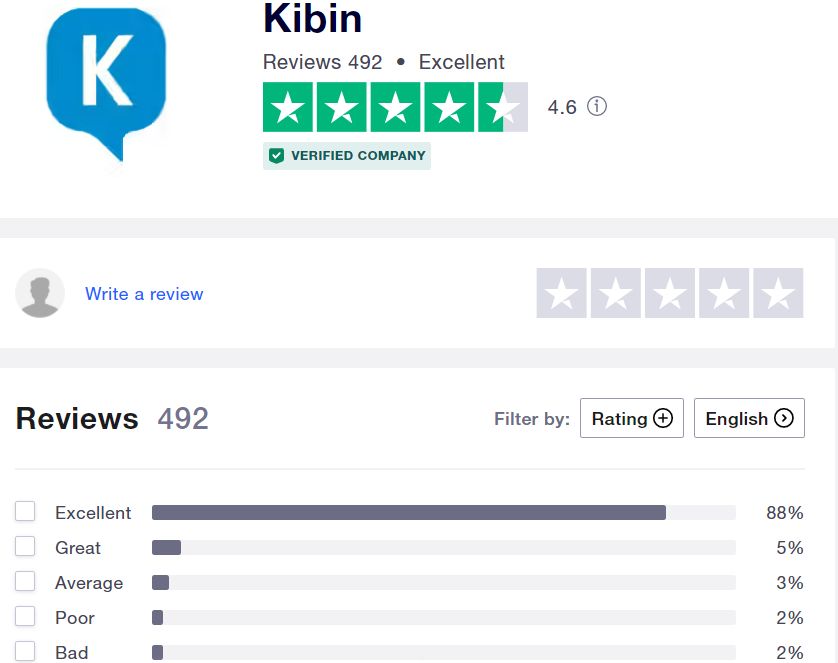 Customer Support
At Kibin, customer support service only works one way – you can send your questions and requests to their agents, but you'd be extremely lucky if they bother to reply. First of all, there is no phone line support available or a chat box, and the only viable option remains their email address. We were unable to get a high-quality and timely response to our request, though other customers might be luckier.
Types of Services
As mentioned, Kibin offers essay samples, writing support, and editing and proofreading service. In reality, though, the only viable options remain editing and essay samples. The latter one is represented by a large database of essays and other paper samples, which are for review purposes only. If you want to get the maximum return on your buck, you should register on their website and choose one of the available services plans:

Ordering Process
To order editing and proofreading, or the optional document formatting (including help with proper referencing and quotations), one has to fill in the available online ordering form. Frankly speaking, there is nothing difficult in that and the entire process takes about 10 minutes, including account creation and making a deposit. The release of funds to the company will only happen once your order is complete. The company takes the responsibility to review customers' complaints and commits to partial refunds in case of any unresolved disputes.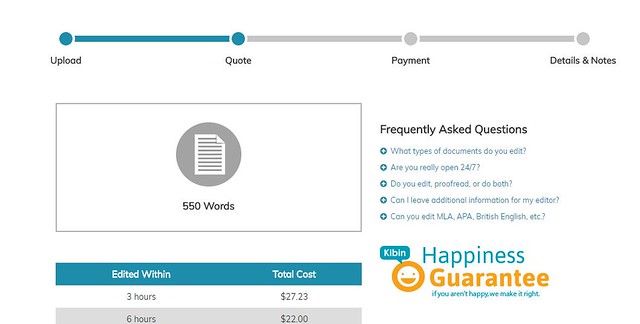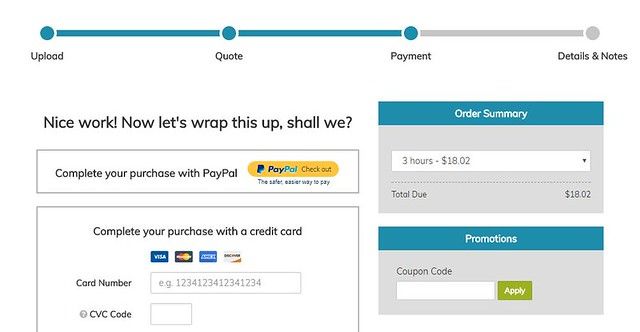 Offers and Extra Services
Kibin has a rather narrow band of services, as noted above. At the same time, they have almost zero offers in terms of extra services. We were only able to note their writing capacity through external partners – it seems like they send writing requests to the partner agencies, which results in rather high-end prices for the customers. One can only order several academic support services here, such as resumes, letters of recommendation, and plagiarism checking.
Pros/Cons
Pros:
Simple ordering process via the online form
Large database of essay samples
Cons:
No in-house writing offers
High prices for all types of services
Questionable online reputation
Poor customer support
Absence of offers and discounts
Conclusion
Kibin is a highly specialized agency, mostly focusing on professional editing and proofreading services for students. Customers with academic papers need and those who are used to affordable prices and good customer support should look elsewhere.
FAQ
Is Kibin a legit service?
It is a perfectly legit service with a registered address.
Is Kibin reliable?
For basic editing and proofreading, formatting, and essay sample review tasks, Kibin is a reliable service.
Is Kibin worth the money?
The company has very high prices for the mediocre quality of services it offers. Price concerned customers can find better offers on the market.
Is Kibin a scam?
It is not a scam service. They have a long and traceable history of serving customers.