MyHomeworkHelp.com Review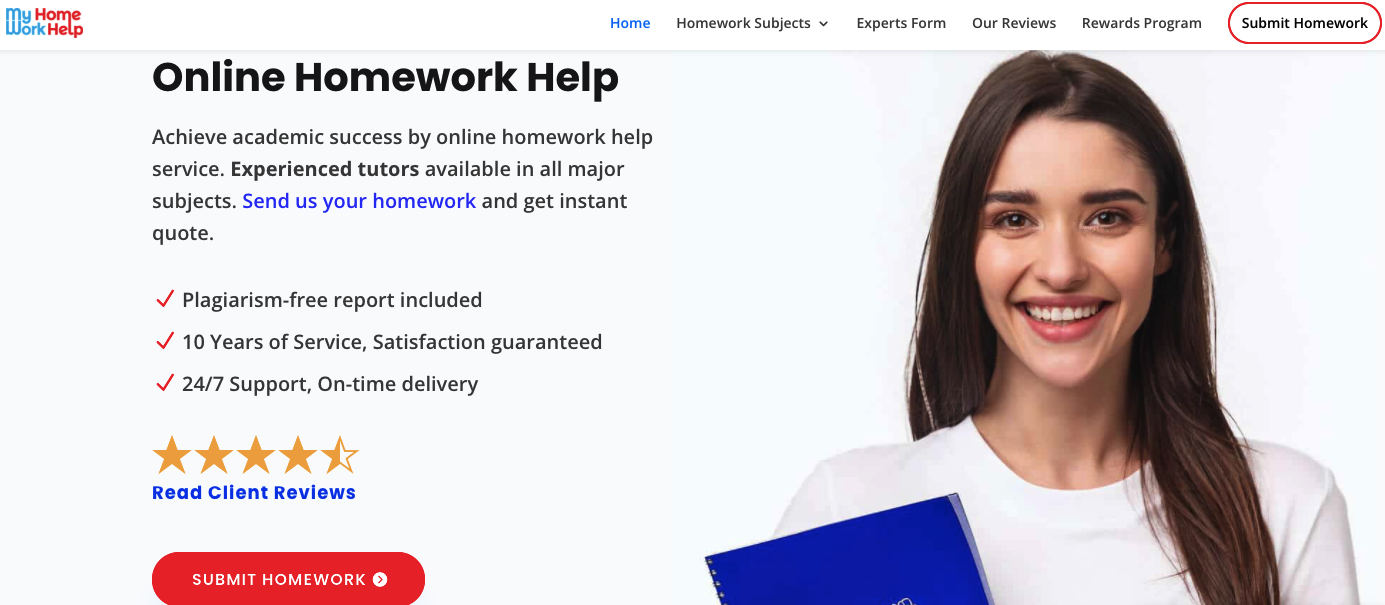 Paper Quality
MyHomeworkHelp provides a decent quality of papers. Perhaps, this is the main factor, which has contributed to their popularity among students worldwide. The Terms of Use guarantee 100% originality of all delivered papers, however also stipulates up to a full refund if a customer spots (and justifies) over 5% of plagiarized content in the delivered order. The same refers to grammar and formatting issues, which, however, stipulate a free revision/editing service if detected.
Prices and Fees
The prices at MyHomeworkHelp correspond to the paper quality and can be considered affordable. A grain of salt is a strange 5% tax applied to all orders, and which only becomes visible during the payment process. Nowhere in the Terms of Use is this tax mentioned, making me believe that the company can change the Terms of Use without notifying the customers and that there could be other hidden stones in their pricing policy.
Guarantees
MyHomeworkHelp guarantees customers anonymity and security of personal information. This is a standard policy for any online writing agency, which, nevertheless, requires full caution and attention to details from the customer. For instance, you should never reveal your real name or phone number when creating an account on their website. These things are obvious, but many clients neglect them, and a company and its guarantee policies are helpless in such cases.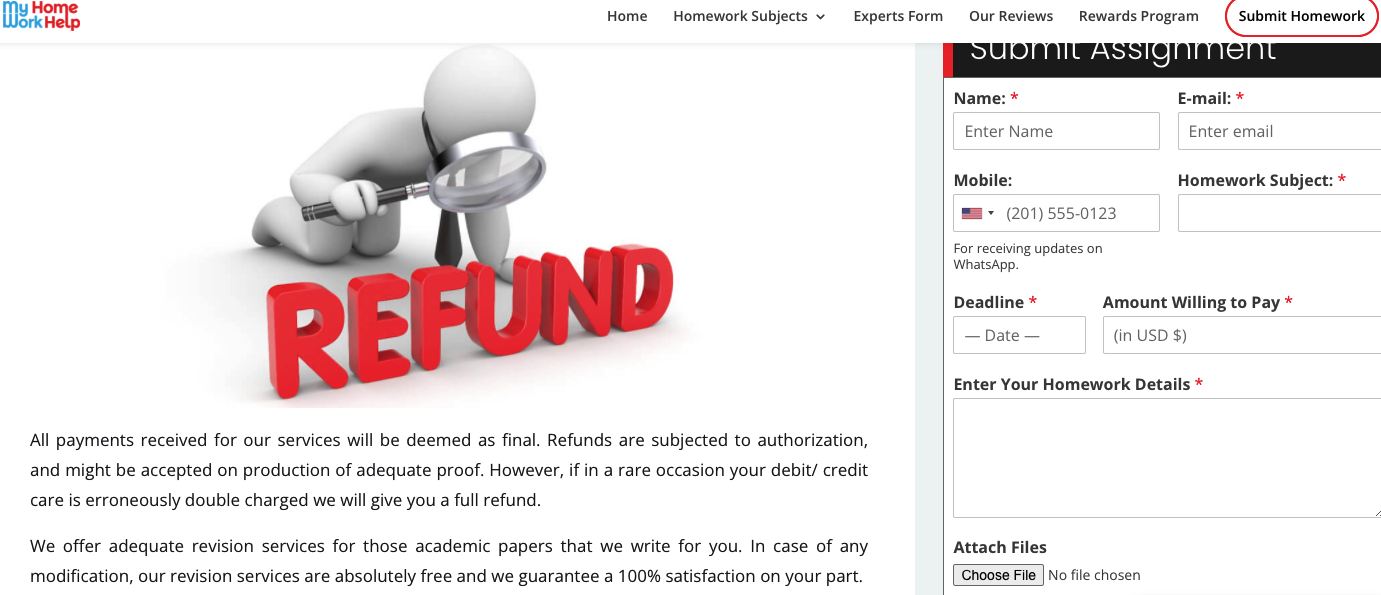 Service Review and Online reputation
The online reputation of MyHomeworkHelp is controversial. On one hand, many users emphasize the decent quality of the delivered papers. However, there are all sorts of complaints about hidden taxes, poor customer support, Terms of Use not being transparent, and many other small issues, which greatly tarnish the MyHomeworkHelp's reputation.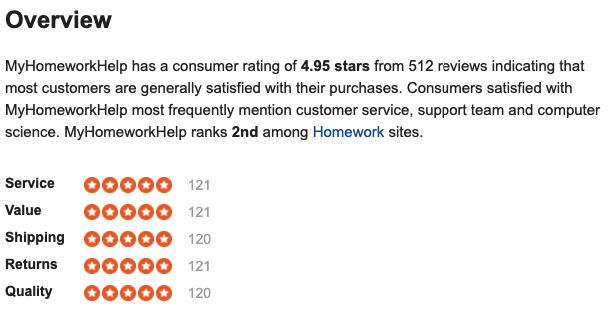 Customer Support
MyHomeworkHelp claims to have local offices in the USA, UK, Australia, and India. This, however, seems unlikely as every time I called their customer support, I was put through to the Indian office. One cannot confuse an Indian call center with anything else – the agents there talk very fast and it's hard to understand everything they are saying. Maybe the company did have some small local customer support offices in other parts of the world initially, but due to cost-related issues had to downsize their personnel.
Types of Services
MyHomeworkHelp is not very versatile when it comes to services. Their primary domain is undergraduate-level papers, including essays, literature reviews, and even term papers. Besides, they also offer native English-speaking editing and proofreading services, document formatting (according to any given reference style), work with presentations, and common job application documents such as resumes and CVs.
Ordering Process
Given the nuances of the support office (location in India and communication difficulties associated with it), it is preferable to place your order via MyHomeworkHelp's website. There is a comprehensive online order form there, which won't take long to complete. The administrative staff will quickly find the best matching writer and your order will be sent to processing. Once it is complete, you will be notified by email or any other communication channel (when placing your order, you get to choose the preferred communication method).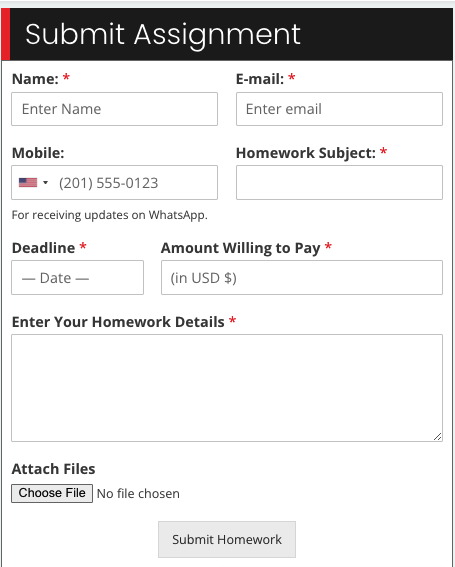 Offers and Extra Services
If you are hunting for promo codes and event-dedicated discounts – MyHomeworkHelp is not for you. They don't provide any of those. Nevertheless, the base prices for essays and term papers are rather affordable and can compensate for the lack of the above.
Editing and proofreading service comes standard. Optional plagiarism reports and grammar checks are also available.
Pros/Cons
Pros:
Decent paper quality
Affordable prices
Simple online order form
Cons:
Hidden taxes
Controversial online reputation
Poor customer support service
Not good for graduate-level academic assignments
Limited offers and extra services
Conclusion
MyHomeworkHelp is a decent service for undergraduate-level academic assignments. It doesn't shine with the range of academic papers covered or the customer support service, but the basic essay prices and quality of writing won't leave you unsatisfied either.
FAQ
Is MyHomeworkHelp cheap?
It is not the cheapest service on the market, but most undemanding customers will find their services rather affordable.
Is MyHomeworkHelp legit?
It is an absolutely legit service, as it doesn't violate any existing laws or norms. It is a real service with at least one confirmed physical office (in India).
Is MyHomeworkHelp reliable?
This service is good for anything below thesis and dissertation. Even if your assignment is coursework or a term paper – MyHomeworkHelp can cope with those.
Does MyHomeworkHelp plagiarize?
They allow up to 5% of plagiarized content in their works. Anything above that is subject to a full refund (if proved by the customer).
Is MyHomeworkHelp trustworthy?
The quality of their papers is generally good. Many would call it above average. However, any general rule may have exceptions, so as a customer you should always read and review your purchased papers before submitting them to your teacher.