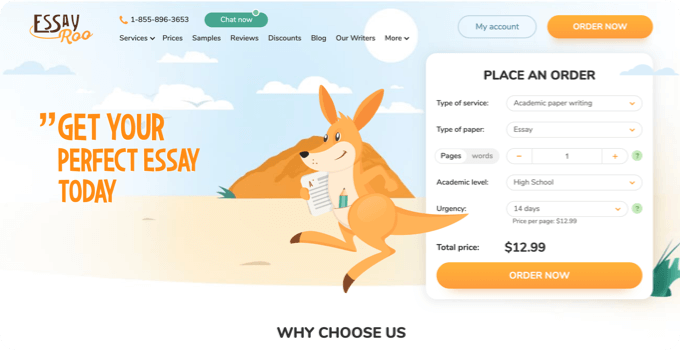 Overview
Are you a student from Australia looking for a writing service to get a paper done? Essayroo says you should consider them because they focus on specific requirements of Australian universities and colleges. They offer writing for:
High-school
College
Master's
Doctorate
EssayScamBusters team prepared this Essayroo review for you guys. Spoiler alert – they work with students from other countries too.
Quality
Overall, could have been better. The main issue was the language; we are not from Australia and don't speak the Australian English, but the paper we received did not sound natural to us, had errors and was hard to follow in some places. We did make a complaint to their support team representatives and were able to get a slightly improved version we would still have to fix. Here is the verdict:
Formatting was not exactly conventional APA
Grammar was really awkward in some parts of the paper
Layout & structure acceptable but simple
Research could have been done better
References were mostly websites
Typos were present in several parts of the text
Academic level was lower than expected
It is not that we think this is a no-go. We believe an average student could use a product written by Essayroo as a framework for a paper. However, we are not sure if what you are going to get will be acceptable as it is.
Prices & Discounts
The prices on the website are just a little higher than average on the market for some orders and by far exceed average prices for higher levels of academic writing and urgent papers. In particular, you'll be paying at least 13 USD, or 18 AUD, per page if you are expecting a high-school level paper not any sooner than 14 days. You'll be paying as much as 55 USD, or 76 AUD if you need a Ph.D. level paper not any later than 3 hours.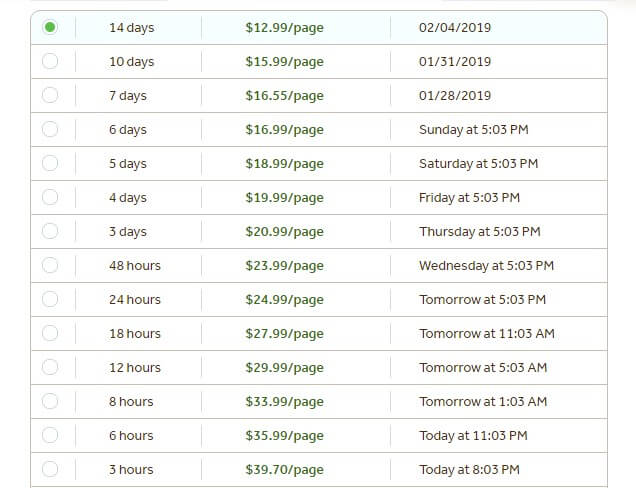 Fortunately, these guys are ready to offer you a 15% discount code if you are a first-time customer. Also, they have typical lifetime discounts for ordering more papers.
You'll get 5% off if you order 15+ pages
You'll have 10% off once you reach 50 pages
You'll be offered a lifetime 15% discount for ordering 100 and more pages
Overall, not bad. For those of you who want to use essayroo.com, we hope they have other discounts. Otherwise, their services may cost you too much.
You can pay extra for:
A professional in "your field" –  +25% (we hope you will not have an accountant write a paper on biology if you don't pay this charge)
Top-10 writer –  +35%
Similarity report – +$40
Individual support – +$8/+$13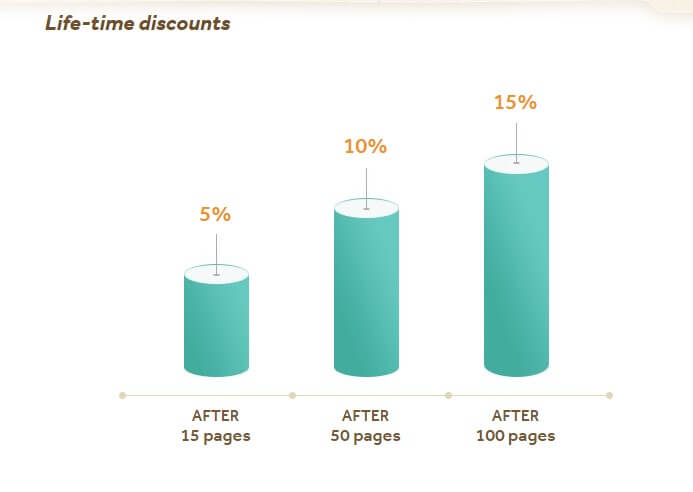 Guaranties
The guarantees they offer are standard, but rather vague. Some of the guarantees they offer are:
Money-back policy (only if you cancel your order; does not apply if your order is late or you think the quality is poor)
Revision policy (description is vague and we could not find specific cases when a revision would be free of charge; we had to literally force them to get one)
No plagiarism policy (you can also pay +$40 to see the plagiarism report)
Reviews and online reputation
It looks like their customers expected more of the papers they provide. We looked for essayroo reviews on Sitejabber and found just one 1/5-star review stating they had "illiterate writers". The review was only partially available from a search page because Essayroo's page on Sitejabber was deleted. Pages tagged "Essayroo" on Reddit have also been removed from the website.
Deadlines
The deadlines they offer vary significantly:
3 hours is the shortest
14 days is the longest
The order we had with these guys was not delayed and we received it in 4 days as requested.
Support
We did not have major issues with the support; however, we noticed that something was being misunderstood here and there. We did not pay for the individual support package but we think it would not really make a big difference.
Usability

In general, the website is easy to navigate and the menu is clear. You can see pricing options right when you go to their homepage. However, it took us a while to find their money-back policy; we were not able to locate the page with their revision policy at all. Also, their first-timer discount code is hidden at the bottom so that you may miss it.
Pros/Cons
Pros:
Website looks friendly and legit
Live-chat with the support
Price calculated in different currencies
Cons:
Below-average writing
Above-average prices
Unclear policy on free revisions
Conclusion
Essayroo.com tries hard, but at some points they are not the best of what we have seen. For the prices they have, you can find a better writing service.