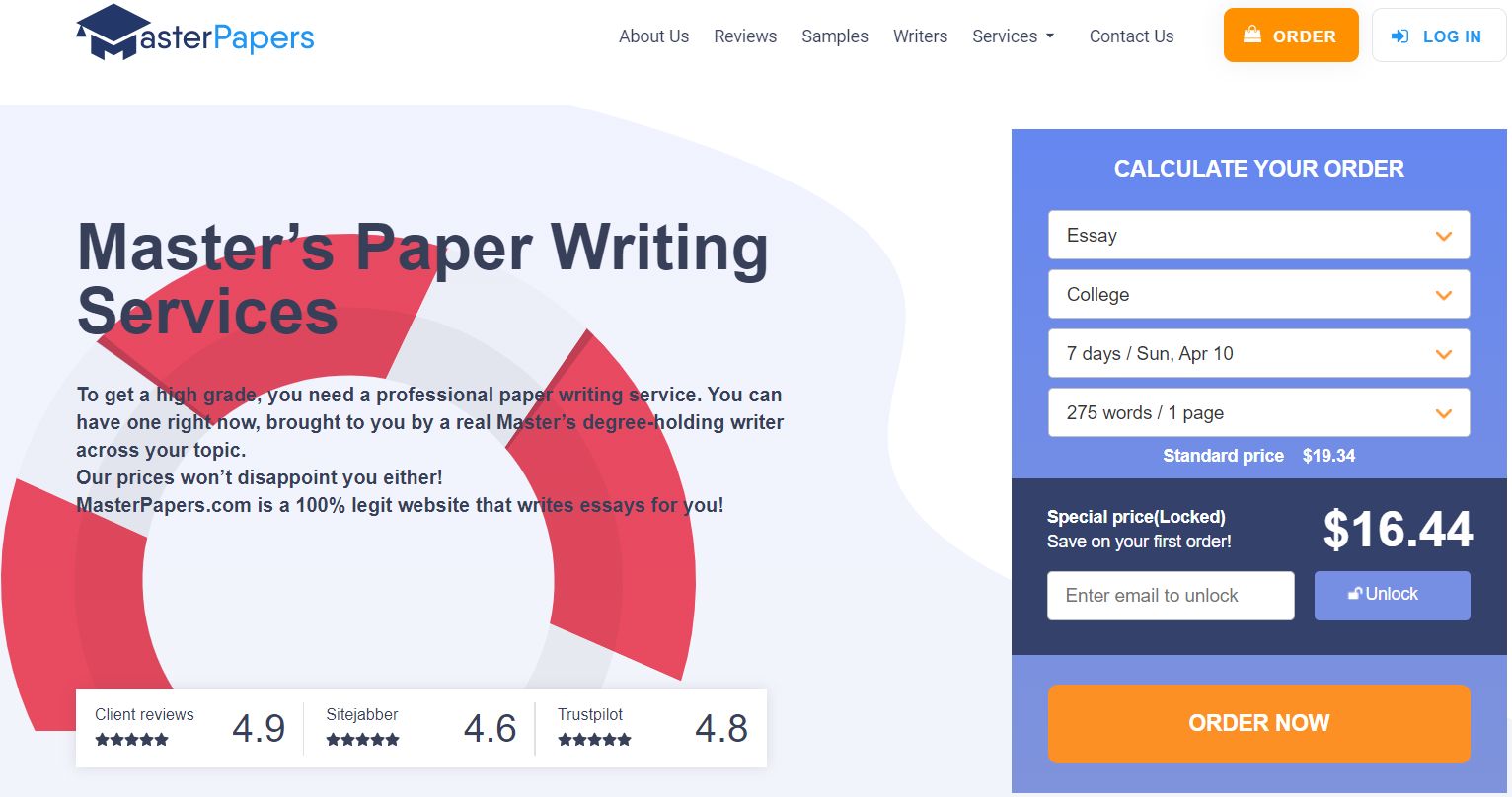 Paper Quality
MasterPapers is a unique service in a way that they look very promising on the surface while being rather ambiguous in reality. In all my reviews of paid writing agencies, I tend to put their writing capabilities to the maximum test. With MasterPapers it was no exception. I ordered a detailed 5-page essay on a rather tricky topic – "Pros and cons of cultural diversity at big multinational corporations". Unfortunately, in the paper returned to me (BTW, within the deadline), I saw neither a good analysis of the subject nor a sign of the author's unbiased approach. On top of that, the draft paper was not properly checked for grammar and plagiarism issues.
Prices and Fees
Just as with the paper quality, the prices at MasterPapers are only great at a first glance. Yes, they do offer a nice first-order discount of 15% and an affordable price tag for a standard essay page, however, if you want to get at least a decent quality, including things like good grammar and plagiarism-free content, you do need to pay more. For those who demand extra quality, the company also offers a VIP service, which costs absolutely crazy money.
Guarantees
Don't expect miracles in terms of customer protection and guarantees at MasterPapers. They are as good as a formality, a vivid commercial, which is not supported by any legally-binding norms. On the website, customers can read about the company's adherence to the highest service standards and ultimate customer satisfaction. At the same time, in practice, one will find it hard to claim a partial refund due to a breach in the security of personal information or to demand a free-of-charge revision.
Service Review and Online reputation
MasterPapers has been operating on the market since 2012. For a decade of active services, it has gained a sustainable reputation of an average-quality service. The most popular customer review platforms describe this service as a budget solution for low-complexity college assignments. I was particularly interested in available expert reviews and was quite disappointed to find none of those online.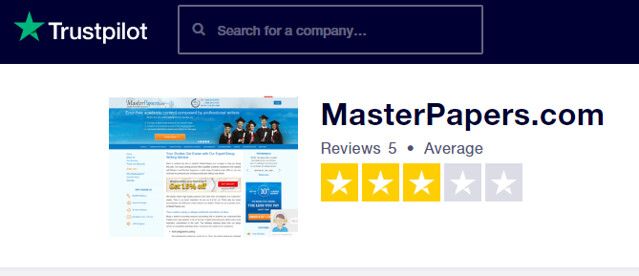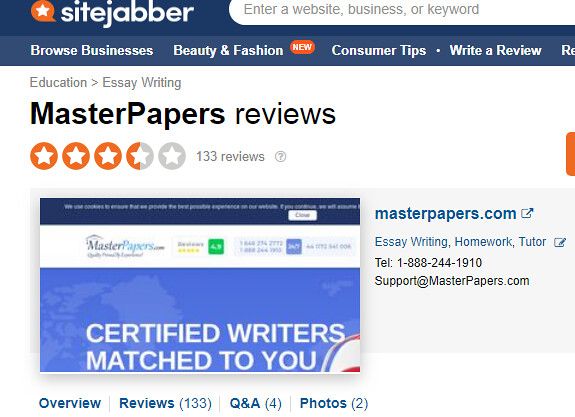 Customer Support
To contact the local support personnel, one can either choose a 24/7 phone line or turn to a live chat option. The latter is only available during daylight hours, though. I didn't find anything worth praising or complaining about their customer support function – they work simply as expected.
Types of Services
One can order the following types of academic papers at MasterPapers:
All types of essays (including admission essays)
Term papers
Reports
Article reviews
Literature analysis
Research reports
Presentations
Book reviews
Coursework
Letters of recommendation
Dissertations
Thesis
Besides standard college papers, customers can find professional editing and proofreading services, VIP-support bundle, grammar, and plagiarism checks.
Ordering Process
I always recommend my readers to place their orders via the available phone lines, especially if this is their first order at a given company. MasterPapers is no exception. When placing my essay order, I had a chance to ask a few questions and received a valuable recommendation on the pricing policy. All in all, it took me just over 10 minutes to complete my order, plus deposit the recommended amount on their website.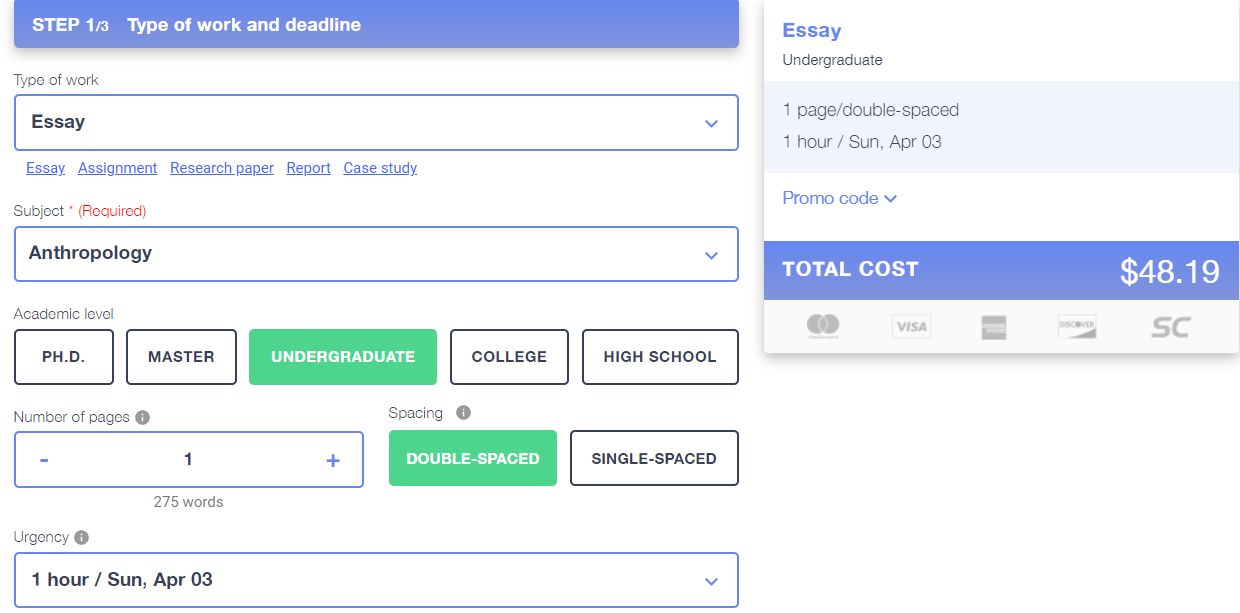 Offers and Extra Services
Paraphrasing the well-known proverb, the devil with MasterPapers is in their details. They seem to be a cheap service at a glance, but under the hood, they are packed with vitally important services, which will significantly increase the final cost of one's order. For instance, my paper was ordered without a grammar check and a VIP writing service, which resulted in poor writing quality overall. If I opted for these extras initially, my total price would have been much higher.
Pros/Cons
Pros:
Customer support works as expected
Simple ordering process
Cons:
Poor paper quality
Expensive extras
Weak guarantees
Poor online reputation
Conclusion
MasterPapers is a dismal company on a competitive market of academic writing services. They attract customers with tasty first-order discounts and cheap base prices; however, anyone demanding a decent quality would be highly disappointed by the final cost and paper quality.
FAQ
Is MasterPapers legit?
No doubt, this is a fully legit service, with a long history of operations.
Is MasterPapers trustworthy?
The answer depends on your expectations. If you are not a demanding customer – this service may indeed be a good solution for you. However, if you demand a decent quality, you are most likely to be disappointed.
Is MasterPapers cheap?
The default options are not expensive at MasterPapers, though you will never get a good paper quality without adding at least a few extra features.
Is MasterPapers reliable?
This is not a reliable service, as they offer poor guarantees and make it extremely hard to get even a partial refund.