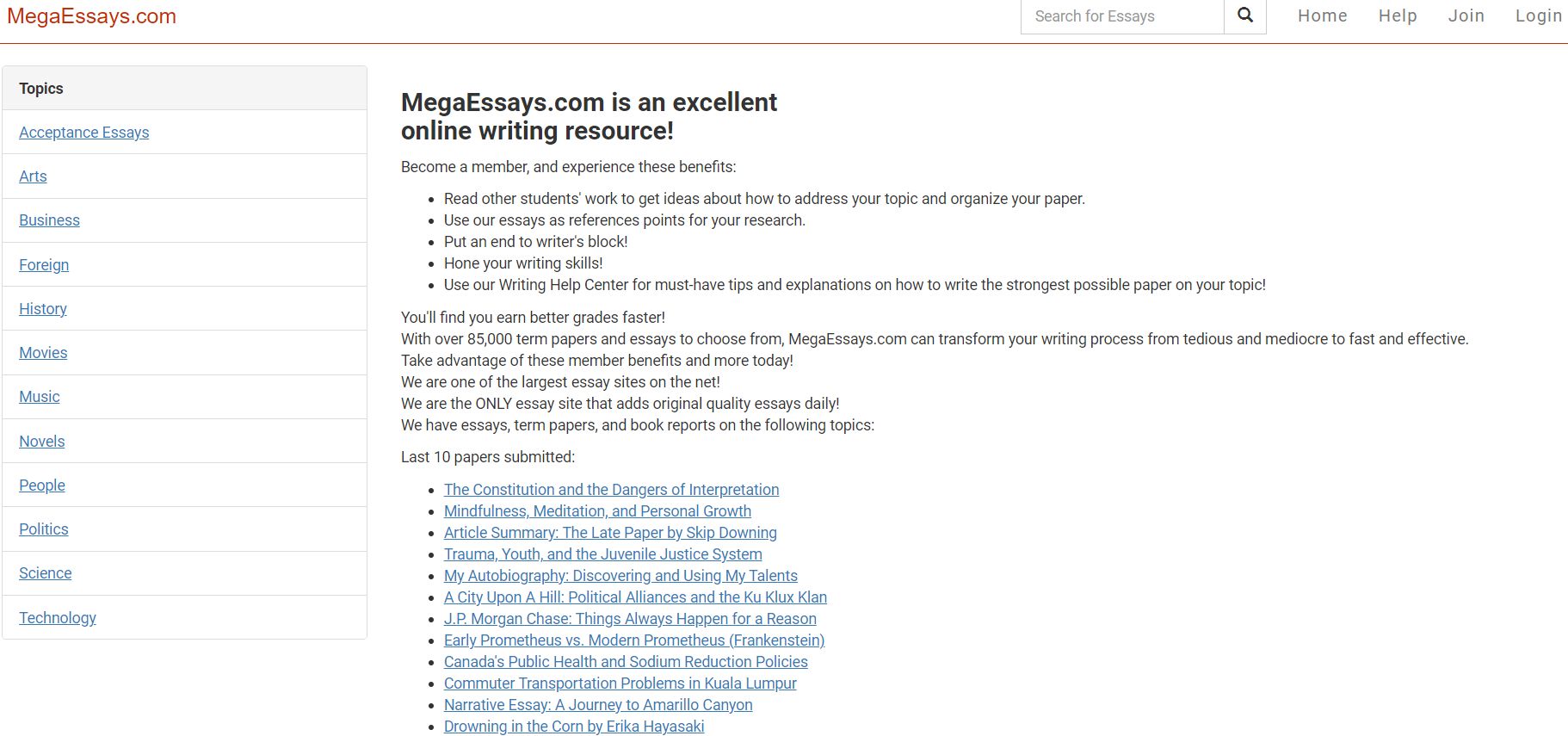 Paper Quality
MegaEssays has attracted me with its smart and aggressive ads and generous promo codes. However, having used their website only for a few minutes, it became very clear that my initial assessment of this service was vastly exaggerated. By the time I got to the evaluation of their writing capabilities, it was apparent that the agency was not capable of delivering decent paper quality. My probe paper was written not even close to my most modest expectations, and it had some significant flaws in formatting and content originality. I would definitely not recommend this service for any serious work and to a demanding customer.
Prices and Fees
The price range at MegaEssays looks very similar to that of other academic support agencies. It is neither too high, nor too low. At the same time, their price tags look awfully imbalanced to the generally low quality of papers they provide. The first-order discount is generous, hands down. That was how they attracted my attention, and I bet this is how they lure the vast majority of their clients on a day-to-day basis. For a try-and-forget approach, this is a good bargain, especially for the purpose of my review. Should others risk their college grades with such a bargain? That is a big question.
Guarantees
Customers cannot feel protected at MegaEssays at all. I had a very hard time finding just about any information on their guarantee policy on their website, but couldn't find anything except bugged pages and annoying pop-up windows asking to register. Even when registering and creating my account, I didn't sign up for any Terms of Use or similar agreements. So, whether customers can get a partial refund, claim a revision of their paper or even complain about a breach of personal information security – remains a mystery.

Service Review and Online reputation
Popular customer feedback sites, such as ConsumerReports and Google Customer Review, all were unable to provide me with any information about MegaEssays. The same information vacuum was seen on Reddit and Glassdoor. The absence of trustworthy reviews seems to be a distinctive feature of MegaEssays as if the company is brand new. Nevertheless, on their website, one can find dozens of favorable customer testimonials, written by customers of all ages and different professions.
Customer Support
The customer support service at this company goes hand-in-hand with their guarantee policy – it is virtually non-existent or very hard to access at best. There is no dedicated phone line support like you would expect to find in a typical paid academic support agency. The only available communication option for those with questions and concerns is the online chat window, however, don't count much on that – I had to spend 15 minutes before my question was answered by one of their agents.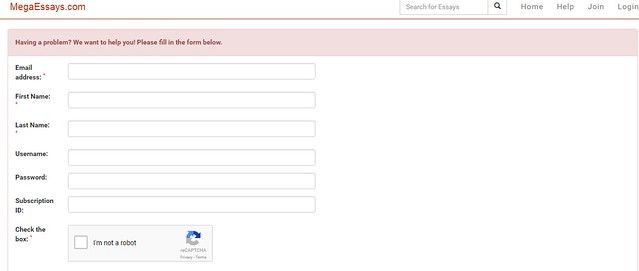 Types of Services
Despite its ambitious name, MegaEssays is mostly a huge database of essay samples. They offer a large collection of college essays for reference purposes. However, to be able to access that collection, one has to register and select one of the available payment plans. Otherwise, all samples are available in preview mode only. Other than that, the company writes papers of entry and mid-complexity levels, such as:
Essays
Literature reviews
Coursework
Reports
Term papers
Presentations
Resumes
Ordering Process
To order services at MegaEssays, one has to register on their website and create an account. They have made the registration window very annoying, as it pops up virtually everywhere you go on their website. Furthermore, to place your order, you will be asked to make a deposit, which equals a full order amount (or a subscription plan in case of essay samples database access). It took me about 5 minutes to fill in the details of my essay order, including setting the deadline and the choice of extra services.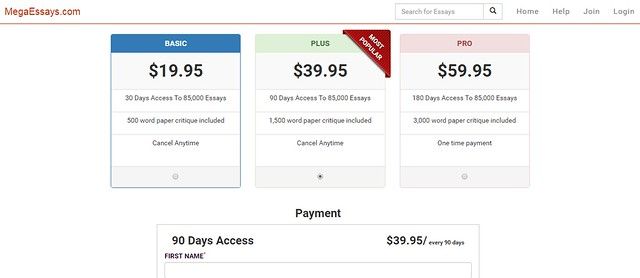 Offers and Extra Services
Offers are realized brilliantly at MegaEssays. They lure customers with a tasty first-order discount of 20% and occasional promo codes, which they skillfully disseminate on social media and in targeted communications to end-users. The extra services include a VIP package (unlimited access to paper samples database and 2-free of charge essays on demand), editing and proofreading service, and priority email communication with support agents, to name a few.
Pros/Cons
Pros:
Nice first-order discount and promo codes
A huge database of essay samples
Cons:
Low paper quality
Plagiarism issues
High prices for the level of service
Questionable online reputation
Poor customer support
Conclusion
MegaEssays offers a huge collection of essay samples for a balanced price. At the same time, their paper writing capacity, customer support, guarantees, and variability of services are not on par with the competition.
FAQ
Is MegaEssays a scam?
This is a perfectly legit service offering paid academic support service.
Is MegaEssays trustworthy?
Their paper quality is clearly below the market average, while the customer support and guarantees are significantly below even the most modest expectations.
Is MegaEssays cheap?
Their price range is average, although the level of services is not adequate to that range. There are far cheaper companies out there with better quality of writing and support.
Does MegaEssays plagiarize?
Users report multiple issues associated with plagiarism in MegaEssays's papers.