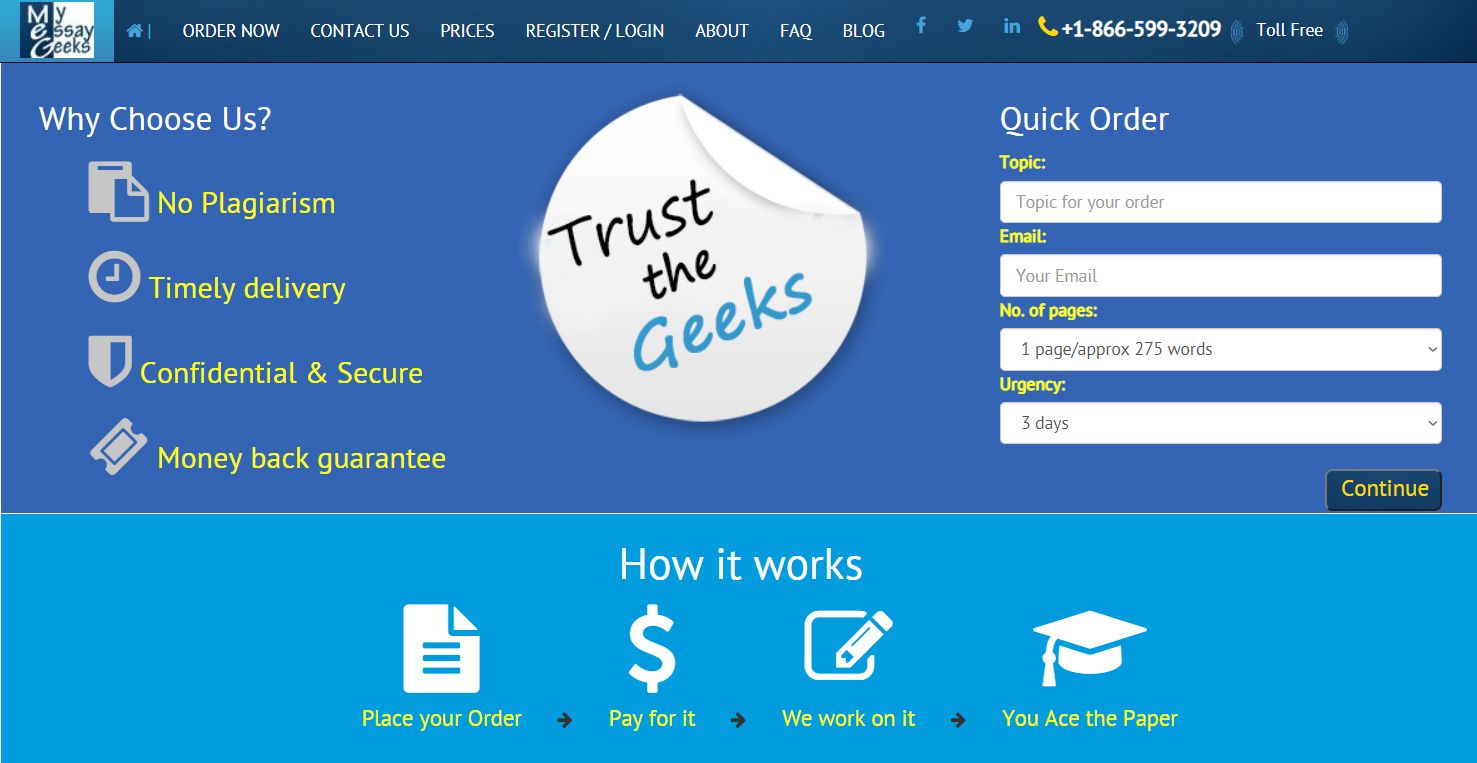 Paper Quality
Ordering from MyEssayGeeks one can always expect on-time delivery and original content. However, the quality of writing is just about average. Unlike many other online services, these guys don't pretend to be what they cannot actually be in terms of paper quality. They write OK papers for an average high school and even college customer, but don't tease yourself with an illusion that you can buy a decent quality graduate college or university paper.
Prices and Fees
Measured against the quality of writing, the pricing policy at MyEssayGeeks is reasonable. The papers here are neither cheap nor expensive – most customers will find local prices adequate. Here is something interesting for all new customers – they can always claim their first-order discount of 20% and sometimes may even get a nice promotion. Also, if you refer more customers to this company, your effort will be rewarded with a bonus discount.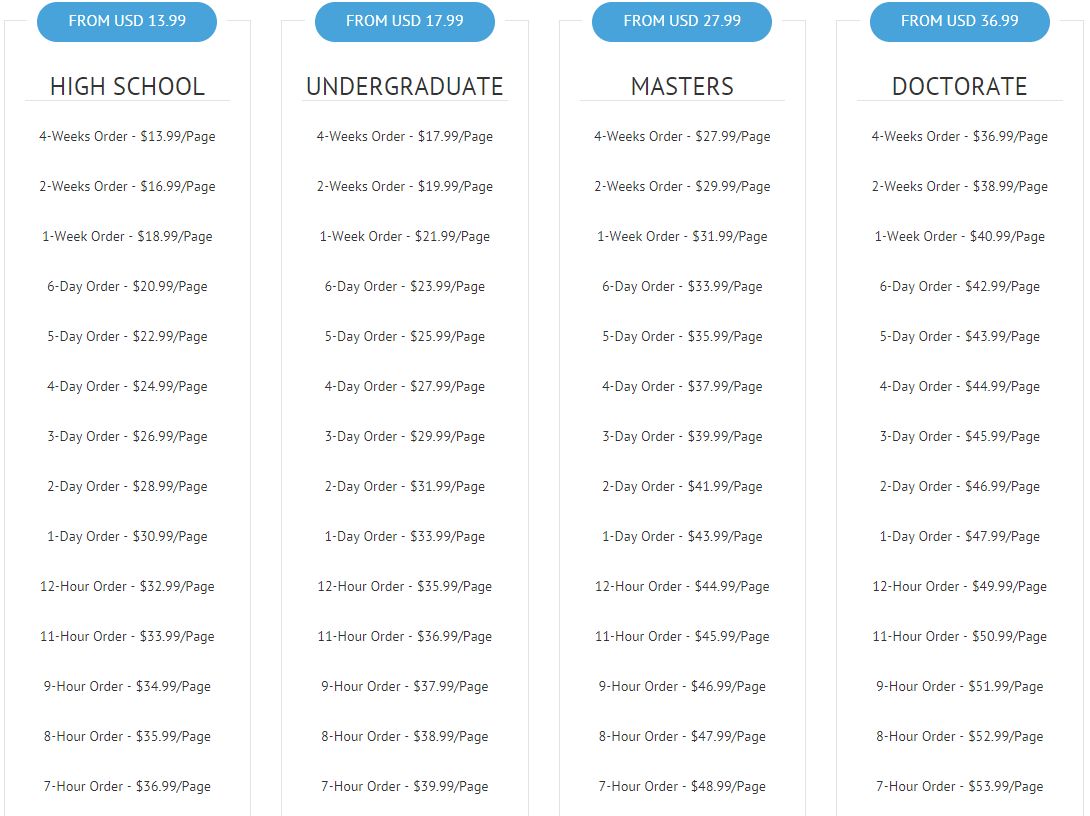 Guarantees
Guarantees are definitely a weak side of MyEssayGeeks. We were not able to find a standard Term of Use or a Money-Back policy on their website, which is rather strange even for a low-end service these days. Essentially, customers are taking their chances when placing orders with this service. One can always try calling their customer support service and asking about guarantees, as unfortunately, all agents were constantly busy when we tried doing it ourselves.
Service Review and Online reputation
MyEssayGeeks has been helping students with academic assignments since 2014. For this long period of operation, they have received both positive and negative customer feedback. We could see that most often customers complain about poor support function, bumpy ordering process, and weak guarantee policy, which makes this service unreliable. At the same time, the most frequently mentioned strong sides included: decent writing quality and speed of delivery, fair prices, and generous discounts.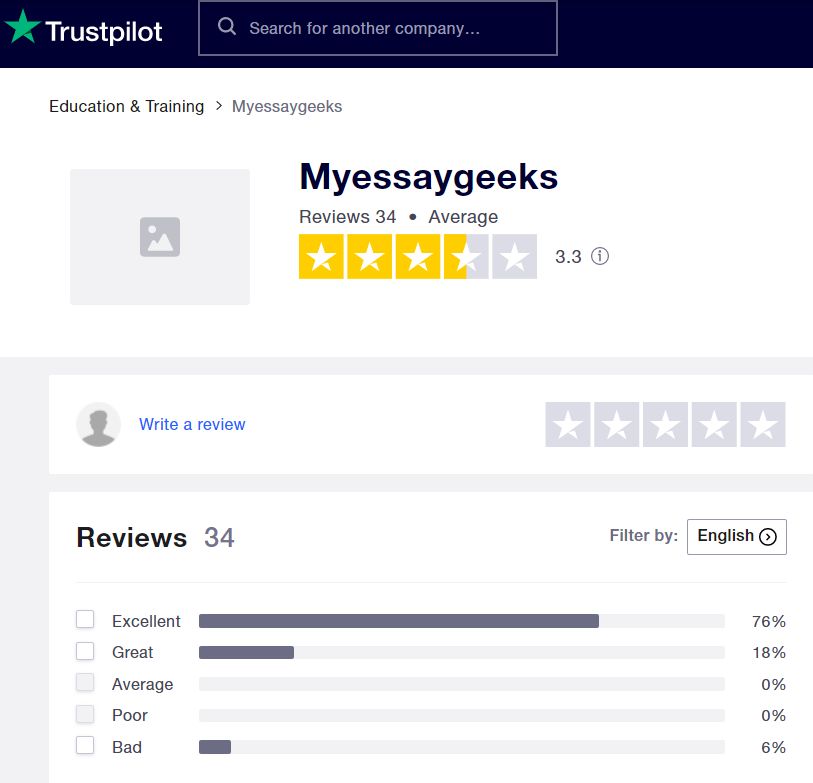 Customer Support
On paper (on the website), the customer support service at MyEssayGeeks looks great. However, in real life, it is ridiculously slow and far from being customer-friendly. Their 24/7 lines are constantly busy, while the online chat box is equipped with an "advanced" AI algorithm, which failed to answer our simple question about the Money-Back policy. In theory, the customer support service should host English native-speaking agents and their availability is guaranteed.
Types of Services
MyEssayGeeks doesn't claim to be a fit-all service. Instead, they make high school and undergraduate assignments their bread and butter and constantly work towards improving the delivery speed and quality of services. In addition to writing papers, they offer expert editing and proofreading, along with some other minor services, including document formatting, writing letters of recommendation and CVs, applying a unified referencing style to a document, and checking plagiarism and grammar.
Ordering Process
We find their ordering process rather bumpy. The online order template lacks simplicity and on average takes about 15 minutes to complete. Many users also note the absence of a mobile app and some issues with macOS optimization. Unfortunately, the situation cannot be improved by taking an alternative route via the customer support desk, as those guys are constantly unavailable. We think that even for an average-quality service, such a situation is totally unacceptable and we have left relevant feedback on the post-order delivery form.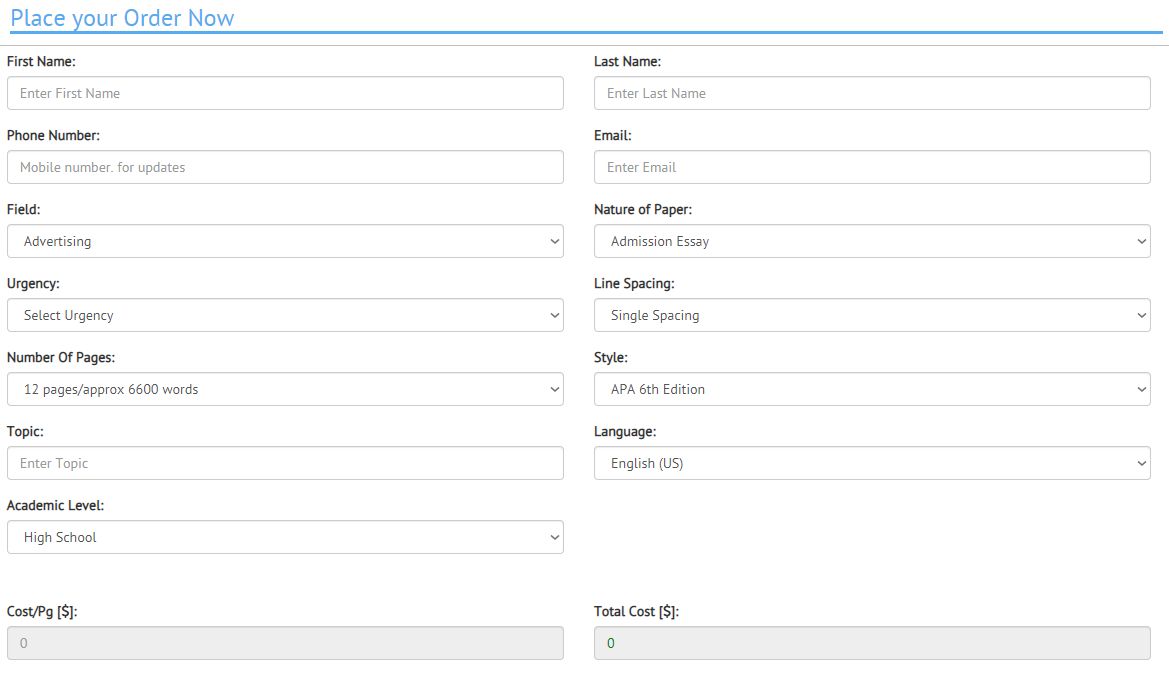 Offers and Extra Services
That was perhaps the first time that we saw a coaching support service from a moderately priced and non-premium service. The quality of that option remains unclear, though, as none of the publically available user comments mentions this function.
When it comes to offers and discounts, MyEssayGeeks appears to be very generous with those. Firstly, they offer a decent one-time 20% discount to all new customers. Secondly, they frequently distribute promo codes and holiday offers via social media and other direct customer channels.
Pros/Cons
Pros:
Affordable prices & discounts
Good delivery speed
Cons:
Average paper quality
Absent guarantees
Horrible customer support
Complicated ordering process
Conclusion
MyEssayGeeks is an ordinary academic support service in terms of paper quality and customer support. It is best suited for trivial high school and entry-level college writing assignments.
FAQ
Is MyEssayGeeks cheap?
This is a fairly priced service, though definitely not the cheapest on the market.
Is MyEssayGeeks reliable?
It is not a very reliable service given their poor guarantee and customer support services. However, their delivery speed is outstanding.
Is MyEssayGeeks a scam?
Absolutely not! It is a well-known service with a long history of successful operations.
Does MyEssayGeeks plagiarize?
There are no reported cases of significant plagiarism at MyEssayGeeks. Plagiarism check comes as an additional service and is available for all orders.