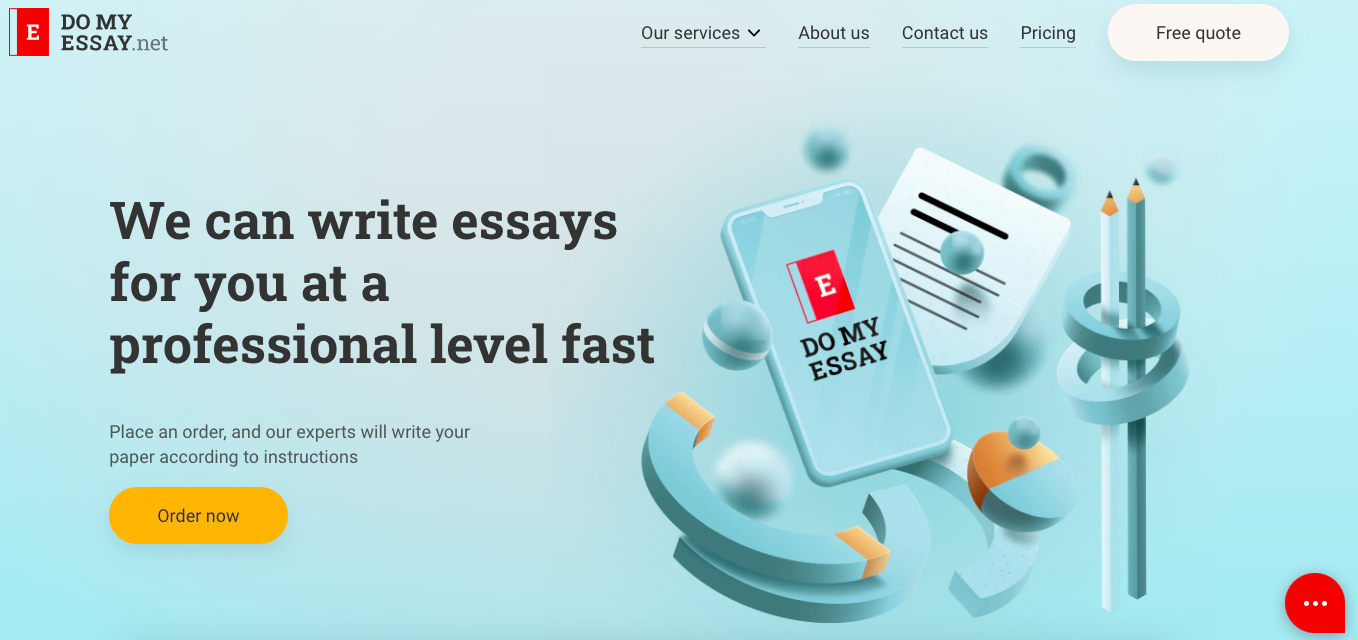 Paper Quality
Domyessay.net does not surprise by its paper quality. I mean, what can you expect from an online service with a questionable reputation, which is based in Hong Kong, but lists US and UK customer support numbers? I did not have particularly high expectations in the first place. For my review purposes, I placed an order for a typical college essay, a 3-pages long paper on an American history class. To say that I was frustrated with the delivered paper is to say nothing. I noticed neither the depth of knowledge in the writer's thoughts nor mastery of the English language.
Prices and Fees
Despite their website shining with colorful banners with promo codes and discounts like a Christmas tree, I never got anything off the first order. Nevertheless, I must admit, their base prices are rather cheap – $9.99 per essay page (250 words) with a loose deadline. If you want fast delivery and expect to get a paper with the writer's comments and notes – be ready to pay $25 and more per page.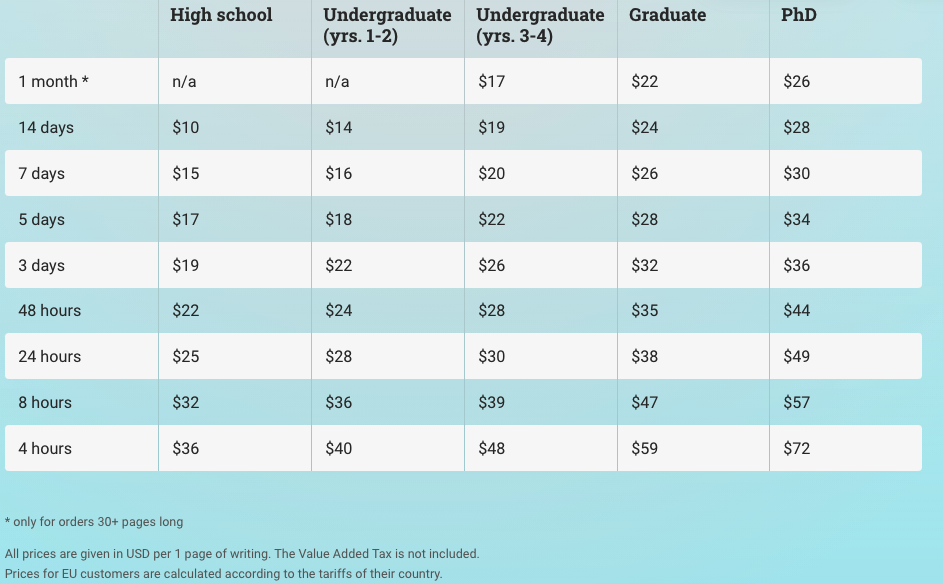 Guarantees
Policy documents on the Domyessay.net website are stuffed with conditions, footnotes, and reservations. If you read them fast you wouldn't perhaps notice anything suspicious, however, at a close look, the bright picture start to tarnish – to get a full refund is only possible if enough evidence is provided and only under the condition when such a complaint is sent not later than 12 days after the order completion and delivery. The company also guarantees full customer satisfaction and anonymity of personal information – these things are very illusive and conditional too, so I highly recommend applying common sense and reasonable caution when creating your account.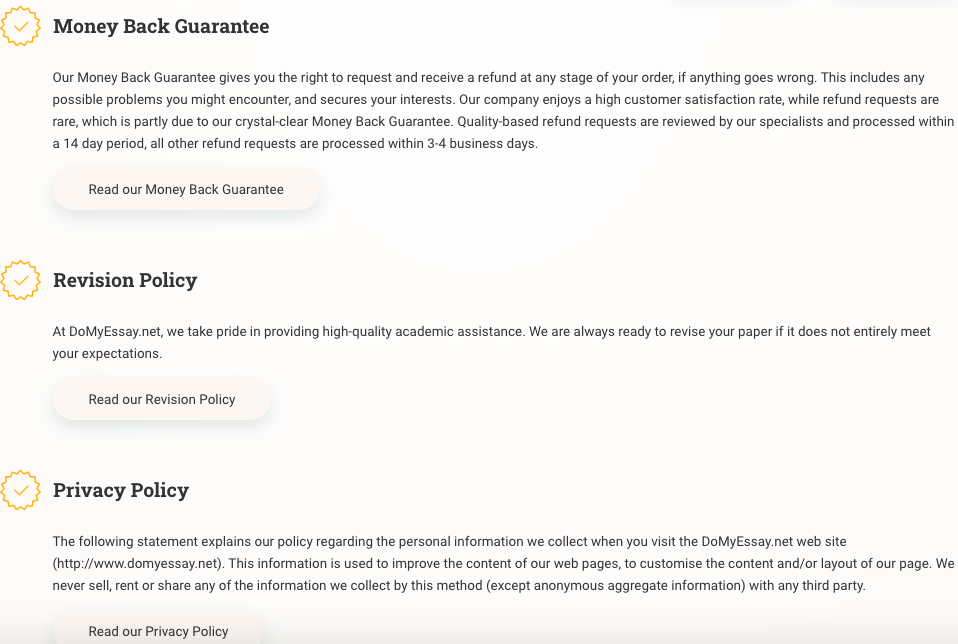 Service Review and Online reputation
I could not find a sufficient number of trustworthy customer comments on Domyessay.net on any credible user review sites, such as Trustpilot or Reddit. Only a few user feedback mostly with a 2 and 3 rating (out of 5) is available on SiteJabber, though this is not enough for a reliable assessment. The company's website contains dozens of enthusiastic user testimonials, but who trusts such reviews these days anyway?
Customer Support
Customer support was actually one of the aspects of this service, which I enjoyed studying. After the disappointing discount banners and complicated guarantee policies, I made a call to their customer support office and many things have started to make sense. For instance, the agent told me they had maintenance on their website last week and that probably coincided with my attempts to claim a discount (he manually sent to my email a 15% first order discount coupon). Also, he told me they hire many non-English speaking writers and I needed to have been more careful when placing my order and expecting the highest quality.
Types of Services
Domyessay.net offers help with different types of high school and college papers, including but not limited to essays, term and course papers, literature reviews, reports, theses, and dissertations. They also provide professional editing and proofreading services along with optional grammar and plagiarism reports.

Ordering Process
My ordering experience was rather bumpy as I got stuck in the middle of online order form completion (checking the meaning of some side options) and after 10 minutes of inactivity, the system failed to save changes to my form. This time again, calling their customer support fixed the problem. The agent took my order and found the "best matching" writer for my task (the service I regret receiving later on). The order execution process went flawlessly and within the deadline, I had my bespoke paper in the email box.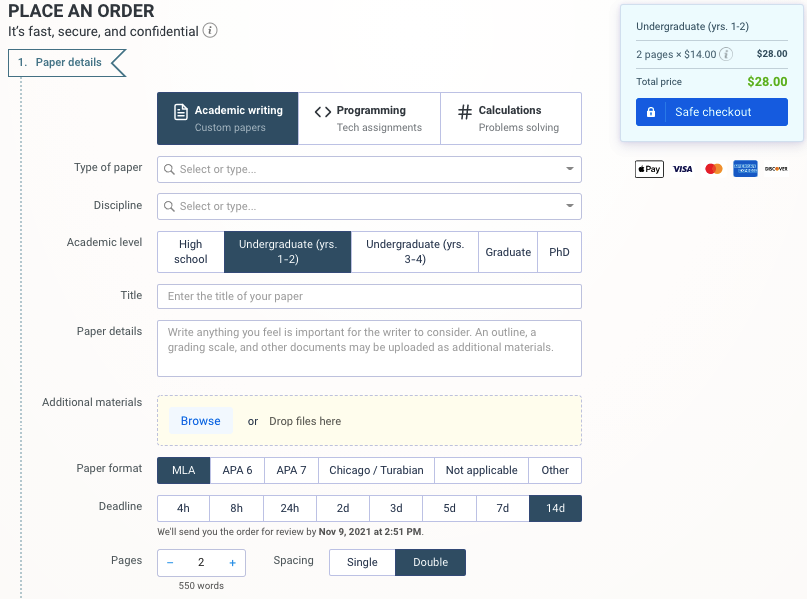 Offers and Extra Services
As mentioned above, it's safer to call their customer support and claim a discount or a coupon, as opposed to chasing their elusive banners on the website. Other than that, the available additional services include an optional plagiarism report supplied for a meager fee along with a completed order, professional editing, and proofreading service.
Pros/Cons
Pros:
Live and adequate customer support
Affordable basic essay costs
Cons:
Complicated online ordering form
Subpar paper quality
Non-English speaking writers
Lack of trustworthy customer reviews
Conclusion
DoMyEssay is a service to consider for a basic high school-level type of paper. I strongly discourage using this service for anything higher than that in complexity and importance.
FAQ
Is Domyessay.net legit?
They have all the attributes of a legit writing agency; nevertheless, I strongly encourage any prospective customer to read their money-back guarantee very attentively, as there are many reservations and side notes there.
Is Domyessay.net reliable?
For an average high school-level essay, this service seems to be a decent solution (provided that the customer will use common sense and check the custom essay for grammar and plagiarism issues). For anything higher than that in complexity and importance, the Domyessay.net should be avoided.
Is Domyessay.net a scam?
Their support office provides a good first impression. This company is definitely not a scam, but the qualification of their writers leaves much to be desired.
Is Domyessay.net safe?
On paper, they seem to be a safe and reliable partner to place an essay order. Nevertheless, anyone should apply caution when creating their personal profile (pay attention to the nickname, etc,) and communicating with the assigned author.