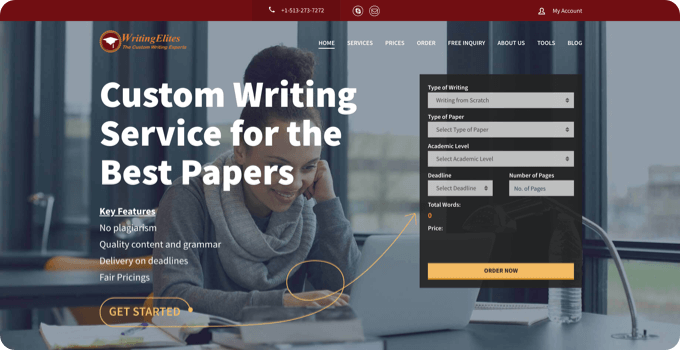 Overview
Here you can read a review of writingelites.net which is one of the various online custom writing services. We tried out the service, found out its advantages and negative sides to give it a fair and objective verdict.
Coping with some tasks, even the simplest ones, can turn into a challenge just because of the lack of time in today's fussy lifestyle we all have. There is a solution. There are plenty of online services that allow you to hand over your work to professionals. Writingelites.net is one of them. It provides you with all sorts of help with your academic papers, including essays, research papers, dissertations and many others. Created in 2012, the service has six years of successful work experience, 75825 papers delivered and 98% of happy customers.
Quality
To evaluate the quality of writingelites, we ordered a three page argumentative historical essay for a college student. To make the task more difficult, we selected the tightest deadline (8 hours). The essay was ready and sent in five hours, which is not bad. It was written in an academic style and it was really original (3% of plagiarism, which is admissible). The final version of the essay contained no mistakes. But the ideas suggested in a paper were a bit too simple. So there we got the feeling that our writer tended to worry more about the form, rather than the content. However, the general impression of the service is rather positive than negative, when it comes to essays.
Prices & Discounts

The service claims to be the one with fair prices, although an average price per page is higher than it is on the market. As far as it concerns writing a paper for a college academic level, the prices are:
$12/page, if it has to be done in more than 10 days;
$13/page, if it has to be done in 7-10 days;
$16/page, if it has to be done in 4-6 days;
$19/page, if it has to be done in 3 days;
$25/page, if it has to be done in one day;
$27/page, if it has to be done in 8 hours.
Of course, the price also depends on the type of paper and writing. Our essay, written from scratch, had cost us $68 which is close to an average price of a paper done in such a short deadline.
The highest price is $102 for an admission paper with the tightest deadline of 8 hours.
There is also an online calculator allowing to know the price of your order in advance.
There are also several types of discounts:
one-time discounts, given to first- time visitors;
life-time discounts, given to returning customers:

5% lifetime discount for a sum of more than $500;
10% lifetime discount for a sum of more than $1000;
15% lifetime discount for a sum of more than $2000;

temporary discounts, which are not always available.
Guaranties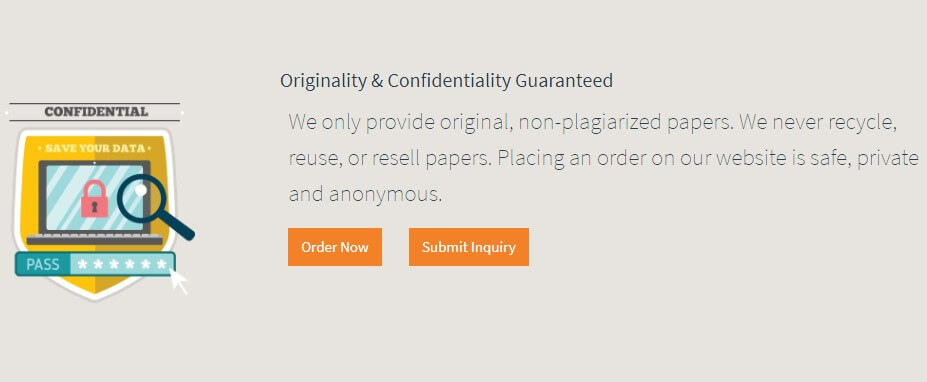 The issue of legitimacy is the one that worries each customer. The site provides you with all the rights for the further use of your paper, so you are its owner. Moreover, the service promises you safety and protection of your anonymity. It also has a money-back guarantee, 24/7/365 customer care support and free revisions.
Reviews and online reputation
Writingelites reviews on their site are all positive which is a bit questionable, as the ones from other sources are not at all of one mind. Some clients found the service perfect, whereas others say their papers were poorly written, contained a lot of mistakes and were at all unsuitable. There were also people who criticized the high level of plagiarism in their works.
Deadlines
The needed paper can be done in 8 hours or several days, depending on the sum of money you are ready to spend on it. Our essay was finished three hours before the tightest deadline. In general, it seems that this service has no problems with the deadlines, according even to some negative clients' reviews and our personal experience.
Support
One of the main advantages suggested by the service is twenty-four -hour online support. However, we have to admit that there are some improvements to be made. We tried to check the progress of our order and managed to receive an answer from the support team after our paper was already finished. We may conclude it was just an exceptional situation, but many other clients share the same opinion: the support team doesn't work as efficiently as it is claimed on the site.
Usability
The site is well-patterned and its design is pleasant. It is generally quite appealing, although some information is repeated in each part of it, which is a bit irritating. A great advantage is F.A.Q. section, which answers the most common questions.
Pros/Cons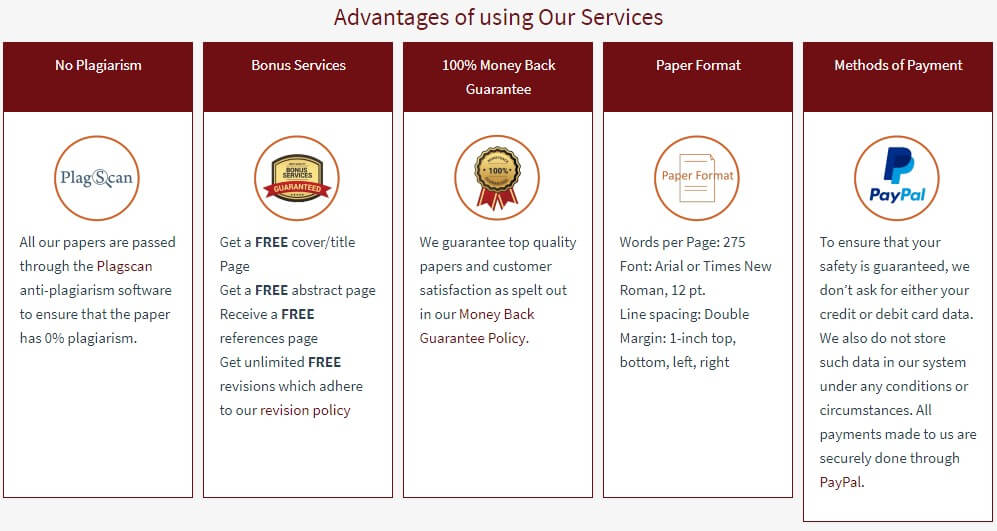 Pros:
No mistakes;
Academic style;
Pleasant site;
Discounts;
Online calculator;
Made in deadlines.
Cons:
Slow customer support;
Higher prices;
The lower quality of content.
Conclusion
The service may be in useful for those clients who want to get some middling custom paper at an almost average price. It really keeps its promise, when it comes to deadlines, and their safety police is good.